Summary:
Helix is opening up our back door and taking you deep inside to peek behind the curtain and see exactly how the magic is made on this great twink DVD! This is THE most ALL ACCESS pass we've ever granted; so, grab your package and hop on for the ride of your life! We start off with a bang, giving you the FULL tour of the Helix studio, the office where some of our gorgeous guys work AND, then we have Blake Mitchell, Casey Tanner and Kody Knight demonstrate the ins and outs of how a super hot Helix scene cums to life!
Scene 1: YouTube Celebrity Threeway
Cast: Casey Tanner, Kody Knight, Blake Mitchell
Angelic super cutie Casey Tanner and his big-dick sweetheart, Blake Mitchell, join all American hunk heartbreaker Kody Knight in this all star fantasy threeway.
Casey Tanner, an insatiable bottom shared by two top titans, gets skewered by Blake & Kody as his delicious ass and sweet mouth get stuffed by their enormous young bones.
This insanely hot suck and fuckfest leaves all three twinks glistening in sweat and covered cum.
Scene 2: Heat
Cast: Tyler Hill, Noah White
When Helix hotties hit the club, it's guaranteed to be a rowdy rave every time. When our sexy squad threw down on a recent Friday night, a couple of our models hit it off extra well and when the fun got frisky, these beautiful boys partied their way to a dance floor more comfortable.
See what happens when twink perfection Tyler Hill & Noah White get together and spark up a sizzling after party of their own!
Scene 3: Hot For You
Cast: Blake Mitchell, Danny Nelson
You are cordially invited to the hottest Helix party of the year! Step inside this exclusive V.I.P model party with all your favorite Helix guys dancing half naked and flirting with one another. Helix models run the gamut from young, hung tops to jail bait bottoms and it's ALWAYS explosive when these two categories combine! Blake Mitchell, the biggest swingin' dick top at the party sets his sight on the freshest young boy there, Danny Nelson. There isn't a bottom we know of that would turn Blake down, and Danny is no exception!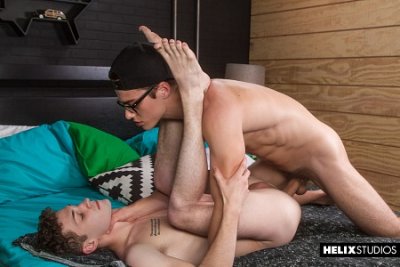 Blake separates Danny from the pack and pounces. From the moment these two lock lips they're rock hard and ready to go. Being older and more experienced, Blake gets his prey comfortable by licking his pretty boy cock. Danny is a quick study and picks up where Blake left off and this kid devours dick like a demon. Mitchell man handles the boy's tight hole while he fucks the kids face, preparing his work area for a severe pounding. Once tenderized, our hot young bottom sits down like a good little boy.... right on Mitchell's massive member, BAREBACK. Blake sees this kid can take a cock; so, he works him over time by pile driving all he has deep inside Danny's ass with a heavy hand holding the beautiful young bottom by the throat.
The doggy style segment will leave your dick dripping and dying to bust but, their fuck fun has only just begun. Blake takes it nice and slow, allowing the kid to feel his rock hard hole stretcher for all it's worth. Every sweet spot inside little Nelson has been banged to high heaven and the kid nuts a nasty load all over the bed. This beautiful bottom is a pro, keeping Mitchell's monster inside his hole even after he blows! Blake pulls out and showers the kid with seed, coating his hole and leaving it looking like a delicious glazed doughnut. Absolutely yummy.
Scene 4: Vegas Pride Afterparty
Cast: Joey Mills, Cole Claire, Cameron Parks, Ashton Summers
Join Ashton Summers, Cameron Parks, Joey Mills and Cole Claire party with thousands of hot guys at Vegas Pride as the boys have a fantastic time dancing, drinking and taking pictures with fans. Gay Pride is always a great time, but the REAL fun always happens at the after parties! The fab four have a hotel suite together and while Ashton and Joey are playing pool, Cameron is getting a sly suck job on the sofa. Our sexy pool players decide to up the excitement so Ashton bends Joey over the table and plants his own pool cue in Mills pretty pocket. Once our pervy pool players catch Cole and Cam looking at them cock eyed, they invite them to join in and the rael party begins!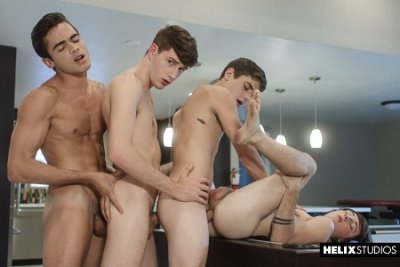 A bareback bang-a-thon of EPIC proportions around every hole in the pool table takes place with every cock combo you can imagine! Dicks are licked while asses are filled with giant bareback boners in positions one usually only sees Olympic wrestlers in. There's an extraordinary train bang that will leave you breathless (and probably seedless!) After the foursome use the pool table and couch for their dirty deeds, cock hungry Cole winds up getting wailed on the ottoman.
After a hard hammering, the guys gather around Cole and drown the dude with white hot cream from their three throbbing cocks in a orgasmic, oozing bukkake bonanza! Cole licks every cock drop he can, looking like a boy in desperate need of dick protein as Mills monster dangles down to the kid's cum filled kisser. Housekeeping is gonna have one hell of a clean up on their hands, but we're sure the boys left a great tip. They always do. Happy Pride indeed!
Scene 5: Big City Threeway
Cast: Max Carter, Blake Mitchell, Ben Masters
Join our Helix family at the "Str8 Up Gay Porn Awards" where your favorite studio cleaned UP! Helix and our boys kicked ass, winning several awards so we figured what better way to celebrate than to have our winners cum together for a super hot, throbbing three way! Fresh from the ceremony and still high off their well deserved wins, Blake Mitchell, Max Carter and Ben Masters bring their revved up rods back to the hotel to congratulate one another in this ball slapping, ass banging, winners only three way fuck fest.
With no inhibitions and cocky first place confidence, the boys show us why they earned their place in porn history. Our guys give every award winning hole and pole hot, wet bareback attention. Be part of the party as our cameras capture these grand prize cocks celebrating along with Max Carter's hand held cam probing deep to document every delicious dick dripping moment.
It's our hot, wet, sticky thank you for making Helix and our beautiful boys BIG winners.
Themes: Bareback, Twink, Latin, Big Dick, Anal Sex, American, Facials, Group Sex, Muscular, Blowjob, Brunette, Gang bang, Jock on Twink, Bukkake, Kissing