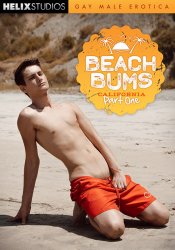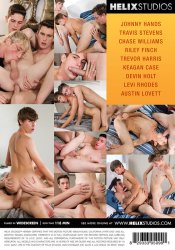 In This Series

Summary:

This sizzling summertime smash is a sun soaked story of sex, love and lust! Boyfriends bust into thrusty threesomes, while big kahunas wax boards and butts, prompting super sized-summer schlongs to soak these "Beach Bums" down dirty!
Scene 1: Beach Boy
Cast: Travis Stevens, Keagan Case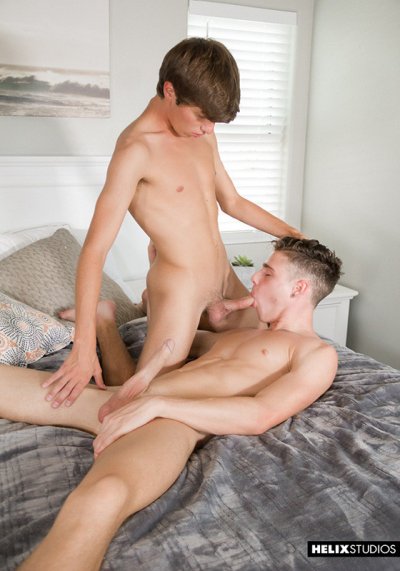 It's a beautiful day at the beach, and Travis Stevens is feeling creative. He sparks up a joint and starts to sketch when fuck buddy Keagan Case sits on his blanket, taking his mood from creative, to horny! The pretty pair head to Keagan's, where Stevens' stiffy winds up down the lil' dude's throat. Case knows how to suck a cock. He deep throats the beach bum's big behemoth while working it with an eager hand. After a job well done, the sun kissed twink takes off his shorts, and crams his crotch in Travis' handsome mug. Stevens strips the confident cutie's underwear off then dines on that dick like a cock hungry king while he waxes his own big board. The vocal twink turns around, plants his perfect peach in Stevens face, then goes back to gorge on the guy's giant groin. Next, our agile little spinner rotates his rear around, and squats right down on his muscle twunk's D. He rides that rig like a wave, moaning for more as his smooth seat swallows that swollen shaft over and over.
Travis manhandles the hottie into doggy style, then gets right back to bangin' that beautiful butt. Keagan looks back at his tight bodied top while feeling his well muscled legs laying into him. Travis uses his thick body to maneuver the boy onto his belly before turning him over, and banging him out on his back where he takes a taste of those tender toes. Travis takes the twink's tight tail into his hands, lifts it up, then pile drives dick down into the dude before setting his sexy seat down so Keagan can cum. The tan twink milks his monster meat till it's spits pure white pleasure all over his golden torso. Then, Travis takes milking matters into his hands, and hammers out a huge load that completely covers Case's bronze body. After the ferocious fuck, Keagan complains the pretty pair don't fuck enough; so, Travis airdrops his some top's numbers. Will Case ring up a big kahuna? Find out on the next episode of "Beach Bums!"
Scene 2: Friendly Fuck
Cast: Trevor Harris, Riley Finch, Chase Williams
After a fun filled day cavorting and canoodling at the beach, Trevor Harris and Riley Finch stop by school boy Chase Williams' place to rub it in. Feeling feisty, Finch tells the pair, they could make money like him, and be a cam boy. Harris shoots back, "my dick is for private showings only." Then, with grade A game, Chase says, "it's pretty private in here," which initiates a triple twink-tongue tie up! Williams can see the zipper on Trevor's shorts straining, caused by the cock heavy contents now grown to full capacity. So, he releases the beast, and eases the young stud's pain with his warm mouth.
Clothes fall to the floor, and the three friends share one another's cocks in every configuration. Rimming, trains and spit roasts run wild in this thrusty thrupple three way, all cumming to a head when Finch takes a facial from Chase's king sized cock. The boy responds by blasting bust sky high! The shooting spunk sparks Harris' hot rod, and he spits a colossal cum shot, which covers most of Finch's tight, twink torso.The three way ends as it began, with a thirsty thrupple kiss, only this time with heavy breath from butts well banged.
Scene 3: Needy Bottom
Cast: Johnny Hands, Austin Lovett
After fending off calls from the outside world, Johnny Hands can focus on cute twink Austin Lovett, who he has over at his beach house. The tight bodied boy can't wait to taste johnny's cock, and savors the moment, kissing the hunk's beefy torso on the way down. Once he's reached his destination, the beautiful boy shows off his skills, swallowing Hands huge hog so well, Johnny has to compliment him, then return the favor.
After a thorough throating, Austin hops on Johnny's hog and takes it for a ride. Hands hammers the lil' hottie out in several porny positions before Lovett explodes all over his smooth torso. The twink's tunnel tightens around Johnny's jock and he feels his balls tingle. The top titan pulls out and explodes, blasting the pretty boy right in the face with shot after shot of grade A, stud spunk! Austin winds up covered in a river of cum that stretches from mug to meat.
Scene 4: Pleasant Surprise
Cast: Trevor Harris, Devin Holt
Devin Holt is catching feelings for fuck buddy, Trevor Harris. With his heart on his sleeve and lust in his eyes, the hopeful hottie heads up to the beach house to surprise his bae. Trevor notices a green eyed monster lookin' cute on Devin's shoulder and eases his mind with a kiss. The sweet snog sends the "almost couple" into a sexy summertime smash that set this surprise visit a blaze!
Scene 5: What He Wants
Cast: Johnny Hands, Keagan Case, Levi Rhodes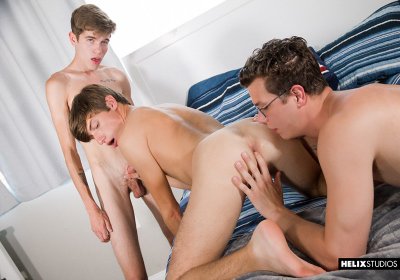 Adventurous couple, Johnny Hands and Levi Rhodes invite tight bodied, tan twink, Keagan Case over for an afternoon of erotic fun! After panoramic views of their beautiful beach town, the camera catches Keagan knocking on Johnny's door for some dynamic duo dick! The boys skip the small talk, and head straight to the bedroom where Rhodes immediately hops up to inspect the goods. The gorgeous couple flank the fuck boy, kissing his lusty lips and nipples before unzipping his shorts to reveal that king sized cock. Levi fills his mouth with Keagan's meat while Keagan concentrates on swallowing every inch of Johnny's swollen sword. Soon enough, Hands' dom tendencies kick in, and he orders Case onto his knees. The boy receives an incredible ass eating by jock boy Johnny while stuffing his face full of Rhodes' raging rod. Once Keagan's can is ready, Johnny jams his giant jock in and rails the randy fuck! Case looks back at the bad boy while slobbering all over Rhodes rig.
Then, the dick hungry duo switch the spit roast up and trade positions. After filling his holes at each end, the boys decide to see if they can stuff Keagan's butt with both bones; and, our boy takes 'em like a champ! He writhes like a bitch in heat, grinding on both throbbing cocks before following Johnny's next command to lay on his back. Hands hammers the lil' dude out till his hog blasts white hot heat all over his tan torso! Taking in the sticky-good sight, Levi launches an extra large load that covers the twink's chest. Covered in cum, Case looks up at Johnny with ecstasy glazed eyes, anxiously awaiting his spunk. Hands does NOT disappoint! He blasts the boy with his hot bro butter, and nearly nails him in the face! The new fuck buddies finally get around to the small talk, but it doesn't last long, as johnny suggests they all go at it once again!