Summary:
Nothing can satisfy your horny hunger like these piping hot twink sandwiches, filled with heavy hitting fan favorites like Ashton Summers, Tyler Sweet, Josh Brady and many more! These meet filled, triple decker dick downs are chock full of spit roasted twinks, and jizzing jocks who satisfy their partner's carnal craving for cock, AND thirst for a cum drippy side of special sauce! Go ahead, take a bite, you'll be glad you did.
Scene 1: Pass The Twink
Cast: Ashton Summers, Tyler Sweet, Alex Riley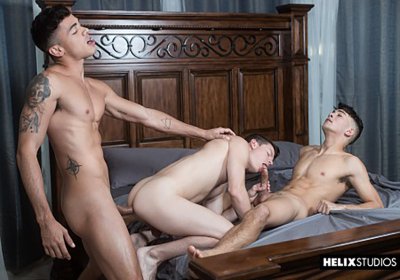 Flanked by beautiful bookends, Ashton Summers and Alex Riley, Tyler Sweet is a succulent stud snack; and, he revels in the erotic attention. The bronze-skinned brunettes sample Sweet's delectable flesh, as the horny thrupple share in a three-way, strip down-make out sesh. Feeling the boy's briefs bulge gets Riley heated; so, the young hottie heads down to satisfy his carnal craving with a double portion of pole. From then on, Riley and Summers service Sweet with lusty licks, and deep dick drilling, making sure his horny holes never go hungry. The swarthy young studs circle the beautiful bottom like hungry sharks, working as a pair to slam Sweet into sensory overload, tag-teaming his holes in schlong smashing spit roasts, and a raw rod ride. Watching Summers dick the dude doggy causes Riley to blow; luckily, Sweet is there, ready to swallow and suck down the stud's spunk for him. The fresh cream takes Tyler to the edge; and, he returns the favor in Ashtin's open mouth. Thirsty for more, the cum whore takes a second helping from Summers' jizzing jock, before the thirsty thrupple share the load love with a final kiss.
Scene 2: Meat Me In The Middle
Cast: Aiden Garcia, Josh Brady, Hayden Lee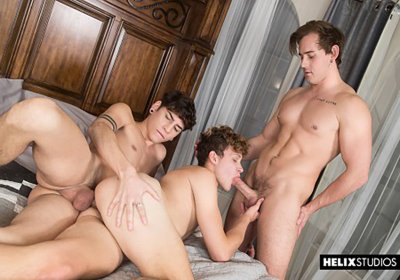 Horny hot newbie, Hayden Lee gets schooled by porn superstars Josh Brady, and Aiden Garcia in this balls to the wall-big dick threesome! Aiden and Hayden cover brawntastic beefcake Brady with cock hungry kisses as the porn princes plaster the floor with three pairs of boner hugging briefs. Stripped and dicked, type A Adonis Josh bounds onto the bed. With big dick bravado he stands as the two twinks tag team his tripod with thirsty throats. Excited to test drive Hayden's hot little mouth, Aiden stands, his stiffness swaying with impressive heft. Hayden takes the hint; then, takes on both super schlongs with surprising skill for such a young buck. Returning the favor, Garcia gets on all fours. He gobbles down Lee's large loin, while Brady hits his horned up hole from the back. Sensing Hayden's hole is hungry too, alpha ass master Brady lays down, offering Lee a raw ride on his randy rig. Then, the thrusty thrupple explode into overdrive, taking and receiving in nearly every erotic cock cramming combination imaginable! During an especially torrid train with Garcia getting, AND giving, Lee launches a lusty load, covering the covers with fresh cum. Then, he offers his mouth to his mammoth membered mates, which they gladly accept, plastering pretty boy's entire face with a flood of fuck.
Scene 3: Spitroasted
Cast: Blake Mitchell, Corbin Colby, Clay Turner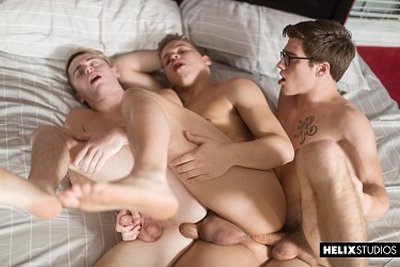 Blond cutie Clay Turner is one lucky lad, flanked by beef cake boys Blake Mitchell and Corbin Colby as they inspect his jock strap clad caboose. The young dude's derrière is divine and naturally causes the guy's sex soldiers to stand at full attention. Clay helps the rock hard hotties get their huge hogs out; then, he gives them a proper polishing. He sucks schlong like a skier with a pole in each hand, sloshing on each epically large appendage with ample appreciation. Blake hops up on the bed and the colossally cocked duo's twink team work begins. Mitchell orchestrates the erotic adventure, having Corbin tongue fuck the twink's tush while he gets a scalding hot hummer. After wetting his whistle, Corbin tells Turner to lay on his back; then, he lays some serious pipe on the porn pretty boy, keeping the jock on for added effect. Blake throws dick down both boy's thirsty throats before laying back and lubing up. Clay can't resist the invitation when offered a seat on Mr. Mitchell's wild ride and squats down on the bareback battering ram. He rides the big rig while paying close attention to Colby's big beast and, his commands. Corbin helps his bang buddy Blake our with a few feisty fuck commands to the twink before Clay climbs on top of his huge hammer. Turner trampolines that thick dick while remembering his raunchy responsibilities to Blake's rager. Then, in a porn perfect moment, Mr. Mitchell saunters up behind his buddy and slides his slick schlong inside Corbin's big, meaty booty bareback. After that, our big boys are about to blow; and, what better place than pretty boy's face! Clay gets a mouth AND, face fill of jock jizz before his own, MORE than ample appendage explodes. Turner's "O" face looks extra lusty covered in the guy's goo as his own load just keeps on cummin' and cummin'! Corbin and Blake congratulate the lusty lad on a job well done and he smiles, exposing the cutest dimples in the world.
Scene 4: Twink Sandwich
Cast: Travis Stevens, Josh Brady, Hayden Lee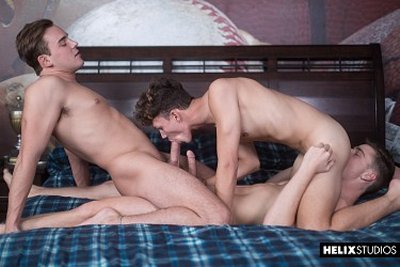 We're tossing fresh, young newbie, Hayden Lee into the deep end with hot, horny jocks, Josh Brady and Travis Stevens. After a sizzling, hot thrupple kiss, Hayden gets his knees to service the big dicked, dynamic duo. He bobs between both beefy boys, deep throating their thick dicks with impressive skill. After taking Josh's impossible whopper balls deep, brawny Brady knows the twink has talent; so, he pushes that pretty little head DEEP down onto Stevens' shaft. The go getter gags down every inch till a single twink tear of determination steams down his gorgeous, glowing cheek. Then, our boy does THAT one better! He sits that fine ass down on Stevens' handsome face for a righteous rimming, then swallows BOTH boy's meaty monsters......at ONCE! Knowing that kind of talent deserves a reward, Josh jumps behind the boy and pushes his prized piece, balls deep. Lee takes it like a champ and doesn't miss a beat in his sultry 69 suck down with Stevens. Multitasker, Travis ends up tickling both guys teabags with his tongue while taking in the ass smashing show down below. Do it all dude, Hayden spins his tight, lil' body around, then takes Travis' raw rig for a ride while tasting his own twink tale on Brady's bone. And, Josh replaces his tight ass for Travis' warm mouth! Stevens' is doing such a great job on his knob, Brady rewards him with a deep dicking. Stevens revels in the full service attention, taking all Josh has to offer as Hayden continues hopping on his hog. The moment is pure, porn magic; and, sends sexed up Stevens over the edge! Knowing he has to knock this money shot out of the park, he jumps up, trades places with Brady, then blows his load all over Hayden's hot, freshly fucked hole! Josh follows suit, seeding the twink's tight tunnel with another load of juicy, jock jizz. Full up with warm nut, MVP, Lee busts, painting his smooth, shredded six pack with white hot pleasure.
Scene 5: Tasty Trio
Cast: Corbin Colby, Jacob Hansen,Tyler Sweet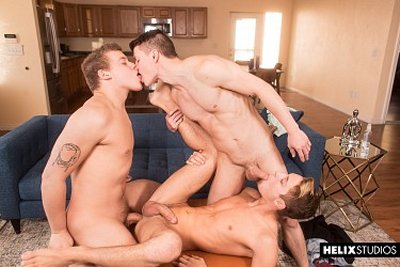 Cock heavy Corbin Colby has more than enough dick to share with bone buddies Tyler Sweet and Jacob Hansen. The thrusty thrupple are all craving cock, and they feed their horny hunger well at this beefy bone buffet. Twink whisperer Colby is in hog heaven. After filling his face with the fella's fat phalluses, he spreads their smooth seats and dives in face first, tongueing their young puckers like a man on a mission before serving up a main course of cock! Corbin fills both boy's bubbles with bone, as his bottom boys sex it up in a sizzling 69, making sure their chock full of cock at each end....at all times! After hammering Hansen out, King Colby cocks muscle twunk Sweet till the boy busts on his bottom buddy's chest! Even after a nice big nut, Sweet is ready for more! He fronts a train with Corbin as the caboose and Jacob gettin' juiced in the middle! Pretty boy pumps between the pair till Tyler offers his warm mouth to the boys to land their loads. Both guys flank Sweet and load his cock sucker with cum. The thirsty thrupple close this colossal cock fest with a cream covered kiss that'll leave you breathless!