Summary:

We've overstuffed this meaty gay twink porn DVD with erotic extroverts who love putting on a naughty show for the neighbours! Every sun soaked, smash fest finds these fan fav's sucking and fucking in the great outdoors! Helix packed this one tight, even cramming two big dicked, bonus solo stroke sessions into the tight tail end!
Scene 1: Au Naturel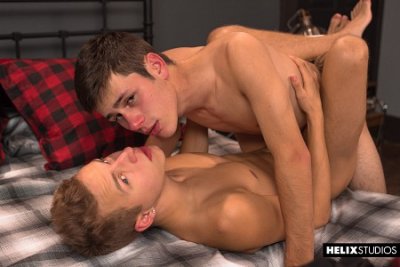 There's some heavy flirting going on at the park today between way big Wyatt Walker and cute, boy band-worthy Noah White! Enjoying their gorgeous youth climbing trees horse playing in the park, the sexual tension gets the best of them. White can't take it and wraps his arms around Wyatt for a hot make out session! Wyatt feels Noah's nasty bits getting bigger and can no longer control himself! Dropping to his knees right there in the public park, he deep throats the dude balls deep! The too cute twink tweaks his nipples while Wyatt works his wang. Naturally they need to take the action indoors before being arrested! Wyatt's red hot boy briefs can hardly contain his massive meat. The colossal cock flops out and nasty boy Noah is there waiting with a hungry wet mouth. The big boy flips Noah around, spits in his tight hole and crams his giant right inside, raw as raw can be! Noah can't get enough, reaching back to pull Wyatt and his whopper deeper inside. As an added bonus, we hear the big balls slapping White's perfect ass as he moans and begs for more. Wyatt flips Noah like a burger once more so we can see him tug his rock hard twink torpedo while Wyatt wraps his hands around the kids neck in a super hot love choke! The brings Noah to the brink and he bangs out an epically nasty nut causing Walker to do the same. Using two hands, Wyatt wanks out a wicked wad, creaming all over the boy's pretty pucker! Perfect!
Scene 2: Greene in Ian on Green
Helix Studios mainstays Ian Levine and Alex Greene have a touching reunion in this intimate and hard pounding outdoor sex romp.
Scene 3: Caught With Your Pants Down
Troy has a special surprise that he wants to show Greco. What could it be? The boys venture away from the city streets, deep into the woods to reach Troy's secret secluded spot. Once there, Troy undoes his shorts to reveal a thick, hard cock for Greco to stretch his mouth around. But Greco is craving the comfort of a soft bed, so the worked-up boys return home so that Troy can squeeze in his fat rod and pound Greco's hungry twink hole.
Scene 4: Get A Room!
With all the models shacked up at the Helix Mansion there's bound to be some mild disturbances from the boys' casual encounters and spontaneous hookups. So it's no surprise that when Sage Porter spies Jacob Dixon and Kody Knight sunning themselves naked by the pool that he ambushes the big dick teen studs hoping to find someone to fill his horny little hole. Jacob's cock is there for the taking and Sage doesn't hesitate to get his friend hard for a good fucking. All the slurping and sucking wakes Kody who tells them to get a room so the two tan boys retreat to the pool house for some privacy where Jacob proceeds to give Sage everything he can handle. The summertime sex romp is every twink lovers dream and doesn't end until Jacob finally cums in Sage's grateful mouth.
Scene 5: Blonds Have More Cum
If you're into blond, ripped, well-hung studs, your dick's going way up for this scene. Picture uncut, horse-cocked Russian boy Dalton Briggs lounging butt-naked by the pool with Max Carter and his flawless physique. Life doesn't get any better than this—well, not until Max slips his wet lips over Dalton's fat mushroom head and foreskin. Next, the boys move things indoors where Max, feeling every thick inch of Dalton's tremendous bareback cock pounding away at his g-spot, cums twice. It must be true what they say: blonds really do have more cum.
Scene 6: Cameron Parks: Sunsoaked Strokes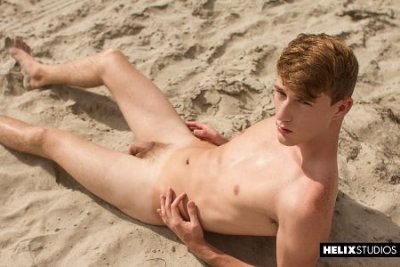 Hot, young, completely naked and without a care in the world, gorgeous boy Cameron Parks struts his stuff on a sunny San Diego beach. Flirting with the camera, he flaunts his flawless body sauntering into the surf. The waves cum in, crashing against his hard swimmers physique and softly caressing his cock as they slowly drift back out to sea. Cameron's perfect skin, taught with salt water glistens in the sun and as the sexy sea stud towels off his cock starts to stretch out with the excitement and freedom of being naked in public. Slow and sensual, Parks caresses every inch of his body, beautiful booty and bulging boner. His strong, thick hands softly stroke his smooth bubble butt then work their way to his hefty cock. He teases himself and the camera, building up suspense and a severe supply of salty semen. Cameron's cock stretches at least another inch then releases copious amounts of cum that oozes down his still stroking hand. He rubs the lusty load onto his six pack and gazes at the camera, confidant in his cock's accomplishments.
Scene 7: Surfer Solo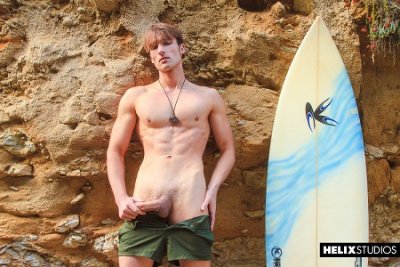 Sexy surfer Luke Wilder catches his last wave of the day and emerges from the ocean wet and ripped riding on his big board. His muscled body still looks elegant and graceful as he packs up his gear and changes shorts right there on the beach. The gorgeous setting ignites an orgasmic itch Luke needs to scratch so our beach boy finds a secluded spot to "wax his board." Making the most of his alone time, Wilder soaks up the surfy setting while seductively tracing his taught, tan body. Feeling zen and horny, his hands find their way towards his other piece of prized wood. The surfboarder spits on his fingers, using natures lube to raise his bone to full mast. Rock hard and getting harder, Luke rides the waves of personal pleasure in public as the sounds of surf crash into the shore. A sex storm of shear pleasure is slowly building in our beautiful boy as he inches his way towards orgasmic ecstasy. Luke's breath quickens, he looks down at his delicious dick as his surfer boy hair hangs in his chiseled face and he tosses out tremendous tidal waves of white hot surfer spooge. His salty seamen seeps into the sand below while Wilder flops his cock around to enjoy the final waves of pure pleasure.