Summary:
Hotel Helix is busy, and bustling with beautiful boys! This gay twink porn DVD is overstuffed with an erotic vacation destination hosting six, sweltering, sex soaked scenes! From beautiful bellhops bangin' booty, to tantric team building bareback exercises with business boys, Hotel Helix is where you'll want to check in, but never out!
Scene 1: Trust Fall
Cast: Caleb Gray, Brett Daniels
Hotel Helix is packed this weekend with a thriving group of young professionals in the corporate world, doing team building exercises. Brett Daniels thankfully escapes before the trust fall exercise, and Caleb Gray finally sneaks away to their shared room. The guys get into deep conversation, and Caleb confesses he wants to fuck Brett. The dirty blond boy was hoping that's where this convo would lead; and, soon enough, Daniels is on Caleb's cock like a dog in heat. Gray gets on Daniels' dick right after, slurping down that "D" with sloppy abandon. Feeling bossy, Caleb gets on all fours, and orders his roommate to, "eat my ass." Daniels dives in tongue first, as he jacks his own giant jock, preparing for the moment when Caleb begs for a fucking.
Gray gets what he wants, and Brett doesn't hold back, banging that beautiful backside as ass slapping sounds fill the room. The pretty pair switch it up, and Daniels gets a deep, banging, dick down, worthy of his epic ass. Gray gives the blond twink a little love choke as he pummels that perfect posterior. Caleb's cock is hitting the right spot; and, soon enough, Brett blows a beauty of a load all over his smooth thigh, and shredded torso. Caleb isn't far behind, creaming the dude from neck to nuts, before they both end in a tasty, cum covered kiss.
Scene 2: Just For Tonight
Cast: Travis Stevens, Blake Dyson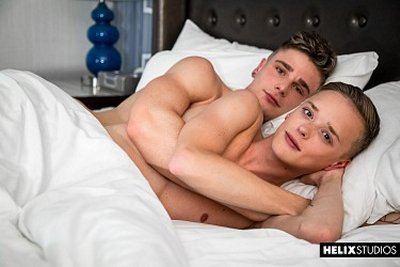 Young twink, Blake Dyson just met more erotically experienced, hot jock, Travis Stevens at work and their mutual attraction led them directly to "Hotel Helix," which is busier than ever, bustling with dirty boy business. It's Blake's first time having a one night stand, and he nervously, but adorbbly expresses this to the beautiful boy in his bed, who he hasn't even gotten a name from. Stevens assures the tight bodied twink all is well by saying, "we don't have to worry about the past, the future, just now."
This sinks into the sexy blond boy, and he really lets go in a steamy shower session, choking down Stevens' sizable schlong with hot, young enthusiasm. Even after the hot shower sesh, dirty boy Dyson can't control his hunger for dick; and, he delivers more of that talented tongue to Travis' throbbing totem pole. Shockingly, this one night stand turns into a sultry, spooning sleepover. But, the boys still have a bit of time before check out, and Travis intends to make the most of it.
After a morning make out moment, Stevens decides to show the younger twink the ropes with a raunchy good, rear-end eating. He gets Blake's beautifully smooth backside basted, and slick with jock spit, sucking the boys cock along the way. Then, he slips that epic dipstick of his inside, and pummels the jockstrap clad lad with a luscious lay, doggy style. Not as innocent as he once appeared, the tasty twink tosses ass right back at the beefed up beauty, before Travis tears off the young dude's jock, and jams his hot hammer back inside for a slippery good side fuck. Next, our top dawg grabs his porny plaything by the ankles, and whips him to the edge of the bed. Top jock Travis stands, and delivers hard dick like nobody's business! His strong stroking schlong brings Blake to the breaking point, and he busts a large load that coats his big, fat cock, and smooth stomach. In sync with his sex twink toy, Stevens splatters his spicy spunk all over Blake's beautiful body. The pretty pair end in a lusty lip lock; and, we think this MAY not be the last time these two coworkers get their cock on with one another!
Scene 3: Blast From The Past
Cast: Seth Peterson, Austin Lovett
Seth Peterson and Austin Lovett get a hotel room together after missing the same flight. Once they've had a chance to get to know each other, they realize this isn't the first time they've met.
Scene 4: Bellhop
Cast: Spencer Locke, Reece Jackson
Hotel helix is busy, and bustling with beautiful boys! Writer Spencer Locke (who has really grown into his pretty boy looks) checks into a room to get away from it all, and clear up his writer's block. Before taking a relaxing shower, he connects with beautiful bellhop, Reece Jackson. Juicy boy Jackson can't get Hotel Helix's newest guest off his mind so he finds an excuse to knock on Locke's door once more. And, this time Spencer satisfies the twink's horny hunger with his huge, pretty prick! After puttin' in some slurpy, wet work, Reece receives some cock sucking compensation from the thirsty writer, before our boy orders Reece face down- ass up for a raunchy good rim-job. Locke smacks his supple backseat a couple times for good measure; then, slides that huge hog of his right on in.
His thrust is met with mighty moans and a "fuck me" from Reece, who can't seem to get enough; so, Mr. Top Twink picks up the pace, and REALLY lays it down. After some delicious, doggy style dicking, Jackson takes Locke's Johnson for a butt jumper of a ride, which is met with our top's tasty thrusts. The guys switch it up again, and Reece finds himself on his back getting banged out good! Spicy Spencer serves it up so severely, that he fucks the cum right out of the bronzed skin beauty. The sexy sight is too much for Spencer to handle, and he quickly winds up painting the pretty boy's "fuck me please face," and smooth torso with tube steak toss. Spencer goes in for a kiss, and tastes his own sweet bone butter in the porny process. Perfection.
Scene 5: Finally You
Cast: Jordan Lake, Silas Brooks
After a year of dating online, Jordan Lake and Silas Brooks finally get to meet in person. Silas is a little shy at first, but Jordan knows just how to get him out of his shell.
Scene 6: All Business
Cast: Josh Brady, Dallas Preston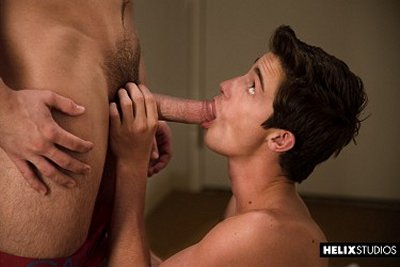 On the road after closing a big deal, business man Josh Brady stops at his hotel, only to hear a knock at the door a few minutes later. It's cute twink, Dallas Preston who stayed in the room the night before, and left his phone. Brady checks out the boys bangin' backside as Dallas digs for his phone. After finding it, and leaving, Josh starts to get undressed, but hears ANOTHER knock at the door. He answers it pantless. And, wouldn't you know, it's that cute twink again, and this time HE'S the one closing the deal on business man Brady. Josh and Dallas fumble with their clothes, unable to get them off fast enough. The too cute twink drops to his knees right in front of Brady's red hot briefs with a gleeful smile on his face, anxious to see what's inside. Brady pulls his huge piece out, nearly smacking Dallas right in the face. Our boy doesn't flinch, and joyfully goes about the business of treating Brady's beef stick with a seductive smile on his face, gagging down that delicious dick right to the base.
After a job well done, josh carries the twink to the bed to return the favor, but ups the ante with an epic ass eating. After loosening the tight twink up a bit, Josh slides his giant jock deep inside the center of the boy. He quickly gets a ball slapping rhythm going, and adds a little love choke for good measure. After banging the boy out on his back, Brady orders him to flip over, where he continues his assault on that ass doggie style. Our infamous cock cam catches all the ass smacking action from every angle. Then, Brady asks Dallas if he'd like to, "ride this big dick." Right now, there's nothing in the world the boy wants more; so, he hops on- spread eagle and bounces like a bitch. Brady hammers his hips up hard, hitting the twink's tenderest hot spot. Dallas' dick explodes in creamy pleasure, and Brady is quick to follow. Instinctively, The boy gets on his knees and takes the huge, thick load all over his handsome face. Josh moves in to taste some jizz; AND, to kiss the boy for putting the cherry on top of his business trip!