Summary:
Whoever said that the British are boring and conservative when it comes to sex?
After all, there's nothing restrained about this bunch of horny Brit boys, whose idea of a good time is every bit as intense and kinky as anything you're ever likely to see. Hot wax, mega-hot three-ways, pervy window-cleaning fun - these lads love their action with a bit of bite and are far from reticent when it cums to giving you lot a close-up demonstration.
Full of spunk and full of high-octane energy, this gang will have you cleaning out your pipes in no time!
Scene 1: Spanked And Fucked Flip-Flop Fuck Gives This Brit-Boy A Red Raw Butt!
Cast: Lucas Davidson, Jesse MacGowan
He goes out of his way to give the impression of being some sweet innocent who's never done a single thing to warrant his reputation, but you only have the catch the glint in Jesse Magowan's eye to realise that the reality of his character is very different. A point that's underlined in this delightfully hot scene in which he just can't keep a lid on his exhibitionist tendencies. Indeed, realising that young Lucas Davidson is cleaning the windows - and hence able to see right inside Magowan's flat - the horny punk is soon laid out taking a midday wank in a bid to attract attention. Not surprisingly, the efforts don't go to waste. Fact is that Davidson is just as much a horny slut as Magowen and jumps into the room with exactly the kind of enthusiasm expected of a lad his age.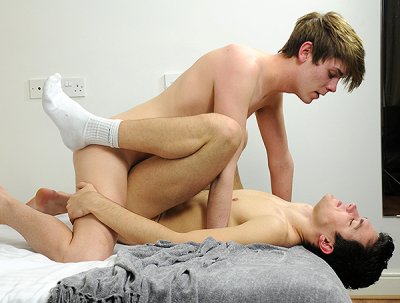 What he perhaps doesn't anticipate, however, is the kinky nature of Magowen's snare. True, the Brit-boy might look all sweetness and light, but there's a warped mind in there somewhere and on this occasion it presents itself in the form of handcuffs, hot wax and ass-paddles. Let's not spoil the surprise, but suffice it to say that what follows is not exactly vanilla and Magowen's butt-cheeks end up being very sore indeed. Perversity that's all topped off with a flip-flip fuck and oodles of hot jizz!
Scene 2: Horny Chav Window-Cleaners Use & Abuse A Pair Of Brit Emos!
Cast: Fraser Jacs, Jaye Elektra, Skye Romeo
Also available: Dads N' Lads 1 - Compilation
Window-cleaners can be a fucking kinky lot on the quiet, peeping through other people's windows to see what's going on inside; but Josh Jared and Fraser Jacs take such voyeurism to a whole new level in this magnificent foursome. Why, these two young horny chavs think nothing of interrupting Skye Romeo and Jaye Elektra's romantic coupling during the course of their rounds, and are soon thrusting their magnificent uncut dicks in the direction of the bewildered Emos.
Not that either Romeo or Elektra appear befuddled for very long. Indeed, these two skinny runts are soon doing exactly what their unexpected visitors tell them to do, sucking each other off whilst Jared and Jacs watch and wank, before using a double-headed dildo to fuck each other for the window-cleaners' pervy amusement. It's all weirdly hot; and the temperature in that council flat only gets hotter when the two chavs decide it's time to fuck the living daylights out of their guests. Not that Romeo and Elektra's humiliation is yet complete.
Having taken turns to make sure the twinks are well-worked in, Jared and Jacs demand that the lads fuck each other; before screwing them a final time and then simultaneously splattering their faces with oodles of fresh jizz. Minutes later, and with the chavs having pissed off, Romeo and Elektra are left to enjoy their own private wank-off session – used, abused, but now as content as fuck!
Scene 3: Filthy Workers Give Brit-Slag Skylar Blu A Real Rough & Dirty Spit-Roasting!
Cast: Sean Savoy, Skylar Blu
Is it really any great wonder that Sean Savoy and Leo Foxx are overcome with dick-pulsing, crotch-straining lust when they stumble upon Skylar Blu taking a shower in his flat? After all, we defy anyone not to be immediately captivated by the way with which the young twink lathers and soaps his pert little ass for the camera – and, rest assured, these two horny workmen are not in the least bit unaffected by such provocative behaviour.
Needless to say, it's no time at all before the two burly lads are rubbing their crotches in anticipation of what they immediately seem to realise is gonna be the lay of their lives; and within just a few minutes they're manhandling the gorgeous beauty out of his bathroom in order to indulge their primeval urges. What's more, Blu being the kind of dirty little slut that he is, there's hardly a stroke of resistance shown from the young twink. Instead, the boy's soon feasting on all that rampant hard cock that's being thrust into his face; before the pair of cap-wearing punks decide to take turns to fuck the life out of Blu's dick-crazed rump.
Needless to say, being spit-roasted almost seems Blu's natural order in life, as does being splattered with lashings of hot jizz across his face and belly courtesy of his assailants. In short, a fine performance from a boy who loves to be treated like the slag he really is.
Scene 4: Dick-Craving Twink Gets Manhandled, Fucked & Swallows Every Drop Of Alpha-Male's Spunk!
Cast: Kai Alexander, Riley Tess
Also available: Kinky Fuckers 1 (Compilation)