Summary:
Fans of grease monkeys will be in their element here as a stupendous collection of the hottest, cutest young mechanics get together to work their rock hard tools on the tightest, freshest holes around! If you have a thing for guys in blue collars then we reckon it's time you sat back and oiled your spanners in readiness for the latest filth that the English working class. All topped off with oodles of grime, sweat and (of course) prime scally spunk!
Description / Review:

Scene 01: Blue Collar Four-Way Results In A Spunktastic Twink Spit-Roast!
Cast: Sean Savoy, Josh Frey, Kyle Martin, Sean Savoy, Luckas Layton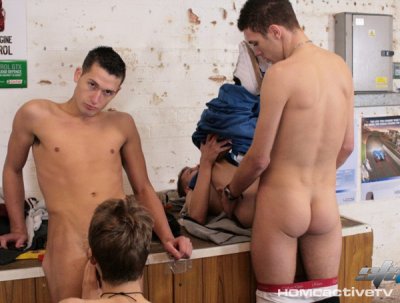 They're fresh out of school and expect to be able to mess about all day, but these two young scallies soon discover that in the world of work things are very different. And nowhere more so than in the automotive industry, where a hard day's graft is expected in return for a day's pay. Not that what occurs in this scene was in the trainee job description, of that we're quite sure, as Josh Frey, Kyle Martin, Sean Savoy and Luckas Layton get hot and horny amidst a backdrop of fresh grease and grime. Of course, the older lads are only too willing to show the new boys the ropes, and before long are forcing their thick manly cocks into the mouths of both twinks. To their credit, the young punks prove that whilst working in the factory might not exactly be their strong point, skills such as cock-sucking are definitely worth adding onto their CV! What's more, they're more than capable of taking every inch of cock available deep inside their tight, hungry asses – an ability that ultimately results, in copious quantities of jizz being squirted in every direction. Altogether, a definite must-see for those who enjoy working class cock-whores at work and at "play"!
Scene 02: Twink Customer Gets His Pipes Lubed & Thoroughly Stretched!
Cast: Tyler Manson, Josh Frey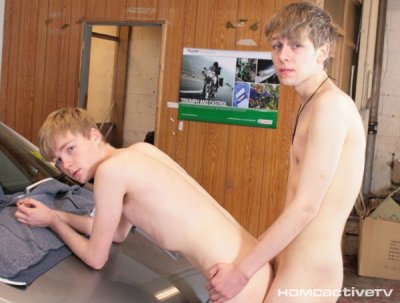 One of the perils – or perks! – of being a cute twink is that every guy you meet views you as their next notch on the bedpost. It's a predicament that a young blond-haired cutie like Tyler Manson is still getting used to, but given his response to the advances of Josh Frey when he takes his car into the garage with a mechanical problem it seems he's slowly getting used to the dilemma. After all, he' s down on his knees within moments of Frey sidling up to him for a kiss, sucking the marrow out of the mechanic's thick, uncut rod, before falling down against the bonnet of the car so that Frey can return the favour. Needless to say it isn't long before Frey is lubing up a condom and Manson is parting his legs in anticipation of the hard fuck to come, draping his bubble-butt over the side of the car so that the mechanic can thrust his oversized knob deep into his warm, inviting hole. Unsurprisingly it isn't long at all before Manson is spewing a fine wad of jizz all over his belly in response; whilst Frey completes matters by jerking off that noteworthy shaft of his and adding to the twink's cum-puddle in the process. In short, it's a case of customer satisfaction guaranteed!
Scene 03: Cute Delivery Boy Gets Banged From Both Ends By Garage Boys!
Cast: Finley Yves, Keiron Jones, Lloyd Adams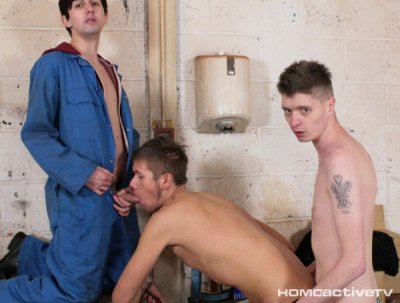 It's not exactly the way most people greet a delivery guy, but on this occasion it seems just right – with one mechanic promptly engaging in a lengthy session of French kissing and another dropping down to his knees, pulling the courier's trousers down to his ankles and immediately opening his mouth to slurp on the very handsome shaft that he finds stuffed inside. Indeed, given the bountiful nature of the meat on offer it's not at all surprising that the other grease monkey should soon be replicating his mate, feasting off the thick, uncut ramrod for all that he's worth. Mind, the delivery boy clearly isn't adverse to a bit of hard dick, as he returns the favour to both lads before positioning himself as the centrepiece to their filthy-minded urges. As such it's no time at all before he's being royally spit-roasted like a common whore, his oversized knob bouncing up and down every time that he's banged from behind. A subsequent session of cowboy-style cock-riding not surprisingly results in him spilling the entire contents of his balls; whilst the mechanics follow suit with two very generous eruptions of their own. Next day delivery has rarely looked so horny!
Scene 04: Washing Away The Dirt Leads To Oodles Of Jizz On Fresh Flesh!
Cast: Ash Williams, Kaden Tate
Also available: Fit As Fuck (Compilation)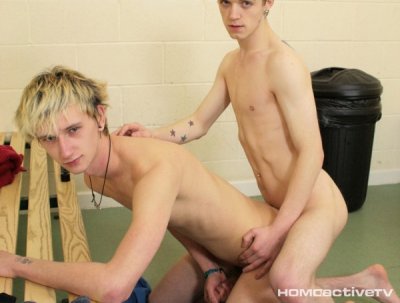 After a hard day's graft it's only natural that a young man wants to head for the showers to wash away all that grime and sweat from his cute, lithe body. Then again, it's also only natural that he should attract the attention of another fellow worker, slightly taller with blond highlights, whose intention appears not to be so much as wanting to wash himself down as wishing to take full advantage of the meaty uncut cock on offer. And let's be honest, who the fuck can blame this guy? We defy anyone not to do exactly the same as what is portrayed here, with the blonder fellow slipping down to floor level so as he can work his lips up and down the entire length of the young tattooed fellow's closely-shaved knob-end. Not that he's ever likely to be content with just a bit of oral, of course. No, this schlong-hungry punk isn't happy until he's been forced down across the changing room benches and is having his ass-hole well and truly pummelled by his cropped-haired workmate, taking every inch available like a compliant bitch. A rampant set-piece that only comes to a conclusion when neither lad is able to take any more and each fire generous wads all over their own hairless torsos.
Scene 5: Blond Office Boy Gets Skewered Thanks To Fit Horny Mechanic!
Cast: Skylar Blu and Brandon Boss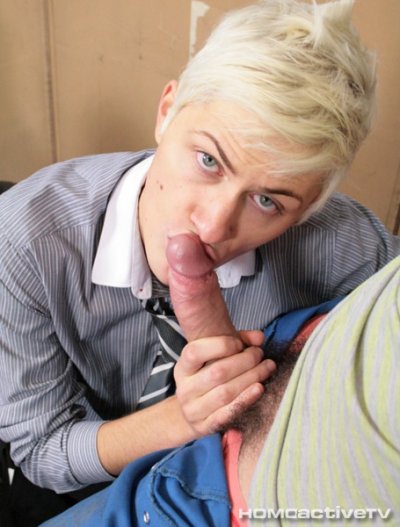 He should be busy doing work, but Skylar Blu, a bottle-blond office boy, appears to have little in the way of a decent work-ethic – other than wanting to spend his time chatting on the phone and generally avoiding work altogether! But if there's anything that a hard-grafting mechanic hates more than the arrival of Monday morning it's a work-shy time-waster, so it's little surprise that the interjection of Brandon Boss changes the atmosphere completely. Boss wants to know what the little punk is doing, and immediately puts the smooth little twink to some real good use – forcing his oversized knob into Blu's mouth and face-fucking him like the worthless shit he clearly is. That said, whilst the youngster clearly doesn't have a great deal of get-up-and-go in him where work's concerned, he does display a remarkable gusto where cock action's involved; and before long is sat on Boss' lap with a heavenly length of dick buried deep in his arse! Finally, having then been fucked hard over the desk, Blu pumps an appreciative spray of jizz; before the beefy top works out a fine deposit of his own all over the twink's freshly-emptied balls. In short, no-holds-barred filth!