Summary:
Pederasty – the relationship of an older, more experienced partner with a younger, sexually-charged fresher – has always had a certain enigmatic vogue; but these horny pairings take it to a whole new level, with some of the hottest STAXUS newbies taking on a collection of the horniest "daddies", including Ariel Bonetti, Johan Volny and Matteo Valentine. Brad Fitt and Billy Rubens lead the twink charge, as virgin asses yield time and again to the lure of Daddy's dick!
Compilation gay DVD - 6 scenes
Scene 1: Horny Businessman Gets A Delivery – Then Fucks The Delivery Boy!
Cast: Daniel Prince, Rogerio Matteo
From: Dads Do Lads, Scene 2
Modern day business can be very tiresome. Long days spent in meetings and dealing with e-mails and urgent telephone calls; followed by even longer nights spent away from home in strange hotel rooms. But, as Rogerio Matteo is only too keen to point out here, there are also distinct perks to such a lifestyle – not least of all when you encounter a horny young slut like Daniel Prince during the course of a day's work.
Why, this lithe little lad is only too willing and able to help out a businessman like Matteo any way he can – including pleasuring the older fellow's meaty, uncut, neatly shaved dick! What's more, the youngster doesn't seem to display the slightest degree of reticence when it comes to accommodating the said thick ramrod in his hungry pert ass. No doubt about it, this is a lad who clearly gets off big time by being used by an older hunk; and as if to prove the point he's actually dumping quite a hefty load of jizz over his own belly little more than half way through the scene.
A fact that then presents Matteo with the opportunity to forget all about his young charge's sexual needs and to spend the rest of their encounter concentrating on his own. Culminating in a very generous facial that leaves Prince dripping with cum, and allows the now-spent but satisfied businessman to return to his work totally refreshed!
Scene 2: Twinks Were Made For Fucking & That's What This Horny Stud's Gonna Do - Raw!
Cast: Brad Fitt, Ariel Bonetti
From: Dads Fucks Lads, Scene 2
Every loyal STAXUS fan knows just what a fuckable young pup Brad Fitt is – after all, let's face it, we've seen him horned by almost the entire crop of eligible tops in the Czech Republic (or so it might seems!) – but this scene, featuring studio new-boy, Ariel Bonetti, marks something of a change to his usual twink-inspired antics. For on this particular occasion the blond-haired youngster is in the mood for an older, more experienced partner, and is it really any wonder?
Bonetti is a studly beauty in every sense, and Fitt clearly can't wait to enjoy some hardcore fun with his new-found playmate, teasing him with a little food-play before turning his attention to the dark-haired fellow's handsome uncut ramrod. Suffice it to say that it's not long before the two guys are 69-ing on the sofa, Bonetti taking the opportunity to daintily rim the twink's hungry ass-hole; before Fitt plonks himself down on the full length of his mate's meaty dick.
The sight of Fitt's pale physique riding bareback on Bonetti's lap is surely more than enough to get anyone in the mood, and it should come as no surprise when the young pup knocks out a heady load from his shaved cock. An achievement only trumped by Fitt hungrily taking every drop of his pal's wad in his mouth! Bliss!
Scene 3: School's Out – As Is Johan Volny's Cock! The Result? A Raw, Spunk-Fuelled Fuck-Fest!
Starring: Johan Volny, Ryan Olsen, Finn Hornet, Dion Jet
From: School's Out, Scene 4

The results are out – and it looks like all those hard-working students have truly excelled themselves in their exams. Time, therefore, for the students' teacher, Johan Volny, to crack open a bottle of champagne for a celebratory drink, which he promptly shares with Finn Hornet, Dion Jet and Ryan Olsen. Not that the revelry is ever destined to stop with just a glass or two of bubbly, of course. Volny for one hasn't gained a reputation as one of porn's most prolific stars for nothing, and his trio of charges is equally hyped up for the challenge. As a result it's no time at all before Hornet, Jet and Olsen are eagerly stripping their mentor of his clothes; before each of the guys take turn to suck on that famous ramrod with the kind of enthusiasm that the handsome phallus deserves.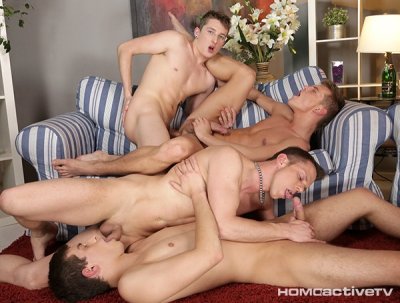 As with any bunch of oversexed whores, however, you can always be assured that there'll be one slut who's even more charged up than the others – in this case the accolade going to Hornet, who's soon bouncing up and down on Finn's dick with a grin on his face from ear to ear.
What's more, it's a look of elation that only grows when Volny does him the honour of taking a hard raw pound at his ass. No question about it, you're gonna be in rapture watching these three horny fuckers at play; and it's a feeling that will only grown even more intense when Jet, Volny and Olsen start to wrap up proceedings by spewing the sticky contents of their balls all over Hornet's face and body. Given the amount of jizz produced and the concluding winks to camera, the fun can be taken as read!
Scene 4: Horny Chav Window-Cleaners Use & Abuse A Pair Of Brit Emos!
Cast: Fraser Jacs, Jaye Elektra, Skye Romeo
From: Clean It, Scene 2
Window-cleaners can be a fucking kinky lot on the quiet, peeping through other people's windows to see what's going on inside; but Josh Jared and Fraser Jacs take such voyeurism to a whole new level in this magnificent foursome. Why, these two young horny chavs think nothing of interrupting Skye Romeo and Jaye Elektra's romantic coupling during the course of their rounds, and are soon thrusting their magnificent uncut dicks in the direction of the bewildered Emos.
Not that either Romeo or Elektra appear befuddled for very long. Indeed, these two skinny runts are soon doing exactly what their unexpected visitors tell them to do, sucking each other off whilst Jared and Jacs watch and wank, before using a double-headed dildo to fuck each other for the window-cleaners' pervy amusement. It's all weirdly hot; and the temperature in that council flat only gets hotter when the two chavs decide it's time to fuck the living daylights out of their guests. Not that Romeo and Elektra's humiliation is yet complete.
Having taken turns to make sure the twinks are well-worked in, Jared and Jacs demand that the lads fuck each other; before screwing them a final time and then simultaneously splattering their faces with oodles of fresh jizz. Minutes later, and with the chavs having pissed off, Romeo and Elektra are left to enjoy their own private wank-off session – used, abused, but now as content as fuck!
Scene 5: Hot, Horny Cute Boy Takes Every Suited Inch This Older Lad Can Muster!
Cast: Brad Fitt, Riley Smith
Also available: The Big Deal, Scene 3
It's a common sentiment that youth is wasted on the young, but that's certainly not a charge that can be levelled against Brad Fitt, who as everyone knows is more determined than most to squeeze every last drop of fortune out of every opportunity that heads his way – not to mention every last drop of jizz! – which in this particular instance comes courtesy of Riley Smith, a slightly older fellow who's determined to show our cute hero a real good time.
Not that Fitt needs much guidance in that direction, it must be said. Within moments of the two chaps meeting each other on opposite sides of an interview desk, the youngster is down on his knees giving a hands-on demonstration of his oral skills – and with a delicious looking dick like the one that he finds nestled in Smith's crotch to contend with, who can blame him?
The compliment returned, it's time for the older lad to really work the boy's butt, rimming Fitt's arse and then bundling the boy over the table for a hard, ball-banging fuck. By the time the cutie is being skewered on Smith's lap you almost feel sorry for the lad; but a truly fantastic money-shot from the older guy serves as more than adequate compensation.
Scene 6: Horny Boss Has An Opening To Fill – Right Up to Billy Rubens's Jizz-Stuffed Balls!
Cast: Billy Rubens, Matteo Valentine
From: Boss Versus Twink, Scene 1

They say that it's important to make an initial good impression when attending an interview, and that's certainly something that the ever-gorgeous Billy Rubens achieves here – in the company urinals, of all places! Of course, it's not exactly a surprise that the head of department, Matteo Valentine, should notice this divine-looking beauty as they stand next to each other, taking a piss; though the subsequent pat on the bum from the older chap could arguably be regarded in more politically correct circle as sexual harassment.
Not that Rubens is the kind of fellow ever to complain about attention – a fact that's underlined when the two guys meet up moments later in reception. Truth is, the youngster seems only too happy to respond to Valentine's approaches; and within just a few moments he's allowing his would-be boss to first unbutton his shirt and then to pull that thick, meaty, uncut cock of his from the confines of his slacks. Still, it always pays to look keen – something that's underlined by the manner with which Rubens promptly returns the favour by giving the very generously-tattooed Valentine an energetic blow-job.
Indeed, the desire to impress seems only to continue when the older fellow gives full account of the opening that he's looking to fill; parting his butt cheeks, and inviting his interviewee to stick his dick deep inside. Suffice it to report that Rubens doesn't need asking twice. A few seconds on and the lad's banging away with real gusto, culminating in a terrific white-out of hot jizz and (no doubt) the offer of a full-time contract!