Summary:
Young guys, big dicks, and hot bodies - that's the recipe for the scorching Young & Hung, which features over 30+ inches of rock hard cock! Including new exclusives Jacen Zhu and Cory Kane, this one is sure to whet your appetite!
Scene 1: Calvin Banks & Skyy Knox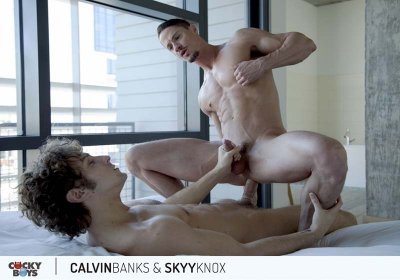 Skyy Knox simply can't wait for Calvin Banks to come home from work, so he texts him a bath time selfie of his perfect bubble butt with the message, "Join me in the tub". In record time Calvin is home, stripped down in his bulging briefs and kissing Skyy, who is both delighted and eager to see his man. These sexual live wires, already sparking and sizzling with passionate energy, virtually speed through the foreplay. Once Calvin Banks is naked, Skyy Knox sucks his long hard cock and almost instantly deep throats it. With veins in his neck and his upper torso bulging, Skyy is a cocksucking beast and all Calvin can do to avoid going over the edge is by playing with Skyy's ass and slowing down the Canadian dynamo.

Once Calvin enters the tub, the guys go back and engage in passionate foreplay in which they kiss and their lips enjoy the contours of their muscled bodies. This time it's Calvin, whose skillful sucking and simultaneous finger-fucking bring Skyy to the edge, his eyes rolling and knees almost buckling. Calvin Banks takes further control outside of the tub by fingering Skyy Knox's irresistible ass and power fucking him from behind as Skyy holds onto the rim of the tub.

Calvin sits back in the chair to get more deep-throat action from Skyy, giving him vocal encouragement and approval. As he's brought to the edge again, Calvin breathlessly says out loud, "I don't know which is better: THAT...oh my God...or your asshole." Skyy Knox shows him which by climbing aboard and riding Calvin's cock in a reverse cowboy position. In bed, Skyy feels up Calvin's ripped torso and kisses him passionately, then riding him in regular cowboy position, enjoying it thoroughly. Calvin gives Skyy the same passionate kissing before topping him missionary style and fucking the pent-up load out of him. And at the end Calvin gives Skyy a facial that leaves both guys breathless. Welcome home!

Scene 2: Jacen Zhu & Cory Kane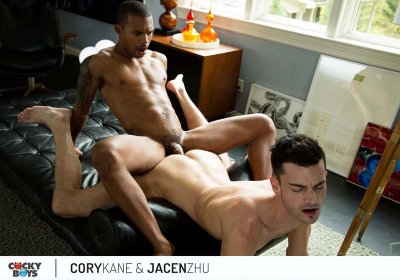 Not even a chilly spring rain can dampen the enthusiasm of adventurous Jacen Zhu! He's visibly happy to be with Cory Kane, someone he regards as a down-to-earth, cool guy...as well as tall, lean, and packing a big dick. The rain does cut short their outdoors making out and Jacen sucking off Cory against a tree, but inside they start things right up again. The kissing and disrobing runs smoother and Jacen is unencumbered by any weather distractions as he sucks Cory's thick cock and makes love to every inch. When it's Cory's turn, he hits all the right buttons as Jacen props himself on his elbows to watch, play with his nipples, and breathlessly sigh in vocal approval.

Jacen Zhu eventually lifts his legs, giving Cory Kane the go-ahead to fuck him, which he does with Jacen's leg's resting on his shoulders. Jacen takes a deep breath and with remarkable ease, Cory slides his rock hard cock into him and pumps into him almost immediately. With his ankles in Cory's strong grip, Jacen expresses his pure and genuine sexual pleasure to Cory and in fact encourages him to go harder. Seeing the exhilaration on Jacen's face Cory decides he wants Jacen to give him that same pleasurable experience. Jace takes the reins and gets Cory on all fours to deep-rim him and extract from him the same vocal expressions of pleasure and tacit begging to be fucked.

Jacen tops Cory doggy style, steadily eliciting a very vocal reaction that continues as they shift positions and Cory is pinned to the sofa. BUT the guys aren't through flip-fucking. Cory tops Jacen into a slow pile-driver position before lifting him up to let him ride his cock. They switch it up once more with Cory Kane riding Jacen's cock and meeting his thrusting hips in perfect sync. Jacen Zhu fucks a geyser out of Cory with the thick load splatters over Jacen's ripped torso. He's inspired to use that cum to lube his cock and stroke off as an impressed Cory watches intently. Jacen pumps out a similarly huge load, accompanied by a loud and intense orgasm that's almost convulsive in nature and euphoric in the aftermath. You want to liven up a rainy day? Look to Jacen Zhu for inspiration.

Scene 3: Frankie V & Justin Brody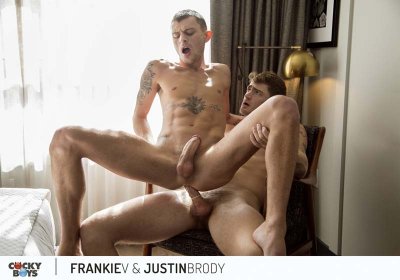 The inimitable Frankie V returns to Cocky Boys and becomes the newest subject for the "A CockyBoy Is _____" spotlight series. The word for Frankie is "empowered" because, as he explains he took a little time out to do more things for himself. This form of fun therapy included getting more in shape and as a result he gained more self-confidence and the motivation to take more pictures of himself.

As a more "empowered" person Frankie can readily see what he likes in Justin Brody beyond his physical attraction. For Frankie it's also Justin's relaxed personality coupled with his dominant presence. One look from him as they sit across from each other and Frankie knows Justin means business. As Frankie strokes his thick cock, Justin hovers over him and lets out several long trails of saliva flow as lube for him. In Frankie's presence Justin also feels empowered to be physically dominant with him. As he gets sucked the normally quiet Justin gets VERY verbal with Frankie in deep-voiced dirty talk and commands. Frankie is soon sucking Justin as he lies back on the bed, deeply satisfied with the service he's getting.

Justin returns the favor but also stresses his dominance as he holds him by the neck. Frankie is ordered to the bed with his ass up and Justin slobbers over his tight hole and fingers him, but stops short of fucking him...Justin wants a show! He sits back to stroke himself and give vocal approval as Frankie jacks his cock and slides fingers in and out of his hole. At last, Justin calls him over so he can prime his hole and kiss him passionately. In no time Frankie is riding Justin's cock like a champ. With his feet on top of Justin's thighs, Frankie works his hole up and down his cock as some of the most vivid sex talk flows from Justin's lips.

Justin Brody takes Frankie V to bed and fucks Frankie V on his back and on his side. He relentlessly deep-fucks the moaning bottom until he pulls out and creams over Frankie's crotch. However, Justin isn't through. With his finger buried inside Frankie and massaging his prostate, Justin makes him cum. Ultimately, those smiles on their faces will tell you that BOTH guys feel empowered!

Scene 4: Beau Taylor & Ricky Roman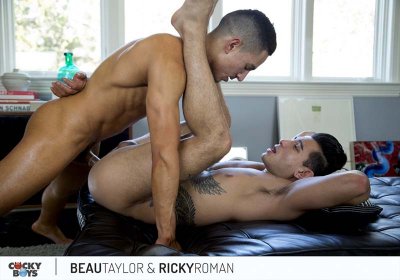 There's already a spark between Ricky Roman and CockyBoys' newcomer Beau Taylor thanks to their paths crossing a couple years ago...and the fact that Beau has a bit of a longstanding crush on Ricky. Plus, as Ricky admits in the introduction, once he officially met and got to know the sexually confident Beau, that was it for him. They ease right into kissing each other with passionate sensuality and getting their first taste of each other and their hardening uncut cocks. Beau jumps in first, casts aside any of his self-admitted nervousness and sucks Ricky to moan-inducing pleasure. After more kissing Ricky returns the favor by going down on Beau and learning quickly he's a grower as well as a vocal, take-charge fellow!

Ricky follows Beau to the day bed and continues to suck him off as he lies back. Propped up on his elbows Beau watches as contented Ricky, with his tempting ass raised up in anticipation of something more, gives him a thorough blowjob. You might not be unable to decide which of these two very sexy guys is getting the most pleasure here. The same holds true when Beau stands up and moves behind Ricky to eat out his beautiful bubble butt as he gets on all fours. Beau turns him over to suck and rim him more but this is bridge to the next level where they've been moving.

Although Beau Taylor has spent some time lubing up Ricky Roman he slides into him and fucks him slowly on his back until they find their groove. You'll know they've found it by the way their bodies look glued together and by Ricky's "Fuck Beau!" each time Beau finds the spot inside him. They mix it up by moving to the window where Beau pounds Levi standing up in state of unleashed sexual energy. And then they move back to the bed for one last time as Ricky rides Beau's cock deep inside. It's here where they each take charge of each other's ultimate pleasure. As Ricky moves up and down on his cock, Beau strokes him until he shoots a thick load over him. In turn Ricky slides between Beau's legs and jacks him, talking dirty until HE shoots too. It may have taken a couple years to get here but Beau and Ricky have finally come full circle.
Additional Information
Categories: UK R18 / XXX Gay Adult /
Running Time: 90 mins, Year: 2017
Price: Around £29*
Starring: Calvin Banks, Skyy Knox, Jacen Zhu, Cory Cane
Director: Jake Jaxson
Studio: Cocky Boys
Buy DVDs online at: Simply-Adult.com (UK/EU) and TLAGay (USA)
Gay Video On Demand: Cocky Boys, See also: www.gayvod.co.uk
Member Site: CockyBoys.com
Country: USA, Language: English
Additional info: No Regional Coding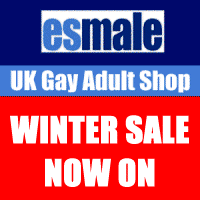 Esmale (UK Gay Adult Shop) sells a large range of gay adult sex toys including a range of fetish and restraint products, Cock and Ball play items, Whips, Paddles and Slappers, Blindfolds, Masks and Hood and are the UK stockist of Mr B leather and fetish products. They also sell a large range of men's designer underwear, condoms and lube, fleshjacks, jock straps and anal toys. Treat yourself!
Save an extra 10% on top of their already discounted prices with our exclusive code 'GAY10'. Click here to shop
See also: www.gayadultshops.co.uk