Summary:
There are times when Dad knows best, and there's nothing like an experienced man to show you the ropes. The lads in Boy Oh Boy crave just that. Watch them long for their older partners as they satiate their needs! Ricky Roman leads a cast of young guys looking for gentlemen to teach them everything they know.
Scene 1 - Manuel Skye Fucks Damien Gunn
A super-charged sexual connection leaps off the screen as Damien Gunn returns to Cocky Boys a little older, a LOT hotter, and as confident as ever as he takes on hung, dominant muscle man Manuel Skye. Damien likes the older, experienced type Manuel represents, while Damien satisfies several points on Manuel's checklist... including the lightning bolt connection he feels when Damien touches him. Passionate kissing leads to Damien enjoying Manuel's body and quickly moving to suck his uncut cock. However, before Damien gets even one taste, Manuel takes charge by pushing him on his back and sucking HIS cock. This dominance excites Damien even more, his body moving up and down almost uncontrollably... and it never really stops.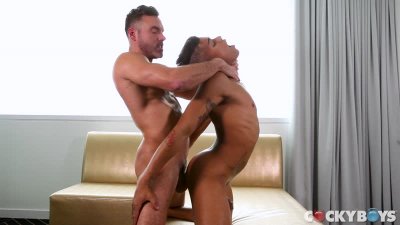 Manuel turns over Damien to rim his bubble butt and Damien just thrusts it higher. He begs for more but Manuel has his own ideas. He flips him over again and face fucks him, often so deeply Damien that is breathless. A brief 69 interlude leads to Manuel fucking Damien's throat, swatting his firm ass and teasing it as he squirms all over the day bed. Knowing they both share acrobatic, gymnastic skills, Manuel puts them to the test. He begins by balancing on the back of the furniture as Damien sucks him and then making Damien squat on Manuel's face to get rimmed. Manuel takes Damien in his arms and lets the energetic bottom ride his cock, raising his own ass and back off the bed in a gymnastic sex move you may not have seen before.

With his dominant drive now in high gear and knowing this is what Damien Gunn wants, Manuel Skye combines acrobatics with his instincts to take full control of the ever-energetic bottom. Brief ass play leads to Manuel fucking Damien from behind, holding his arm back as he plows him. Manuel throws him around and nails Damien to the day bed, his sexual strength taking charge. Manuel Skye puts Damien Gunn on his back to feed his throat some more cock, then standing over him as he jacks off to an intense orgasm. Finally, Manuel lets loose with an intense orgasm of his own, his cock erupting with a huge volcanic volley of thick cum that he makes sure covers as much of Damien's torso as possible. Their kisses and satisfied smiles say it all. Welcome back Damien Gunn!

Scene 2 - Big Dicked Josh Moore & Boomer Banks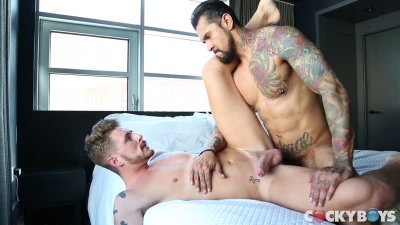 It's time for Josh Moore to become Boomer Banks' boy and do whatever he tells him. It's a secret desire Boomer had after first meeting Josh, who in turn is ready to please him. Their intense connection is so strong that Boomer barely utters a word to control him. He holds Josh tight while staring into his eyes, and pulls him close to grip his rounded ass and enjoy his tight hole. Boomer moves Josh to put his hands behind his back and lie on top of Boomer as the tattooed stud enjoys his body in a proprietary manner. When Boomer decides it's time, he slides Josh slowly down to kiss his muscular torso and lick the precum already oozing from his cock.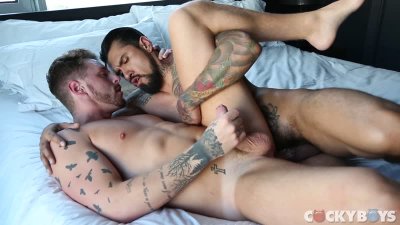 As commanded Josh Moore enthusiastically sucks Boomer Banks' cock to full size but Boomer is not through enjoying his boy. He orders Josh to stand then show off his muscular ass, sit on his face to be eaten out and spanked. When he sees how his tongue work has excited Josh, Boomer can't wait to suck his cock and make it grow even bigger, savoring every moment. At last Josh Moore is allowed to prove himself to his man by easing his juicy hole on Boomer's shaft. It takes some effort from Josh to get used to riding Boomer's legendary cock but he does, with some of Boomer's forceful guidance.

Boomer takes Josh to the bedroom, stopping along the way to fuck him in the doorway, enjoy his body and remind him who's in charge. On top of the bed Boomer fucks Josh on his back, continuously gazing intently at his face for the effect his cock is having on him. Boomer finds a slightly sideways position to bring Josh to the edge and make the vocal bottom explode with thick load. Josh barely has time to catch his breath as Boomer is ready to cum too and wants his boy's head resting on his abs for a gooey facial. Josh is very happy, resting his head contentedly on Boomer's shoulder when he hears him say "Good boy".

Scene 3 - Brandon Jones & Colton Grey flip-fuck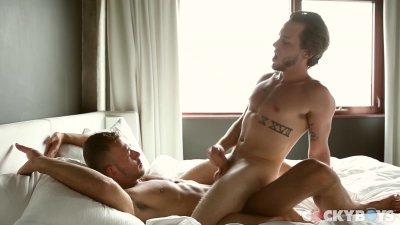 Colton Grey has really been enjoying his trip to Montreal, meeting and fucking some of our hottest CockyBoys up there. When he first sat down with Brandon Jones, the chemistry was crystal clear. The guys gave a quick run-down of exactly how they like to fuck, the main thing being their shared sexual versatility. That of course meant nothing was off limits!
When they got naked and started making out, though, their chemistry really spoke for itself. Brandon quickly emerged as the dominant one, gulping down Colton's beautiful thick cock and then rimming him to oblivion. You could tell he couldn't wait to pound Colton -- and that he did! Colton got nailed hard and passionately, just how he likes it. He then climbed on top of Brandon and rode his cock some more, moaning with every thrust.

But Colton wasn't going to let Brandon off easy. He soon bent Brandon over and gave him a rimjob, prepping him for the fuck Colton knew he wanted deep down. He teased Brandon's hole doggy-style with his cock before the guys really found their groove, Brandon riding Colton with long, sensitive thrusts. Finally he flipped Brandon over and just straight-up nailed him in standard missionary -- hard and fast -- until Brandon shot his load. Colton blew an equally impressive cumshot almost immediately after, some if it reaching Brandon's face! Drenched in sweat by the end, you'd think these two had been fucking each other for years...

Scene 4 - Jimmy Durano Fucks Ricky Roman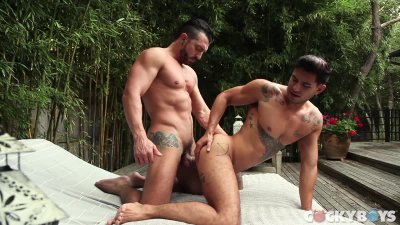 Jimmy Durano and Ricky Roman enjoy a day at the beach on Fire Island before returning to the house to heat things up on the back patio. The rinse the sand off their feet then strip down for the main event. Fucking!

Ricky pulls Jimmy's thick uncut cock out of his pants and wraps his mouth around the swollen head. Bobbing his head back and forth and riving Jimmy insane with his talented mouth. Jimmy strips off Ricky's pants and spreads his cheeks to get a good look at his butt hole. Fingering Ricky's butt and getting it ready for his cock.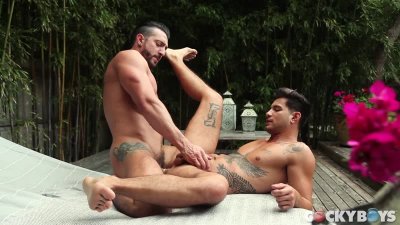 Jimmy moves the action over to the day bed so he can slide his tongue in Ricky's hole. Treats him to a first class rim job before flipping over so Ricky can sit on his thick cock. Ricky is right there and slides that pole all the way in his ass in one go. Slowly settling on that thick stick before bouncing his hips up and down in a perfect fucking motion that has both of them moaning.

Jimmy changes position so he can fuck ricky doggy style and Ricky loves it! Driving his hips back against Jimmy's rock hard cock as Jimmy pounds that hole like there'e no tomorrow. Ricky is moaning loud enough to alarm the neighbors but that doesn't stop Jimmy for one second!

The two switch positions one more time so Jimmy can fuck Ricky on his back. Ricky's rock hard cock is straining against his tight belly when Jimmy reaches down to grab that dick. Ricky tells him he's close but Jimmy just says, "I wanna see you cum!" And in a couple of strokes Ricky is shooting a thick load all over his belly. Bucking and quivering as the last shots of jizz fly out of his dick.

Jimmy is right behind him and pulls out just in time to deliver his own load on top of Ricky's puddle of cum. He takes a second to catch his breath before leaning over and kissing Ricky one more time. It's been a long day but it's time to clean up and get going.

Who knows what the night has in store!