Summary:
Hardcore RAW SEX! We're serving just that in this volume. We've paired up some hard hitters like Cade Maddox & Justin Matthews with boys that just want to get fucked! These guys are dicked down raw and were asking for more!
Description / Review:
Scene 1: Cade Maddox & Taylor Reign - RAW!
Cade Maddox is crashing at Taylor Reign's place and he's packed some essential Taylor REALLY likes: rope and a ball gag! Taylor takes a special liking to the ball gag, so an excited Cade makes out with him and affixes the ball gag to him. Cade devilishly teases his big cock over Taylor's face and does what he can't. He sucks his cock and rims his hungry hole then goes back to slide his thick cock and musky balls around his nose.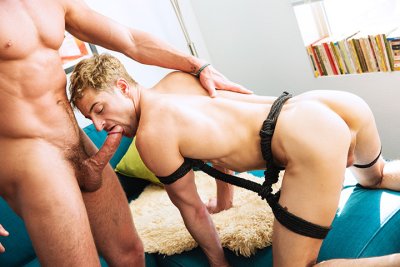 Just as quickly Cade removes the ball gag and feeds his cock to Taylor's waiting mouth and goes all in to face-fuck him deep. Cade kicks it up a notch by using the rope to bind Taylor on all fours. Cade rims him and this time barely teases his hole before pounding him hard. And because Taylor is immobilized Cade can move to the front to feed cock to Taylor's mouth and return to fuck him from behind.

When Cade fucks Taylor on his back he unties him and gets him to ride his cock. But, roped or not, Cade is in full control and picks Taylor up and flips him on his back again to finish him off. He drills Taylor until he shoots a thick load over his abs. Abd right after Cade cums over Taylor's freshly fucked hole and fucks that cum into him. As Cade kisses him, you can bet Taylor is thinking that his houseguest wont be overstaying his welcome any time soon.

Scene 2: Justin Matthews & Sean Ford - RAW!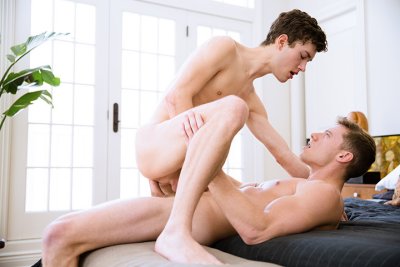 Sean Ford has had a big crush on Justin Matthews, whose dominant energy and military haircut have fueled many of Sean's edgy fantasies...and now they get fulfilled. While Sean kisses him and worships his muscular body, Justin takes Sean's belt and tightens it around his neck..just as Sean desires. He follows Justin's commands to tease his cock in his briefs and suck it when it's revealed fully hard & throbbing.

Sean takes Justin's thrusts and with his dirty talk & total cocksucking, ball-licking devotion, he turns on Justin even more. The dominant top eagerly gives Sean similar oral pleasure and soon Sean can't hold back..he has to ride Justin's cock. As he rides him Justin thrusts in and they're quickly in sync. Justin's cock soon find its target so perfectly that he makes Sean cum hands free! And he's still hard as Justin turns him around to fuck him from behind.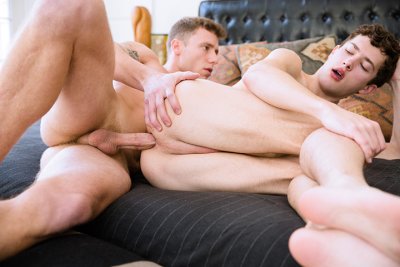 Justin's dominant hard pounding is relentless and Sean loves every deep thrust. Justin's control soon reaches its zenith as he gets Sean on the bed to deep fuck him sideways. With Sean's moans and verbal encouragement as added incentive, Justin finally goes over the edge to shoot a thick load over his hole. As he slides his cock back in, Justin makes Sean cum again with an even bigger & thicker eruption! As they lie back totally spent, they agree they both needed that ...and in just that rough way.

Scene 3: Max Adonis & Ty Mitchell - RAW!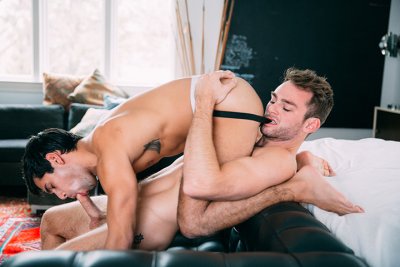 Sexy & joyfully uninhibited duo Max Adonis & Ty Mitchell have had some off-camera fun before but now bring it full force to CockyBoys. Even before they get started their existing chemistry heats up the screen! As they kiss, the versatile guys ease right into their roles.. for this scene. Ty goes down on Max and gives his cock & balls the royal treatment and goes into total deep sucking ...with the help of Max's playfully dominant words & actions.

Ty continues his super-sucking but first gets into a 69 position so Max can slobber on his hairy hole and all this just incites them get to the fucking. Max gives into full power-top mode by relentlessly plowing Ty's bubble butt with his raw cock and a moaning Ty takes every ball-slapping thrust. He doesn't even need to rest as he shifts to riding Max's cock as requested. Max piston-fucks Ty who again shows his bottoming prowess by taking cock and the fingers Max slips in as he fucks.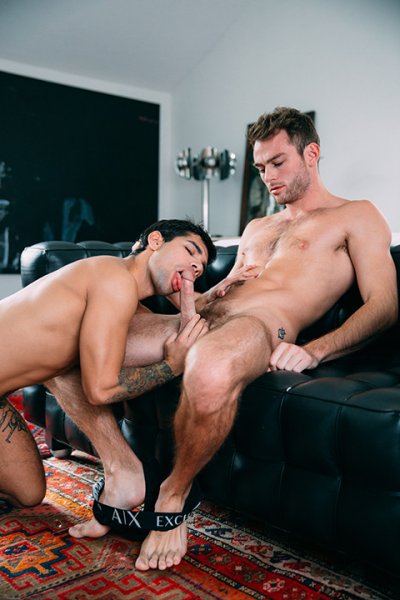 Max flips Ty on his back to ram his hole, then drills him to the bed in a variety of positions. Max is a wild man as he pounds Ty on his stomach until he goes over the edge. He pulls out in time to shoot a thick load over Ty's hole and fuck some of it back in. There's still so much left that Max can use it as lube to stroke Ty. But Ty takes over and as Max fingers his hole, he shoots his load all over himself. At the end the giddy, giggling guys are on true sexual high of total satisfaction.

Scene 4: Carter Dane & Chris Loan - RAW!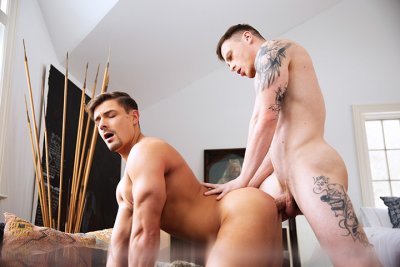 Bonjour! The only thing hotter than two guys speaking French during sex are the two sexy men themselves: French Twinks star Chris Loan and CockyBoys' Carter Dane. They met in Paris during the Le Garçon Scandaleux shoot and Carter was taken with Chris' charm and marble-sculpted muscles. So who else could welcome Chris to CockyBoys for a raw fuck?

Carter moves slowly on Chris, making his way from his feet to his lips. After kissing and caressing, Carter teases Chris' hardening cock through his briefs before taking it out. Carter frenches the thick uncut rod and deep-throats it as he sucks and licks every inch as well as Chris' big balls for extensive oral pleasure. Chris wants Carter's beautiful ass but first makes out with him, worships his muscular chest and shows him that sucking cock & deep-throating are a French spécialité!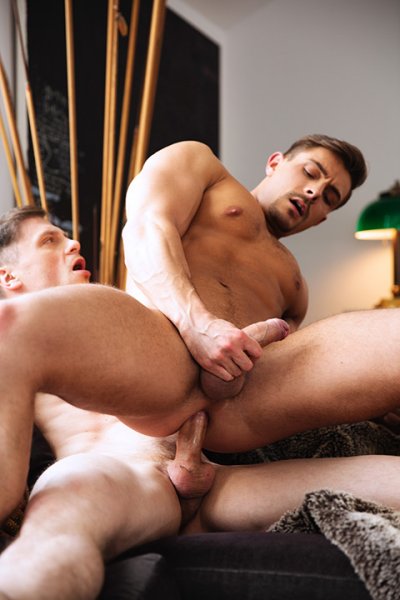 At last Chris gets Carter's ass. He has him sit on his face to rim & tongue fuck him before turning him around to finger him. Chris wastes no more time and energetically fucks Carter hard before letting him ride his raw cock almost to the point of orgasm. But Chris waits till he pounds Carter on his back and fucks a thick load out of him. And while Carter is lying there Chris gives him a facial spurting from his helmet-head cock. Giddy Chris kisses a spent Carter and the two finish with bilingual gratitude. Au revoir, Chris!