Summary:
Beautiful & sunny Los Angeles is the backdrop of this series. The beach, the sun and the hot, beautiful hung gentlemen almost make us forget our NYC hometown! Featuring Riley, Sean Zevran and newcomer Travis Yukarit, this DVD is all about the boy.
Scene 1: Sean Zevran & Liam Riley
In the first part of a series shot in LA, Liam Riley & Sean Zevran spend time together enjoying the city.and each other's company on a warm winter's day. Playful flirting and a sensual shower together leads to increasing sexual attraction that reaches critical mass. As Sean lies in bed stroking his thick cock, Liam stands nearby, also hard and stroking and when he's bent over with near-feverish intensity he mutters in a semi-hoarse whisper, " Fuck...I want you so bad."

Sean bounds from the bed and with unleashed passion wraps Liam in his muscular body and makes out with him. Sean takes charge, turning Liam around, pressing him against the wall and burying his mouth in the crack of Liam's ass. Liam soon begs for Sean's cock and with just a hint of teasing Sean gives him every inch. He drives deep into Liam and soon they're in sync, power top and power bottom each thrusting into one another, both in control.
Moving to the bed Liam and Sean make out again but Liam' focus is on Sean's cock. With his kisses Liam worships Sean's muscular body on his way to sucking his cock relentlessly, enjoying it all and giving Sean pure pleasure. Soon Liam is ready to ride Sean's cock and he does, both forward and reverse with Sean driving even deeper inside him.

Sean takes control again, flipping Liam on his back to fuck him hard and hold him by the throat. Immediately Sean hits Liam's internal bulls-eye and the vocal bottom urges him to keep going until he shoots a huge load all over his abs. As Liam finishes Sean has also hit the breaking pint and as Liam requests he slides up and gives him large, creamy facial. They bask in the afterglow, sharing sexually satisfied giggles and a sweet kiss. Think they're ready for more?

Scene 2: Travis Yukarin & Taylor Reign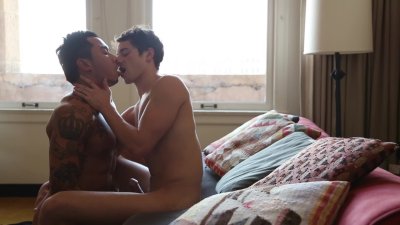 Taylor Reign welcomes Travis Yukarin in his porn debut at CockyBoys, but he doesn't make it easy for the slightly nervous newcomer. Taylor, who Travis thinks is "hot stuff" stands near him, naked and hard, stretching and teasing him as his hands roam over his body and lightly stroke his cock. Travis has no choice but to get up from his chair and go over to Taylor, play with his ass and rub his muscular body up against his back. Finally Travis turns him around and kisses him as Taylor's steel hard cock rubs against the the bulge in Travis's briefs.
Taylor takes his time, his mouth working its way down from Travis' pecs to suck his cock and excite him enough to take a more aggressive role. Travis kisses him pushes Taylor on the sofa and goes down on him, slurping on his sensitive cock head. He also reaches up and lets Taylor suck his fingers. When they resume kissing Taylor explores Travis' bulging muscles and when finds his huge muscular ass this triggers Taylor to take control, bend Travis over the sofa and explores his ass. He rims and fingers his smooth hole and slaps his globular mounds and even takes the time to admire Travis' brawny back. Taylor is so horny he says it out loud!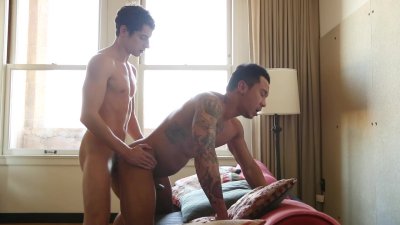 Words turn to action as Taylor slides his cock into Travis. When he starts fucking him deeper and harder Travis finally opens up and loudly moans with every thrust. Without a break Taylor flips Travis on his back to fuck him. However, Taylor, ever the versatile host, gets Travis to fuck him. Bent over on the window sill he takes Travis' aggressive pounding, driven by Travis' muscular power. Travis fucks a load out of Taylor who soon is back on his knees getting a facial from him. But that's not all! Travis is still so turned on he stands up and shoots another big load which splatters over Travis' pecs.

Travis may not be a talker but he says it all at the end exclaiming "So hot!" as he kisses Taylor with undiminished passion.

Scene 3: Jack Hunter & Ollie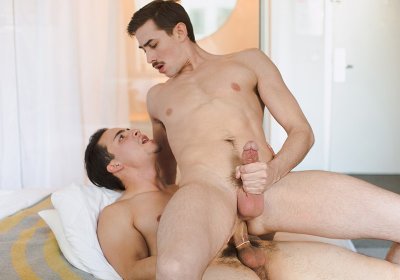 Jack Hunter & Ollie's fun and flirty day at the beach winds down with a balmy sunset, but when they return to their room their simmering sexual chemistry bursts into a full flame of passion right as soon as they close the door. After deep kissing one another, Jack makes his way down Ollie's hard body to his cock where his mouth engulfs his hardening cock. Soon Ollie is eager to return the pleasure..especially once he gets a look at Jack's ginormous cock. He has to use his hands and his mouth to take on Jack, but Ollie perseveres in his oral challenge.
Ollie gets a brief break when Jack lies him back and and sucks him so well that he puts him in a state of moaning and submissive pleasure. Jack merely utters the words and he has Ollie opening his legs for him. Jack inches his cock into Ollie with gentle precision but still a wide-eyed, open-mouthed Ollie can't help but say, "Holy shit...oh my God". At first Ollie can barely take half of Jack and continues to swear but he urges him to go deeper and give Ollie the chance to take more. Jack is able to move a little faster and deeper and he finds that sweet spot inside Ollie that makes the bottom ask for more, turning from gasps to deep voiced moans.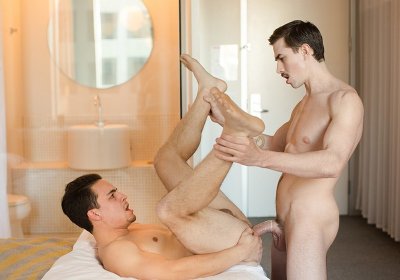 Ollie also wants to top Jack and in one swift change he's fucking him on his back, hard and deep so that Jack is the one gasping and moaning. He shifts to a reverse cowboy where his hard cock swings like pendulum and Ollie can only briefly get a hold of it. Jack turns around to ride Ollie and soon he's shooting his thick load over his abs. Ollie finishes up jerking his cock in a heated frenzy and his cum shoots everywhere. Jack still manages to capture some and the rest he sucks off of Ollie's sensitive cock and licks off his body. Who knew their laid-back day at the beach would become an intense and passionate dusk?

Scene 4: Sean Ford & Taylor Reign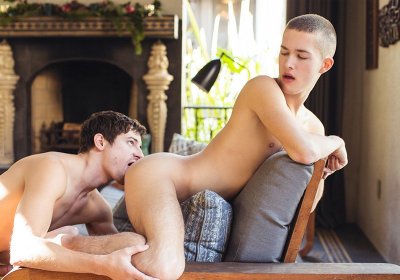 Sean Ford & Taylor Reign are out and about in LA but their attention is really more focused on one another. In spite of this pent-up sexual tension they take things slowly. They simply want this to last. On the sofa they luxuriate in sensual kissing which leads to Taylor slipping off Sean's pants and sucking him at length,, with the same romantically inclined but unmistakable sexual desire. At one point Taylor rises up and without saying a word Sean takes out Taylor's cock from his speedos and gives him the same oral pleasure.

Taylor ticks things up a notch by feeding his cock deeper into Sean's mouth and throat, face-fucking him with Sean's silent approval. Taylor kisses Sean again with increasingly aggressive passion before getting him to his knees, turning him around and burying his face in the recesses of cute ass. Taylor's fingers and tongue probe Sean's tight hole an he can't resist the temptation to nibble on his silky smooth mounds. Finally he simply must slide his cock into his tight hole.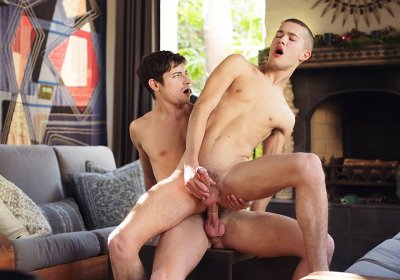 Taylor can't contain his sexual desire for very long and he fucks Sean deeper, harder and faster, their bodies practically glued together. They change it up though with Sean riding Taylor's cock and they move together with even more energetic passion. Taylor switches it up again by picking up Sean, kissing him deeply and laying him back on the sofa to finish him off.
It doesn't take much time for Taylor to make Sean cum, whose thick load spurts out effortlessly. And as Sean milks his cock dry Taylor stands up and shoots his impressive load over Sean's body. And just like that they resume kissing. How much longer do you think they'll go before starting round 2?