Summary:
You never want summer to end really. The idea of frolicking naked in the warmth of the sun turns you on - especially when you could play with your sexy friends. Allen King, Levi Karter and Ashton Summers enjoy an Everlasting Summer - and it is filled with youthful sexy boys having hot summer sex!
Scene 1: Cole Claire & Taylor Reign
Summer At Cocky Boys means country boy Cole Claire gets to recapture a simply joy of the season by wearing as few clothes as possible..and being around other like-minded guys such asTaylor Reign. After spending some naturally intimate time with him, Taylor is emboldened to seek out Cole and start things up and that's just fine with hard & horny Cole. He loves the attention, as well as Taylor's body and his cock on the way to another summer staple at Cocky Boys: outdoor sex!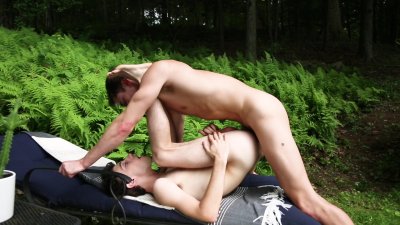 After getting some perfect cocksucking from Cole, Taylor takes command by pulling down his short-shorts and throwing his legs back to suck and rim a very vocal Cole. Cole gets more time sucking Taylor who finally gets naked and the sight make Cole say, "Fuck. Come feed me." Cole, that was already on Taylor's mind. Cole deep throats Taylor who in turn 69's his cock and hole and subsequently orders him to turn over. He plays with Cole's tight little butt is mere formality because Taylor is soon drilling him to the lounge chair and fucking him doggy style.

Taylor gives momentary power to Cole by letting the vocal bottom ride his cock but in time he retakes control by moving him up and down on his cock and picking him up for a mid-air fuck. Plopping Cole on his back Taylor thrusts into the gasping bottom to achieve a good top's goal...making Cole shoot his load and milk his cock dry. At last Taylor comes around to give an eagerly open-mouthed Cole every drop of his thick cum. Even so, Cole sucks Taylor's cock to get whatever is left. That's one hungry bottom!

Scene 2: Calvin Banks & Cole Claire

Cole Claire makes his long-awaited debut at CockyBoys and he's excited because his first scene is with someone who's his idea of a Greek god: Calvin Banks! It's no wonder then that Cole gets a instant boner when Calvin snuggles up behind him in the mirror, undresses him kisses him on the neck and playfully manhandles him. Calvin gets a hot surprise when he starts to rim and tease Cole's shapely butt and Cole gets very vocal and demonstratively eager to have Calvin inside him.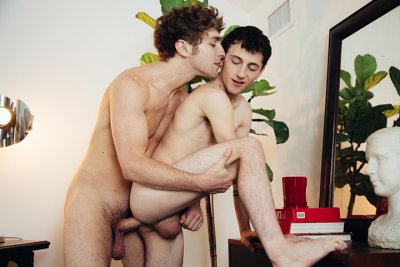 Calvin holds Cole tight and plows deep into him and a breathless Cole reacts to every thrust. Not only can he take all of Calvin's rough 'n' tumble fucking, he wants it bad. In turn that drives Calvin to dominate him more. He picks up Cole, tosses him on the bed and face fucks him before he gets into a 69 with Cole followed by rimming him and driving him wild again. It's not long before Calvin spins Cole around and starts fucking him again...just as Cole wants.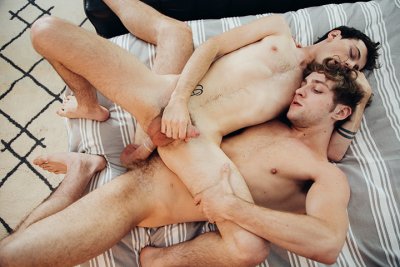 Calvin's control takes another turn as he picks up Cole (with his cock still buried in him) for some mid-air fucking and lies him back down to fuck him from the side. As Calvin holds him tight Cole erupts in a vividly intense and vocal orgasm. Cole recovers quickly to attend to Calvin's needs by sucking him and stroking his cock until he gives him the same intense orgasm he got. Calvin's cum rockets out but Cole manages to aim it and give himself a facial. They lie there basking in the afterglow and Cole loves the feeling. Calvin makes it official and tells him: "Welcome to Cocky Boys. Get used to it"

Scene 3: Asher Hawk & Levi Karter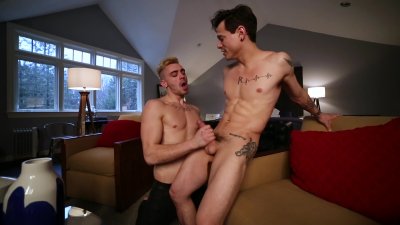 Levi Karter had been thinking about Asher Hawk ever since he left CockyBoys for a short while about a year ago. They'd already shot a threeway together with fellow CockyBoy Zach, and Asher said the most memorable part of it was topping Levi. Now that time has passed, though, Levi can't wait to return the favor and give Asher a proper plowing.

Once the guys got naked, it was like the sparks between them had never gone away. They started making out in front of the fireplace -- which made for one very romantic setting -- and Levi went straight to work sucking Asher off and rimming him. Then Levi went full force into fucking Asher, who had this grin on his face like he'd been waiting for this moment for a long time!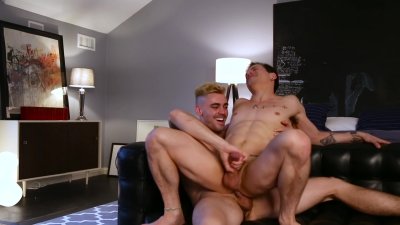 After the guys moved to the floor and Asher rode Levi like a cowboy, Asher surprised Levi, flipped him over, and gave him a hard pounding to seal the deal. It's been hot to watch Levi transition from a bottom to a top over time, but there's no denying he loves a good fuck -- especially from one of his favorite CockyBoys!

Scene 4: Calvin Banks & Troy Accola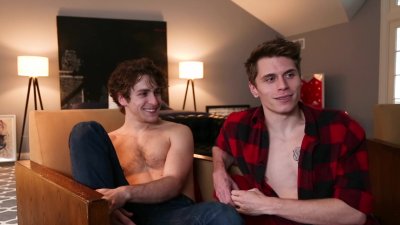 Troy Accola makes his long-awaited Cocky Boys debut and there's no one better to welcome him than Calvin Banks. They have a history together on camera and off and now get a chance for a more exciting redux...with Troy now more sexually confident and open to more options. Calvin lies back as Troy affectionately makes out with him and travels down to open his jeans and lovingly suck it. Knowing what to expect, they're naked very quickly with Calvin energetically sucking Troy's cock and eagerly setting the course of action. Calvin first sets in motion a variation on a 69 so he can get face fucked...and get a taste of Troy's hole.

With their passion running high Troy gets on his knees for some deep-throat face fucking. An impressed Calvin is soon drawn back to familiar territory: Troy's smooth tight hole. He fingers it and he barely rims him before Troy is begging to be fucked...a plea that Calvin grants quickly. He buries his cock in to the hilt and easily puts Troy into obvious bliss. With a little nudging from Calvin, Troy works his hole on his cock...which Calvin subsequently thrusts in deeper and harder. Troy moans, "no one fucks like you" and soon enough Calvin is ready to live up to that praise.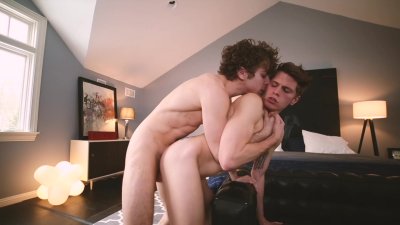 Putting Troy on his back Calvin plunges in again to find that sweet spot with knowledgeable precision. Pressed together tightly so that they can kiss and speak intimately with one another Calvin drives Troy to the edge. BUT, before they get there Troy wants his turn to give Calvin the same deep pleasure. Calvin flips and starts riding Troy's cock and a confident Troy thrusts in deep...and in control. As Calvin rides him Troy slides his fist over Calvin's long, thick cock and almost effortlessly makes him explode in a cum geyser. Calvin then finger fucks Troy as he jacks off his own cum fountain and proves to Troy "I always know how to find your spot". Welcome to CockyBoys, Troy!