Summary:
Every good movie deserves a sequel, so don't be surprised to see Cockyboys' new gay porn DVD 'Big Bro, Little Bro 2'on offer!
Big-dicked tops show their lil' dudes how to take dick: From Grayson Lange being stretched by J.J. Knight's enormous cock to Levi Karter being double fucked, these very keen boys were definitely and truly satisfied.
Scene 1: JJ KNIGHT & JUSTIN MATTHEWS DP LEVI KARTER!
As far as JJ Knight is concerned three is the perfect number, especially if it involves Levi Karter & Justin Matthews, two guys he's long wanted to have scenes with. So, CockyBoys makes it happen, with the guys adding some DP action into the mix.

At first, it's just JJ & Levi making out while Justin sits behind them stroking his cock watching the show. His gaze is locked on that of JJ who loves being watched, but also wants to watch. So he sends Levi over to suck Justin while he watches. Levi turns on both guys to the max as he proceeds to deep throat Justin who in turn watches JJ stroke his monster cock. Within minutes Levi is going back and forth sucking both guys and on his knees almost sucking them two at a time!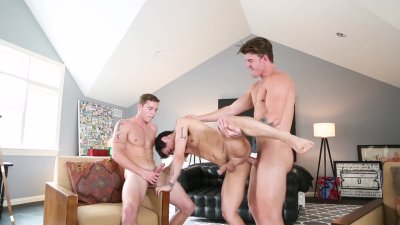 With little effort, JJ moves Levi to devote all his oral attention on Justin's cock while JJ works over Levi's hole with his mouth and hands. Soon JJ stuffs his cock and Levi is spit-roasted and he takes it all even as he's fucked with only one leg on the ground. It's JJ who needs a little break while Levi is ready to ride his cock. As he does Justin stays mobile, getting sucked by JJ at one end and then bounding to the front to suck Levi and get sucked back. Once again though it's Levi who suggests the next move: he wants two cocks at the same time!

The girth of JJ Knight could categorize this as a triple-penetration but whatever you call it Levi expertly takes both JJ & Justin deep. Even when they shift positions Levi keeps it going with no trouble. The guys are on the edge now so when they move to the bed and JJ & Justin switch places in spit-roasting Levi on his back they almost cum at once. JJ pulls out to give Levi a facial and within seconds Levi shoots his load followed by Justin rocketing his cum over Levi's chest. The spent guys share some final kisses but a lasting connection.

SCENE 2: GRAYSON LANGE & JJ KNIGHT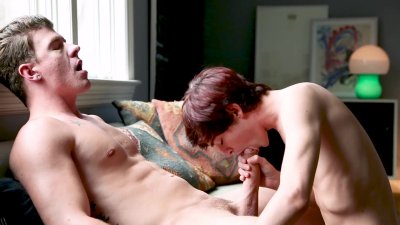 JJ Knight is back and recent arrival Grayson Lange is ready to take on the challenge! Knowing that taking his ginormous cock is indeed a challenge JJ initially takes it slow with Grayson with kissing and sensual body. But, Grayson wants that cock and goes down on JJ, taking as much cock as he can. JJ again tries to pace Grayson but as he sits Grayson's enthusiasm simply cannot be quelled and he goes all out.

Using his mouth and hands on the biggest cock he's ever had Grayson impresses JJ but the handsome top still feels the need to get him ready for more. JJ gets Grayson naked and has the flexible lad get up so he can rim him and fingerfuck his tight hole, and still, Grayson bends over to suck that cock he's craving. JJ puts Grayson on his back, caresses and kisses him...with Grayson smiling in anticipation. At last JJ Knight enters Grayson and starts fucking him, Grayson's moans growing louder with every inch and thrust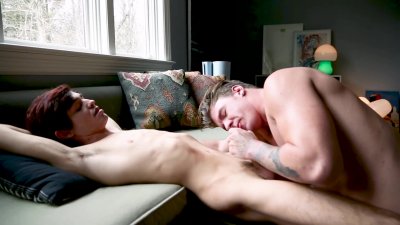 When JJ switches it up and fucks him standing up & holding his arms back Grayson really feels him deep inside. And now Grayson wants to ride JJ's cock and he does as JJ jackhammers up into him. Soon Grayson lies back on his strong torso and they get into a groove together until Grayson's mini-geyser of cum erupts over his thighs. With JJ close Grayson dismounts and begs for his cum and gets a massive thick facial. JJ makes sure to feed some to Grayson before they share a tasty kiss. What a welcome back to CockyBoys!

SCENE 3: SEAN ZEVRAN & TAYLOR REIGN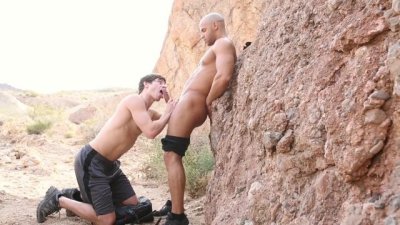 The shade and seclusion of vivid desert rock formations is a perfect place to take a break...and to get some alone time when your hot hiking buddy is Sean Zevran. That's what Taylor Reign has in mind and though Sean may act a little coy and playful he wants it too...and loves the attention. When Taylor tugs Sean's shorts down, his rock hard springs up, ready to get some very thorough deep-sucking offered by Taylor.

Taylor's inexhaustible cocksucking is only interrupted by Sean who turns him around and buries his mouth into his ass. As Taylor leans against the craggy rocks he's vocally excited by Sean's deep-tongue-fucking and by the hot risk of getting caught in the open. And if it was ever in doubt Taylor makes it clear he wants Sean's cock inside him. Sean gives it hard and deep with a dominant edge, as relentless on his hole as Taylor was on his cock.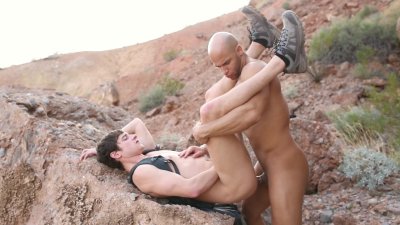 Thanks to their resourceful use of Taylor's backpack Sean can pound him missionary style on top of a boulder, with relative comfort. They continue at fever pitch until Sean gets on top of the rock to face fuck Taylor and push him over the edge (sexually, not geologically) to stroke out a big load that flies everywhere. Taylor's sexual energy is unaffected though and he returns to sucking Sean to orgasm with Sean giving him a thick facial.

And so, our intrepid hikers resume their trek, flouting convention as they head out over the sand wearing nothing but shoes.

SCENE 4: CALVIN BANKS & PIERREFITCH FLIP-FUCK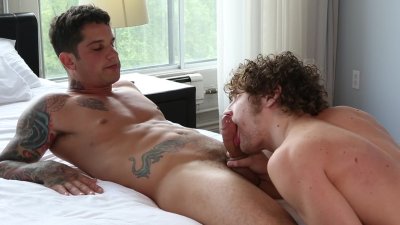 Pierre Fitch returns! The sexy superstar is back after a porn hiatus, eager to try out the newer Cocky Boys models...like Calvin Banks! Calvin is also excited to be with the 3.0 beefcake edition of Pierre. As they lie in bed kissing, Calvin explores Pierre's muscles and soon he's skillfully sucking his thick cock, visibly impressing the porn legend. Pierre returns the favor by hungrily sucking and deep-throating Calvin's huge cock " Love that big dick". In turn Calvin deep-throats and sucks Pierre with even more enthusiasm, prompting Pierre's vocal responses...and even more sucking, this time as Calvin stands before him.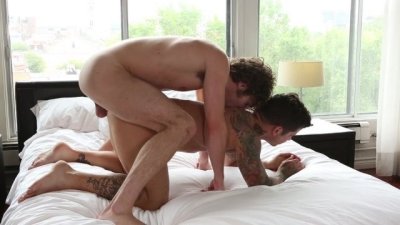 Calvin is almost brought to his knees by Pierre's blowjob and it incites him to give up his ass first. Calvin bends over for Pierre, who cock-teases his hole and once inside him, he gives Calvin the full Fitch: dominant, verbal power fucking. At one point Calvin moves up on the bed and plays with his hole to seductively tease and excite Pierre to fuck him on his side. Pierre goes all in again but in the throes of his intense topping he tells Calvin " I want your big dick in my ass".

In a quick reversal of roles but not momentum it's Pierre getting fucked by a big dick and Calvin quickly learns that top or bottom Pierre is highly vocal and can take anything. Calvin doesn't hold back, plowing Pierre to ball-slapping depth. He gets Pierre on his back and relentlessly fucks him faster until he makes Pierre shoot a thick creamy load over his rippling abs. Soon after Calvin pulls out and blasts countless volley of cum all over Pierre! Is he impressed? Just listen to him as he lies there glistening with cum, bowled over by what just happened! Welcome back, Pierre!