Summary:
An all-star line-up of beautiful guys await you in Allen King Likes To Be Seduced. The masters at CockyBoys have put together some of his hottest and most enticing scenes together in one place.
Allen King, Tayte Hanson, Levi Karter and Frankie Valentine all seduce each other and their partners in a quest to get off in the most intense way possible!
Scene 3: Tayte Hanson and Allen King
When we flew one of our regular New York CockyBoys, Tayte Hanson, up to Montreal to hang out with our guys there, we had no idea what kind of chemistry would ignite. When you're as sexuality versatile as Tayte and Allen King though, any and everything can happen. Tayte was so excited to finally spend time with Allen that the guys fooled around, sucked, and rimmed each other the night before to practice -- saving their cumshots of course for the "ovation" the next day as Tayte called it.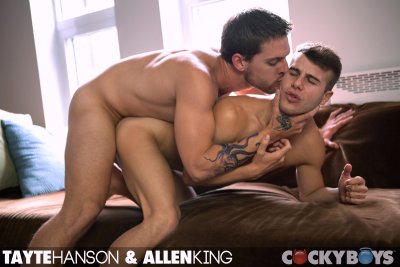 And by the way their lips locked that next day, Tayte and Allen could have been mistaken for a long-term couple. Allen was so sensual as he climbed on Tayte's lap and made out with him, slowly undoing his pants, that going down and giving Tayte a blowjob was the natural next step. Allen has perfect cocksucking lips, and Tayte was in heaven. Allen even snuck in a teasing rimjob quickly before it was Tayte's turn to suck and rim Allen. They then assumed their former position on the couch, where Tayte finally slid his cock inside Allen's eager hole so Allen could ride him.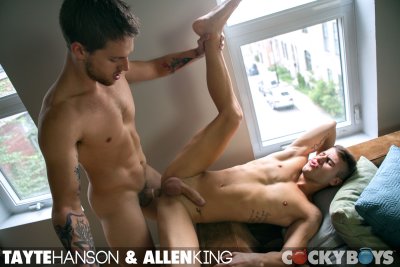 After warming Allen up, Tayte wanted to get a little more aggressive. So he full-on picked Allen up, and placed him on all fours where he fucked him doggy-style for a long while. Tayte could tell Allen needed a little break from his thick cock, so they switched it up for a little bit with Allen drilling Tayte hard on all fours. But Tayte wanted the final bow, so he nailed Allen in three positions before Allen finally blew his load -- missionary style on the ottoman, a quick air fuck demonstrating Tayte's strength, and then finally fast on the couch with Allen on his back. With Allen covered in his own cum, Tayte jerked himself to climax before finishing things off right with one final passionate kiss.
Scene 4: Brandon Jones and Mike Gaites
With most of our CockyBoys based in New York, it's always refreshing to catch a glimpse of the nightlife scene with our boys in Montreal. Brandon Jones has become somewhat of a Québécois CockyBoy staple recently, and now we finally get to peek inside his personal life. He's a bartender at a popular bar with fellow CockyBoy stud Gabriel Clark, so you know he's picked up some pretty hot guys. Enter Mike Gaites, a sweet-talker who turned surprisingly aggressive very quickly. The boys didn't even make it out of the club before they were half naked and making out.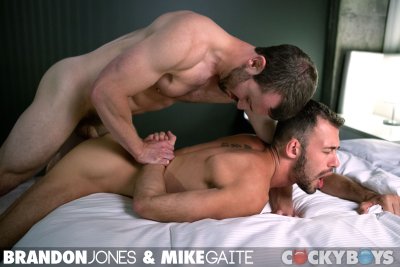 This scene is intense! Mike hastily led Brandon back to his hotel room, both their shirts still off, and quickly stripped to their jocks where Mike proved to be one of the most burly, built, scruffy, and brutal tops we've seen in a while. He shoved Brandon down to his crotch where Brandon engulfed the entirety of Mike's cock. Mike then sucked, rimmed, fingered, and then full-on fucked Brandon hard up against the wall. It all happened so fast! But Mike made sure to prolong the fucking part of it all as much as possible.
Mike literally tossed Brandon onto his bed, peeled off his jockstrap (yes, it was still on!) and quickly commenced pounding him doggy-style after another quick rimming. Brandon was moaning like crazy, barely able to catch his breath, as Mike fucked and kissed him gently at first but then abruptly and mercilessly drilled him like a jackrabbit. After that, Mike flipped Brandon over and continued plowing him in missionary, making sure to catch his every facial expression. With Mike's muscular body thrusting hard in front of him, it wasn't long before Brandon shot his load. Mike surprised him with a hard, sensual kiss before jerking a geiser out of his rock hard rod right onto Brandon's torso shortly after. Mike Gaites is pure sexual adrenaline, and Brandon was completely spent!

Scene 5: Levi Karter and Toomny Regan
Tommy Regan is our newest CockyBoy, and he was naturally drawn to Levi Karter for his first scene. He was just really comfortable around Levi, and that's a feeling that's pretty important when you're just starting out in porn. Tommy's a very athletic guy -- he's a former soccer player but had to put a hold on sports after a leg injury. Still maintaining a perfect body with rock hard muscles, Tommy's decision to have sex with some CockyBoys seems like a pretty hot thing to do on hiatus!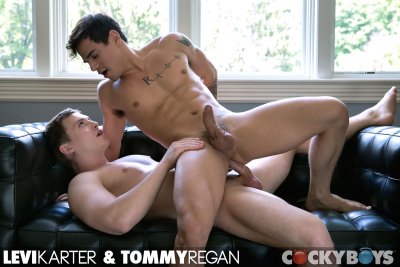 Tommy loves getting fucked, he loves the intensity, and he loves the way it intensifies his orgasms. That said, he's still sexually versatile, and he and Levi made an extremely good pair for a hot flip-fuck. Levi was first to pull out Tommy's hard cut cock from his briefs which stood straight up, just begging for a blowjob. Levi went down on him immediately, eager to show him the sheer sexual intensity he was in for. Levi then pulled out his cock and Tommy gave him the same treatment after they jerked each other off for a bit.
Shortly after, Tommy got on his hands and knees and gasped as Levi began rimming him, prepping him for his first CockyBoys fuck. Levi broke him in gently at first, but the guys soon developed a solid rhythm. Levi then wanted to show Tommy his expert bottoming skills, and Tommy's cock slid right into Levi's eager hole as Levi road him. That led to Tommy taking on more control, pounding Levi in the same doggy-style position as before. Tommy made for one extremely rough top! But Levi wanted to be the one to officially break him in, and so they switched to missionary for Levi to drill Tommy to orgasm. Tommy had no complaints, quickly spewing his load with Levi firmly inside him. Levi was just as turned on and breathless as Tommy -- he shot his load seconds later all over Tommy's torso, officially knighting him a real CockyBoy!