Summary:
Set in the cities of Guadalajara and Puerto Vallarta, Love Lost & Found follows couple Taylor Reign and Cory Kane and their recently-single friend Sean Ford on a mission to play outside their relationship and to help Sean get over his breakup. This beautifully shot series directed by Jake Jaxson and RJ Sebastian features some absolute porn, including Allen King, Levi Karter, Jacen Zhu, and Troy Accola - with a very special appearance by porn legend Francois Sagat!
Scene 1: BEN MASTERS & CALVIN BANKS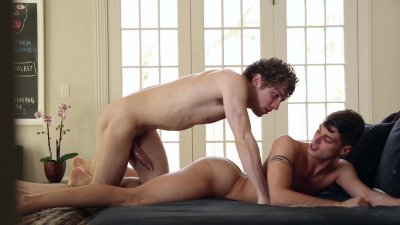 Spring has finally arrived for good and CockyBoys celebrates with the debut of Ben Masters AND a new anthology exploring the joy and intense pleasure of foreplay! Ben is welcomed by Calvin Banks who shares his thoughts on the often-overlooked importance of foreplay...and gets to experience some of it from Ben. Ben is literally a cock teaser who plays with Calvin's boner through the material of his shorts and suck the tip of the head through a tear in the material. That's about all Calvin can take!

Calvin's approach is long, passionate kissing on the lips and body and finding those special places on Ben's body, including the warm crevice of his exposed ass. Ben responds in kind and though tempted by Calvin's hard cock he kisses his body first. And, when his mouth works its way down his torso Ben purposely sucks on Calvin's low-hanging balls first. Even with Calvin's cock in his grasp Ben just sucks the tip and licks the length of the shaft to inflame his desire.
Ben gets nearly the same treatment but Calvin goes the extra step of taking his growing cock into his throat. Calvin reserves his most intense foreplay for Ben's ass. As Ben lies back Calvin's lips and tongue, followed by his fingers and cock mercilessly tease Ben's hole. And, as Calvin humps his crack Ben finally begs for the real deal. He gets it too with Calvin taking it slow and giving him a chance to get used to it. With that the floodgates open for uninhibited sex.

With his cock still inside his hole Calvin picks up Ben & turns him around to let him ride his cock every which way. But, Ben wants Calvin on top of him and they move to the bed. While on his stomach Ben gets a little more of teasing foreplay to drive him wild: a slap to his perky round butt, more rimming and cocksucking. And then Calvin pumps into Ben with such pent-up desire that he has to pull out and cum first, explosions of cum splattering all over Ben. Soon after Ben shoots over himself and the euphoric duo lie together, both happy that Ben has arrived at Cocky Boys.

Scene 2: JACEN ZHU & TROY ACCOLA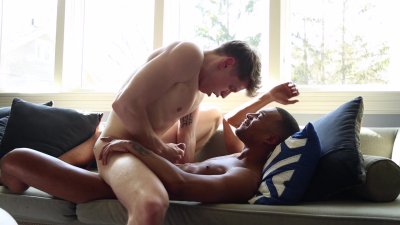 Alone or with a partner Troy Accola really gets into foreplay and likes to use a mirror to heighten what he describes as the "hot heaviness" of it all. Fortunately he's with Jacen Zhu who has a gift for intuitive foreplay. Jacen kisses his way down from Troy's lips to his torso and to his taint, one of his major trigger spots. Skillfully working Troy's underwear up Jacen sensually makes out with his smooth hole concentrates his attention here. Troy can't wait anymore and slips his cock out to play with it and tempt Jacen.

Jacen gives Troy what he wants with some tantalizing cocksucking but returns to rimming him, pulling off his briefs and turning him over to bury his.face in Troy's crack. This deep rimming, coupled being able to watch it happen in the mirror drives Troy crazy with desire and this triggers Jacen's drive to be inside him. At first going slow and continuing to neck with him, Jacen is soon plunging in deep and finding the ultimate spot inside Troy. As much as Troy wants to cum Jacen tells him to hold off a little longer.
Jacen pumps into Troy on his back and they're totally joined with their eyes riveted on each other and kissing passionately. Jacen fucks him deep and while still inside him pulls Troy forward to ride his cock. Troy bounces up and down on Jacen whose eyes roll back in his head from the pleasure. There's no stopping Troy now as he shoots a major load over Jacen's chest and abs. Jacen sits back to finish himself off but Troy is right there to help make in happen. He sucks his nipples and cock and brings Jacen over the edge to pump out a huge load..most of it a facial for Troy. Pleasure from beginning to end.

SCENE 3: JOSH MOORE & MAX ADONIS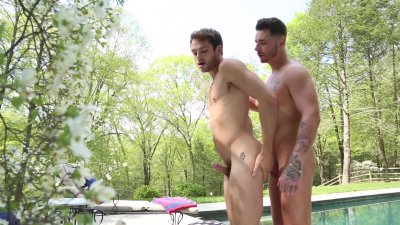 Max Adonis makes his Cocky Boys debut with Josh Moore and together they explore the pleasures as well as the excitement of foreplay. While lying together poolside Max lures Josh with his cute butt and a seductive question, "Wanna have some fun?" Josh responds with light, sensuous massage and kisses but once he gets to his Max's ass he switches it up: healthy swats mixed with rimming and deep finger probes.

Max loves the ass play and lies across Josh's lap for more and as it proceeds Max reaches in to let Josh's hard cock out. Max wastes little time shifting position to suck and easily deep throat Josh's thick tool and excite Josh to spank his ass again. He lies Max back so he can slowly face fuck his cock into his gullet and play with Max's prominent erect nipples. A brief 69 is followed by Max playing with Josh's foreskin inciting Josh to get on top of Max and cock-tease his hole...urged on by Max's dirty talk.
At last Josh slides his cock in and deep fucks the vocally ecstatic Max. The lounge chair wobbles under them as Josh thrusts deep and hard into Max like a variable speed fuck machine. On steady ground Josh takes Max standing up before transitioning into bent over fuck and then letting Max ride his cock. As Max leans back against him Josh plays with his nipples and brings him to the edge but it's only when he pulls out and gives him a mouthful of cum that he shoots his load. For a thankfully Max, his afterglow is as giddily happy as the foreplay and the sex that followed. Welcome to CockyBoys!

Scene 4: ETHAN SLADE & TAYLOR REIGN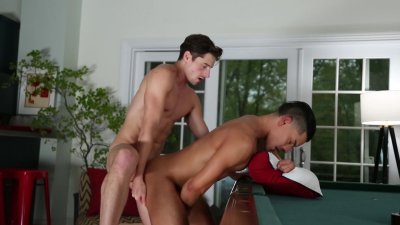 Taylor Reign & Ethan Slade take an ordinary day of outdoor chores at Camp CockyBoys and turn into a day of flirty foreplay and mentally edging each other. Taylor is a little bolder though by taking a naked outdoor shower just to wash off a little paint and luring Ethan to watch take a little break. A little kissing leads to Ethan going down on Taylor's hard cock but with rain imminent Ethan has to finish his work before they can finish their mutual seduction. Luckily when Ethan later comes in out of the rain Taylor is waiting by the pool table stroking his cock.

As much as they're ready to go they still have some physical foreplay in mind. Kissing and groping moves things forward a little more with Taylor lying back pool table and Ethan eating his ass. And with the help of a throw pillow Taylor can lie back and get Ethan's sensual sucking and eventually his deep fucking. Taylor is loving it and gets rick hard and ready to pop but before he does he wants to fuck Ethan.
Taylor bends Ethan over the pool table to rim and tease his hole before easing his cock into him and slowly fucking him. Ethan gives him the signal and Taylor goes harder but when he gets closer to the edge he has to slow it down again with some mid-sex foreplay. They make out a bit more then Taylor pummels Ethan's hole as he sits back. Taylor fucks a super-thick white-hot load out of Ethan then swivels him around to stuff his cock in his mouth and give him an old-school pear necklace. Okay guys..back to work!