Summary:
Some of the best Staxus interracial scenes compiled on DVD!

Rumour has it that all black guys are hung like donkeys, are excellent cocksmen and that once you've had a taste of black cock you'll never want anything else! Well, these white boys are going to find out if the rumours are true as they find themselves face to cock with some ebony monsters. Watch as the likes of Hector Agusti and Gareth Grant use their oversized cocks to break in the tiny holes of slender white boys like Noah Matous and Ethan White whilst greedy Kris Blentp takes it one step further and gets himself a hot spit-roasting! These pale bottom boys can't get enough of the dark meat on offer and try to stuff as much into their stretched blow holes. Black Monster gives you some of the hottest interracial scenes between young twinks and enormous big black cocks and it's a given that these white boys will be sore tomorrow!
Description / Review
Scene 1: Noah Matous's Hungry Little Arse-Hole Gets Blacked & Creamed!
Cast: Hector Agusti, Noah Matous
From: Black Piste, Scene 1
Okay, so Hector Agusti isn't the best darts player in the world – but that's not a problem to young Noah Matous. In fact, the horny little twink doesn't really have the slightest bit of interest in the black dude's sporting prowess. All this filthy-minded dude wants is to get his hands on the Dutchman's oversized weiner; and suffice it to say that it doesn't take the lad many seconds to work his way into Agusti's pants so that he can have a generous feast on the thick, uncut black salami that the fellow keeps stashed inside.
And who the fuck could possibly blame him? With a monster like that between his legs, Agusti is quite literally every cock-slut's dream-date; and suffice it to say that Matous slurps and gags on the beauty with characteristic relish. Not that our black hero is averse to enjoying a bit of tasty dick given the way that he returns the blow-job on the young lad's own aching shaft; but it doesn't take too much foresight to realise that there's only going to be one bottom in this scene and that Matous's eager little fuck-hole is never going to be quite the same again as a result!
And so it proves; with Agusti bundling his young buddy over a table and pounding away at his crack like a train in full throttle. No wonder Matous gasps and cries in response – teetering between pleasure and pain with every thrust of the black guy's hips! But as if that wasn't enough, the lad is soon riding the shaft reverse-cowboy style; culminating in him spurting like a volcano mid-fuck, and leaving Agusti to wrap the performance up by creaming the youngster's pucker!
Scene 2: Blond Beauty Gets His Horny, Tight Fuck-Hole Interracially DP'd!
Starring: Gareth Grant, Kris Blent & Pinky
From: Twinks Destroyed 4, Scene 2
You don't need to be too much of a psychological expert to appreciate that Kris Blent is a young man with one hell of a dirty imagination; so give the blond beauty something phallic like a banana and before you know it he's dreaming up a truly terrific set-piece with the teasingly provocative (not to mention the ironically named) "Pinky". Add mixed-race and handsomely hung Gareth Grant into the equation – as happens here – and you genuinely have the makings of a fantasy classic! Indeed, just seeing the horny Dutch lad couched between this pair of ass-hungry dudes at the start of this scene is surely more than enough to underline the potential here; and needless to say you're not gonna be disappointed in any way.
Suffice it to say that Blent's rump is in fine form right from the start – positioned in its full splendour over a sofa so that his two buddies can rim the tight little button for all it's worth. To their credit, Pinky and Grant don't hold back – getting their tongues deep into the crack and working Blent into quite a frenzy right from the off. But there's no denying that it's the blond boy who remains the centre of the action; a point that's only underlined when he's being energetically spit-roasted like a common whore.
Never one to know where to draw the line, however, Blent is soon taking matters one stage further; taking both oversized black dicks up his arse at the same time, before eagerly allowing them to spew the contents of their balls all over his face! If that doesn't get your spunk flowing then we honestly have no idea what will!
Scene 3: Keeping Fit? Will Sims Keeps Active By Working Out On A Big, Meaty, Uncut Black Cock!
Cast: Alejandro Marbena, Will Sims
From Super Size Me 9, Scene 2
It's arguably the worst kept secret in the biz, but the fact remains that young Will Sims is the biggest slut on two legs – a fellow who will quite literally do anything to get a nice big cock up his ass! So when he discovered that the STAXUS studio was being visited by Alejandro Marbena you can imagine the sudden state of overbearing excitement that swept over the lad. For not only is the handsome Dominican a fine specimen of alpha male superiority – a man who was born to be worshipped – but in keeping with that status he possesses one of the biggest, most utterly desirable cocks on the planet!
As such, Sims was almost gagging to be given the chance to prove himself – and, as you'll very quickly appreciate, he did himself (and us) proud. Clearly he's a fellow who knows exactly how to make a dick feel special; and having abandoned his workout session in order to claim possession of Marbena's engorged phallus, is soon giving every inch of that thick black knob the very keenest attention. Not to be outdone, Marbena returns the compliment and even rims the young lad's ass-hole, but we all know that Sims won't be happy until he's sat on his new-found buddy's cock and riding up and down every single inch of hard flesh on offer.
An objective that he soon achieves, it must be said – marking the signal of a breathtaking fuckfest, which sees Sims's ass stretched to the max. By the time both these fellows spew the contents of their nads to all and sundry there's every good chance you'll be drained of every last drop of cum in appreciation!
Scene 4: Interracial Twink Fun Provides Plenty Of Hard Cock & Yields A Whole Cascade Of Jizz!
Cast: Ethan White, Tyler Dee
From: Super Size Me 10, Scene 1
There was a time – before either Tyler Dee or Ethan White were born – when the very idea of a seeing an interracial gay coupling would almost have been sufficient to cause a civil disturbance. In these relaxed times, however, no-one seems to give a fuck – except, of course, for the guys themselves, who in this instance are a pair of cute, not to mention extremely horny youngsters with one thing on their mind and one thing only!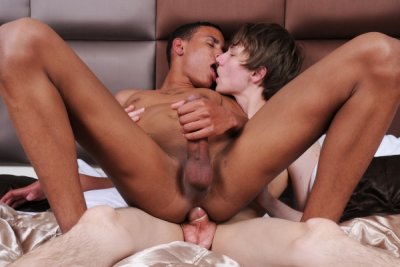 As such, it's no real surprise that Dee has soon taken the opportunity to pull White's hairless dick from his pants, slurping on the white boy's handsome ramrod for all it's worth. Clearly not wanting to be outdone, however, White is soon returning the favour – revealing in the process how Dee's meaty black dick is just as cleanly shaved as his own. But the main action doesn't really begin until Dee finally gives into temptation and plonks himself down on White's swollen shaft, riding every inch of hard flesh for all he's worth. From that point on, it's pretty obvious that Dee's a boy who lives for dick, taking his mate's poker in a whole series of positions and very clearly loving every single second of it!
It's no big wonder, therefore, when the barrage of excitement proves all too much for Dee, who promptly proceeds to squirt a fabulous flood of hot jizz over his own belly whilst his ass continues to be poked unmercifully! All that remains to be done from that point on is for White to pump his own wad – which he does, all over Dee's chest – and the shoot's a wrap. Leaving two happy boys and (no question) an audience longing for more!