Summary:
Some of the best Staxus interracial scenes compiled on DVD!

Who can resist a big, black cock? Not these horny white fuckers that's for sure! It may be their first interracial coupling, but they're up for anything and are drooling as they anticipate a slab of dick-meat that big sliding down their throats and up their snug, lily white asses! Watch these horny studs 69 by the pool, get on it with a threeway tagging and go black on white on the sofa in a hot foursome! After watching all this action, you'll be agreeing with the old adage of once you go black, you never go back!
Scene 1: Cute White Twink Enjoys A Raw Interracial Fuck Courtesy Of A Dominican One-Eyed Monster!
Cast: Billy Ricardo, Mike James
From: Twinks Destroyed 3, Scene 2
Is it a porn flick? Is it a rap music video? Is it a tourist information film? The opening moments of this terrific interracial encounter may well leave you just a tad puzzled, if truth be known. But in fairness it's good to see that horny young native, Billy Ricardo, has other interests besides chasing fresh white meat – a pastime that's quickly restored (you'll no doubt be pleased to know) when Mike James makes an appearance in the luxurious villa that serves as the backdrop for this little escapade's antics.
What's more, as soon becomes apparent, James has an equally passionate taste for the exotic – and given the handsome bulge that rises inside Ricardo's pants whilst the two lads smooch on the sofa it's no feckin' wonder. After all, who in their right mind could ignore a groaning invitation like that? Certainly not this hyped-up white boy, that's for sure; and before you know it James is slurping on that thick black shaft like an old-time pro! What's going through his head at this point is anyone's guess, of course, but given the lad's reputation it's likely to involve wondering how long he's gonna have to wait until he's enjoying the feel of that wrist-sized monster as it pounds in and out of his arse.
As ambitions go, it's not a bad one; and once the two fellows have engaged in a splendid 69-ing session and James has eagerly rimmed his buddy's ass, it's one that gains fruition. Cue a jizz-inducing romp that sees James enjoy a reverse-cowboy ride on Ricardo's knob; before the black dude hammers home from the rear and then tops proceedings off by spewing all over the white lad's face. In sure-fire winner in every single sense!
Scene 2: It's Out Of The Pool & Into A Couple Of Horny White Asses For These Two Mammoth Black Dudes!
Cast: David Hanson, Felipe Esquivel, Kurt Maddox, Lloyd Goldwyn
From: Twinks Destroyed, Scene 3
With its fine weather and sun-kissed pools and beaches, the Caribbean is a natural haven of fun for young white boys – especially when they've got horny locals like Felipe Esquibel and Lloyd Goldwyn for company! On this particular occasion, the lucky lads in question are Kurt Maddox and David Hanson – neither of whom (as quickly becomes apparent) require much encouragement when it comes to entertaining big black cock!
Indeed, having eagerly played in the pool with the two studs, these cuties are like a pair of over-sexed bitches once back in the villa; first pairing off with their hosts, then switching over to share the thick, dark-skinned ramrods that Goldwyn and Esquibel have got stashed inside their trunks. Why, these two black alpha-males don't need to do a fuckin' thing with Maddox and Hanson in the house, catering for every sexual whim and urge they can muster. So it really comes as absolutely no surprise whatsoever when the two Europeans abandon what shred of dignity they have left and simultaneously mount the two monster shafts to enjoy the ride of their lives!
How their asses actually accommodate these oversized schlongs will remain a complete mystery to most of us, but suffice it to say that both bottoms give sterling performances throughout, proving in the process that there's no bigger slut that a white slut with a taste for black cock! A point that's underlined when Esquibel and Goldwyn finally reach the point of no return, squirting their heavy, ethnic loads over the cute, contented faces of the two prime cock-slags!
Scene 3: White Boy Proves A Black-Cock Bitch By Sucking & Fucking Himself Sore On Devon LeBron's Dick!

Cast: David Hanson, Devon LeBron
From: Monster Cock Island, Scene 1
With the sun high in the sky, a pool at their feet and some rather moving piano music echoing in the background, it's no real wonder that Devon LeBron and David Hanson are feeling just that little bit frisky! In particular Hanson, who clearly knows what a fabulous black mamba is stashed away inside his buddy's swimwear. Not that it remains hidden away for very long. Indeed, the white boy is quickly down on his knees at the side of LeBron's sun-lounger, giving the native the kind of open-mouthed welcome that a beast like that deserves!
In fact, it quickly becomes apparent that Hanson can't actually get enough of his buddy's dick – having allowed LeBron the briefest of blow-jobs in return, the lad is back down on his knees to worship the black dude's butt-picker like the cock-junkie he very obviously is! As such, it's no real wonder that Hanson's objective from this point is to get LeBron's ramrod deep inside his butt-hole – an ambition that's temporarily put on hold whilst the two lads enjoy a sensuous session of 69-ing, before Hanson takes a few moments out to rim his mate's hole.
Not that LeBron's crack ever stands a look-in of seeing cock-action! No, Hanson's quite literally on heat for dick by this point, and it's with a literal gasp and whimper of deep-rooted satisfaction that he finally gets energetically fucked out on the villa's balcony! Needless to say, what follows is a class-act of unbridled sodomy, that sees Hanson's ass-hole stretched almost beyond its limit; before the white boy dumps his wad mid-fuck, and then completes his performance by licking off LeBron's spent jizz from that the extended length of his black buddy's monster!
Scene 4: Horny White-Boy Can't Wait To Give A Big, Black Butt-Picker A Hot, Raw Ride On The Beach!
Cast: David Hanson, Manuel Emilio
From: Monster Cock Island, Scene 2
Sex on the beach is not a totally unusual fantasy – there's something about the sand and surf that raises the libido up several notches – and young Hungarian, David Hanson, proves that he's just as susceptible to this phenomena as anyone else when he finds himself out in the Caribbean. That said, he does have the added factor of Manuel Emilio to consider – a sexy local with a rather oversized dick, who would surely be enough to get even the most reticent lover in the mood. As such it really comes as no surprise whatsoever that Hanson's going down on his buddy in pretty much the first thirty seconds of action, slurping on that big black mamba with the kind of gusto that you'd probably expect from a bitch of Hanson's calibre.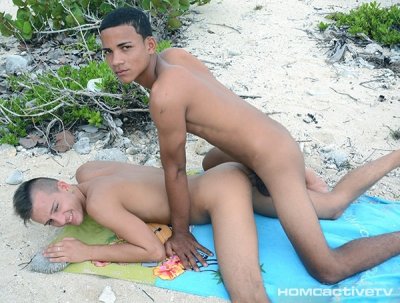 Indeed, this filthy-minded white-boy definitely has an appetite for one thing and one thing only in this raunchy, outdoor escapade; and within minutes he's achieved what so many other boys have surely dreamt of doing and failed, as he sits on Emilio's handsome ramrod and rides the thick, aching shaft for all that he's worth. In truth it's probably the speed with which he achieves this objective that will surprise you more than anything; but don't think for one moment that he's in any hurry once he's got that handsome butt-picker inside him.
No, he's very much determined to make the most of every ass-pounding second with Emilio, taking every fuckin' inch like a man and gasping like a bitch in the process. Indeed, it's only as the light finally begins to fail that both guys succumb to the inevitable with a multi-squirt cascade of jizz!