Summary:
Some of the best Staxus interracial scenes compiled on DVD!

All The Way In is 100% bareback salt 'n' pepper sex at it's very best! These boys may be young, but they certainly know their way around a hard, fat cock and a tight blow hole! Ebony and ivory cum together, literally, as these brothers flip on each other to chow down on mighty dicks that twitch and ache to be touched, licked and swallowed. Whether they are pairing up, making a hot manwich with a dark filling or sharing four ways, it's a gluttony of sensuous kissing, deep cock sucking, ass rimming and balls deep fucking! Watch these ten hot studs spill their seed as they go All The Way In!
Description / Review:-
Scene 1: Horned-Up Yuri Adamov Takes On An Interracial Double-Dicking!
Cast: Erik Franke, Hector Agusti, Yuri Adamov
From: Black Piste, Scene 4
Who hasn't enjoyed a playful session of arm-wrestling with their friends? What you might not have experienced, however, is the manner of "celebration" that marks Hector Agusti's victory. Then again, unlike this black sex-god, you might not have had the company of two very eager white-boys in the form of Erik Franke and Yuri Adamov to celebrate with! Suffice it to say that Agusti's thick, uncut black mamba doesn't stay concealed in his pants for long – the two cute twinks are down on their knees and giving it some clearly much-needed oral appreciation in no time at all!
It's a move that can only have one effect on a guy like Agusti, of course. Before you know it this handsome stud is turning his eye to giving Adamov's rump a full examination – at which point you pretty much know which way the action is going to go! Indeed, the second half of the scene is very much centred on Adamov's ever-eager butt-hole – first Franke giving it a good old-fashioned screwing, then Agusti stretching the said pucker to the max by means of that oversized ramrod of his! You'd be forgiven for thinking at this point, of course, that that would be more than enough dick for any young white lad to handle – but you'd be wrong! Never one to hold back from a challenge, Adamov proceeds to take both dicks at once – even allowing his two tops to swop positions mid-point to maximise the effect. Little wonder he squeals with a mix of agony and delight in the process; before both Agusti and Franke jizz all over his ass, leaving him to call it a wrap by jerking his load over Franke's face!
Scene 2: Hunky Black Gardener Gives Blond Lad A Big-Dicked Skewering
Cast: Hector Agusti, Ray Mannix
From: Super Size Me 11: Breed Em Big, Scene 1
There's no denying the fact that young Ray Mannix has a thing for hunky black gardener, Hector Agusti – any opportunity and he's out admiring the fellow, wishing (no doubt) that the guy would reciprocate his admiration. In the end the boy simply has to make it fucking obvious that he needs a dose of big-dicked affection, sitting down on the edge of a lounger and promptly unburdening the stud of his clothes! If that message doesn't get through then what the fuck will?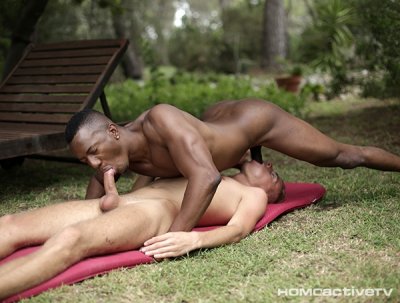 Fortunately for the blond haired beauty, Agusti realises what the boy wants almost at once and is soon allowing Mannix to slurp like a bitch on his big black mamba. Not that the pretty little honky is ever going to be satisfied with a mere taste of the gardener's hoe, of course. We all know this Czech boy way better than that by now, after all. But before he finally enjoys getting skewered by that mammoth schlong, the scene is set for a magnificent 69-ing session that sees Mannix eagerly rimming that pert black arse whilst Agusti fingers and licks the white boy's pucker in return.
Only when the black god finally thinks this horny little hole is ready does he finally put the lad to the oversized sword; impaling the full length of hard, uncut flesh deep inside Mannix's guts and stretching the fellow's boy-cunt to buggery in the process. Suffice it to say that the boy from Prague will surely never be the same again as all his over-sized cock-dreams cum true at once; culminating in him blasting a tsunami of jizz mid-fuck, before taking a face-load of black seed in return. No fuckin' wonder he looks so happy!
Scene 3: Dick Casey's Smokin' Hot Ass Gets The Interracial Double-Penetration It Deserves!
Cast: Alejandro Marbena, Benjamin Dunn, Devon LeBron, Dick Casey
From: Super Size Me 10, Scene 3

Now we've all heard of guys with smokin' hot asses, but this stupendous suck-and-fuck-fest gives that figure of speech a literal interpretation as Benjamin Dunn teams up with Dominican studs Devon LeBron and Alejandro Marbena to provide Dick Casey's rump the kind of rigorous workout it was created for! But it isn't cock that Casey's hole is entertaining – at least to start, anyway – rather (of all things) a cigarette, which Dunn fits snugly into the eager ring for a little comic relief. Not that Casey appears greatly perturbed by such unusual antics, which continue when his white compatriot stuffs the fag down the end of his cock and between his toes.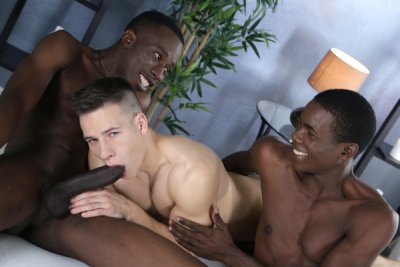 Clearly he knows that this is just a foretaste of the real action to come – and given that Casey's in the company of two of the hottest, hardest black studs around he's certain not to be disappointed. There's something of a warm-up for the lad's hole, however, when LeBron and Marbena lift the fellow up onto Dunn's raw dick. But it's what follows – a breathtaking double penetration – that really gives this four-way the edge, as Casey proceeds to accommodate two cocks up his ass whilst maintaining that trademark smile of his!
It's a prize-winning achievement, that's for sure; and it's one that's almost certainly gonna have guys around the world reaching for the Kleenex en-masse. Talking of which, we'll leave you to speculate how much tissue was needed to clean up Casey once director John Smith called it a wrap, but when you see the quantity of jizz these lads produce you'll know it was no easy task!
Scene 4: Cock-Bitch Blent Gets His Ass Rammed To The Hilt By Black Dick!
Cast: Gareth Grant, Kris Blent
From: Twinks Destroyed 4, Scene 3
England meets Holland in a terrific interracial pairing, with the wonderful Kris Blent once again showing off all his sluttish credentials – a performance that a hardened ass-lover like Gareth Grant is clearly quite unable to resist. Not that that's in any way a criticism of the horny Brit. After all, there aren't many guys around who could willingly hold back from taking full advantage of the kind of fine bubble ass that Blent has to offer!
Meantime, Blent is totally mesmerised by the terrific bulge that Grant is showing in his pants – a handsome mound that serves as a foretaste of great delights to come. Needless to say, it's no time at all before the Dutchman is peeling away the covers and taking a sneak at the treats inside – an act that signals the start of a delicious slurp on Grant's oversized ramrod! All this cock action evidently gets Blent in the mood – if indeed that was actually necessary! Before you know it he's grinding his hips back and forth in a totally explicit manner; inviting his buddy to first rim, then finger and then finally fuck his sweet, hungry ass-hole. And believe us, a lad like Grant doesn't need a second invitation!
So sit back and enjoy the sight of Blent taking that almost obscene salami right up to the hilt in a wild succession of positions; culminating in him riding the full length like the bitch he is, before throwing himself down onto the bed and having the jizz banged out of him. All of which is nicely topped off by the lad pouting out his ass so that his older mate can cream his dirty little pucker. In short, a filthy, sweaty, jizz-inducing display!