Summary:
Some of the best Staxus interracial scenes compiled on DVD!

Feast your eyes on the size of the muscle that's on show here – and we don't mean the bodybuilder types! We're talking about the length and girth of the cocks that these black studs are proudly sporting and they're ready to give some serious pleasure to the skinny white bottom boys who are gagging to wrap their hands, mouths, and particularly, their tight twink asses around that big equipment! It's a sight to behold when black and white unite in dirty unison and tight bubble butts are stretched and pumped full of big, black, fat cock. It's party time and these black studs with their huge dicks are in the mood for some filthy entertainment!
Description / Review:-
Scene 1: Victor Diamond Goes Black & Gets An Arse-Load Of Creamy Jizz!
Cast: Hector Agusti, Victor Diamond
Also available: Black Piste, Scene 3

The divinely sculptured Victor Diamond is about to go black! Will he ever go back, we wonder? Well, not if Hector Agusti has anything to do with it, that's for sure; as their eyes meet whilst out watching their friends on the piste, before quickly heading back to their nearby chalet where things promptly get heated in the extreme. Indeed, the young Italian clearly can't get enough of that big black Dutch mamba given the way with which he eagerly feasts on every fabulous inch on offer; though in fairness Diamond's own ramrod is hardly the kind that one would be blasé about, and Agusti makes certain that he gets his fair share of the white boy's own handsome offering.
But there's still no question here as to whose tight little pucker is going to be getting all the attention; and having gorged on Diamond's shaft, Agusti soon pulls his buddy down the sofa, parts the fellow's legs and rims the soft, sweet honey-trap in anticipation of the fucking to come! And geez, what a fuck! The hot, horny black dude quite literally buries his sword to the hilt as he pounds down on Diamond almost mercilessly; before bundling his pal over the back of the sofa and pummelling him with equal fury! Just watching those powerful black hips as they rock back and forth is enough to get you creaming; and the sight of Agusti's cock quite literally exploding into the white lad's ass will surely do the trick. No question about it, the intensity of that rupture is almost volcanic; and it's no fucking wonder that Diamond's so horned up that he flips over and eagerly jerks himself off. In a word, fan-fucking-tastic!
Scene 2: Two Horny White Bois Get Blacked – And One Gets His Cute, Hungry Ass Double-Dicked!
Cast: Alejandro Marbena, Devon LeBron, Jace Reed, Troy Stevenson
From: Super Size Me 9, Scene 3
Say that for the Dominicans, they sure love to party. Given even half the chance they're always up for a drink, a dance and a real good time! What's more – and this is the bonus – all that party exuberance sure makes them fucking horny, as white kids Troy Stevenson and Jace Reed very quickly discover when they invite Alejandro Marbena and Devon LeBron around for a little bit of fun. Actually, as you probably already know, there's nothing "little" about Marbena and LeBron – a fact that clearly hasn't escaped either Stevenson and Reed, who very quickly pounce on all that black dick and start giving it the homage that it deserves!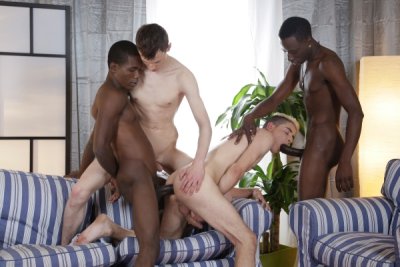 Not that Reed could ever be described as undersized; and it's probably only fitting that he should be the first to eventually fuck power-bottom Stevenson once the foursome have enjoyed a fabulous session of cock-play and rimming! There's no denying, however, that Reed's truncheon serves as a forerunner to the real event, when young Stevenson gets brutally spit-roasted by the two Dominicans over the sofa – a performance that will almost certainly get you to the edge (if not beyond!) in itself.
But things get even more heated when the blond-haired twink succumbs to a breathtaking session of double-dicking fun – something that really does have to be seen to be believed! It's a fucking wonder the fella can feel a thing by the time his face is being splattered with jizz as the scene reaches its finale; but to his credit he produces quite a volley of his own before collapsing as a well-used but very happy boy-cunt! Does porn get any better??
Scene 3: Kris Wallace Takes A Mammoth Black Cock Up His Hungry White Ass & Loves Every Inch!
Cast: Kris Wallace and Alejandro Marbena
From: Super Size Me 10, Scene 2
Kris Wallace has been a very firm favourite with the STAXUS fan-base ever since he first appeared in front of our cameras, and it's not exactly difficult to see why. Cute as a button and with a physique to die for, he's pretty much the dream fuck of every gay man with a pulse. But if you thought the ratings of this Polish cock-magnet couldn't get any higher then maybe this stunning interracial scene with Alejandro Marbena could seriously change your mind. Young Wallace is as utterly desirable as ever; and given the opportunity to prove his worth with one of the biggest dicks in the biz he produces a truly sterling performance that will seriously threaten to burn an unforgettable imprint in your mind!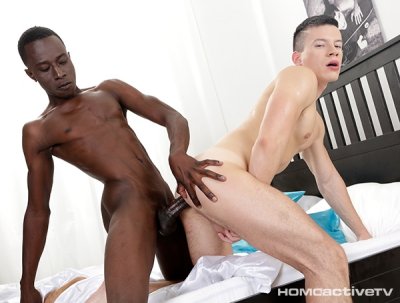 In short, Wallace is quite literally smokin' hot from the very start, and pounces of the Dominican's oversized trouser-snake like his life depended on it. Not that a session of oral adoration is ever going to satisfy this dirty-minded white boy – no matter how keenly performed! The fact remains that Wallace isn't really happy until he's got Marbena's thick, black fuck-rod deeply imbedded between his pale butt-cheeks – a sentiment that we suspect pretty much everyone who watches this little escapade will relate to.
From that point on, however, the Pole is truly in his element, taking every inch like a pro and ultimately concluding his performance cowboy-style with a cum-shot that Old Faithful would be proud of! The only thing left to top the show off would be for the fellow to take Marbena's load all over his face ... and guess what? This boy really is a total porn champ!
Scene 4: Hard Black Stud Takes His Young Masseur For A Hot, Horny Fuck!
Cast: Noah Matous, Pinky
From Twinks Destroyed 4, Scene 4
Let's be perfectly honest here, if you were presented with a fine specimen like Pinky to rub down in a massage, wouldn't you find it hard to concentrate on the job at hand? To be fair, the ever-gorgeous Noah Matous does his level best to keep to the script in the opening stages. Trouble is, with that fine black butt on full display and the knowledge that there's an even more appetising black cock pressed up against the massage-table beneath Pinky's muscular frame, it's nigh on impossible for a horny young fellow like Matous not to be totally distracted.
As a result, what starts off as a professional masseur display very quickly descends – or ascends, depending on your point of view! – into a full-on, no-holds-barred encounter between a black stud and his eager white bitch! Indeed, there's simply no denying the enthusiasm that Matous displays once he's been given total access to his buddy's thick, uncut shaft! Why, the boy's quite literally like a slut on heat as he grinds his own oiled knob against Pinky's crotch; before the black dude responds by tossing him over on his front and engaging in a full-on exploration of his cute, white ass!
Clearly one to add a little kink into the mix, however, Pinky's soon using a lollipop to work that tight little button; giving Matous to chance to suck on it between insertions, before finally fitting his own oversized butt-stretcher into the young twink's fuck-hole. From that point on, of course, there's just no going back. Matous quite simply receives the banging of a lifetime; culminating in him creaming-off mid-fuck, before Pinky underlines his mastery of the pairing by squirting his own wad on the lad's arse!