Summary:
Summer is the time to chill out! Perhaps go to an outdoor festival, BBQ in the garden or even a day on the beach - or do with these horny twinks do and that's get down to some serious cock sucking and ass fucking with their closest pals!
This is an all-out Summer Sex Fest where anything goes and it certainly does! These boys can't get enough man-meat down their throats or stuffed raw up their tight holes.
Get ready for a beautiful bareback summer where the flesh is tender and the cum is plentiful!
Scene 1: Biker Boy Gives His Smooth, Horny Lover A Heavyweight, Open-Air Raw Fucking!
Cast: Tom Crua and Zack Hood
From: Easy Riders, Scene 1
It's not without good reason that Tom Crua has been described as the new Zack Hood – tall, dark, dominant and sexy – and this fabulous scene with young Vadim Lust will do little to stem the fellow's ever-growing fan-base. Mind, putting him in motorbike leathers at the start of the encounter will only add to the guy's appeal – geez, you could almost blow your load watching him remove his crash-helmet! – and it's no surprise at all that Lust lives up to his name and promptly heads south to feast on his boyfriend's swollen ramrod.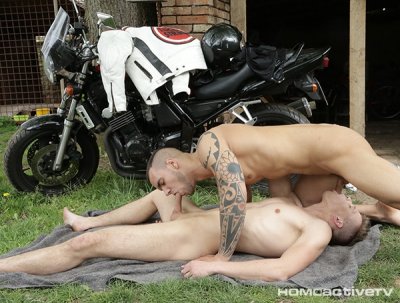 It's a response that Crua himself promptly replicates a few minutes later; but, having taken the chance at an initial introduction, both lads are soon laid out on the grass next to Crua's bike and are taking the time to indulge in a more leisurely session of fellatio. For those who appreciate it, the presence of the bike almost serves as a third party in the act of fornication; but there are surely very few who will not be won over by the seductive mix of Crua's brute masculinity and Lust's totally hairless physique.
Indeed, there's every strong possibility that plenty of pent-up jizz will have been spilt even before Crua takes full control of proceedings and first rims and then raw fucks his buddy's ass-hole! If this does prove to be the case, however, the sight of Crua bashing Lust's pucker up against the bike will surely give opportunity for a second blast – director John Smith capturing every disgusting, debauched detail for your peverse enjoyment! Needless to say, both guys are soon squirting copious ropes of spunk in exchange for a fist of Euros!
Scene 2: Louis Blakeson and Mickey Taylor
From: Beach Bums, Scene 4
With the warm Portuguese sunshine beating down and the roar of the Atlantic in the background, it's no small wonder that boyfriends Louis Blakeson and Mickey Taylor are feeling as fresh and as horny as it's possible for young men to feel. But for all that feel-good glow, there's something eating into Taylor's mind – a sense of guilt that's casting a shadow on this boy's holiday. Time for confession, it seems.
If anything, however, Taylor's admission that he's had sex with Paul Walker simply ups the ante – mainly because Blakeson has his own confession to make regarding Orlando White. Realising that they're clearly both as faithless as each other, they're now free to make up by enjoying the hottest, wildest sex imaginable – and boy do they go for it! Sucking each off in the sand, then heading for the nearby woods to fuck each other silly, these two fellows put any notion of holiday romance to one side in order to savour the thrills and spills of mindless fornication – exactly the kind of action that we all love to see!
Each moaning and groaning like a pair of wild dingos, grinding their hips into each others' asses as they do so, it's no real wonder that they're both very quickly at the point of no return – at which point they each lie side by side in the sun and simultaneously jerk out hefty wads of ball-batter over their own bellies. Whether you like the inked physique of Taylor or the pale skin of Blakeson – or maybe even both! – this spunktastic trip to the seaside is sure to drain your balls dry!
Scene 3: Scene 3: Paul Walker, Orlando White, Mickey Taylor and Pedro Ribeiro
From: Beach Bums, Scene 3
The music, the bright sunshine, the sight of four gorgeous young guys frolicking together on the beach ... geez, the opening few moments of this stupendous outdoor fuckfest could almost be mistaken for a publicity offering for some up-and-coming boy-band. As it happens, however, the fact that the lads in question are Paul Walker, Orlando White, Mickey Taylor and Pedro White tells you pretty much straight away that it's "up-and-cumming" of a far more carnal nature that's set to be concentrating attentions here – and so it proves, as the horny quartet head straight for their dug-out in the sand-dunes for an immediate (and very satisfying) session of explicit, deep-throating fellatio courtesy of the inked pairing of Taylor and Ribeiro.
Indeed, there's no questioning the fact that White and Walker are very much the dominant parties in this escapade – first eagerly face-fucking their two beach-buddies, then fucking them both with much the same level of high-octane energy. Not that anyone who knows these fellows would ever expect anything else from either top – least of all Brit-boy Walker, who quite blatantly lives for sex and the next hungry hole. And let's face it, if it's hungry holes you're looking for then these two power-bottoms can supply all the accommodation you will ever need – as Walker and White discover, taking turns to swop ass-holes like it's mating-season on acid! All in all, then, a totally rampant, ball-bustin' set-piece that'll have you squirting long before all four cocks on offer pump out their own generous wads of creamy, satisfying spooge!
Scene 4: Horny Biker Boys Relish An Outdoor Flip-Flop Suck-&-Fuck-Fest On The Back Of Their Machine!
Cast: Alexander Dorch and Shane Hirch
From: Easy Riders, Scene 4
Okay, so maybe his rather untraditional haircut is not going to be to everyone's liking – some might even go so far as to say that he should sue his hair-stylist! – but there's one thing that pretty much everyone can agree about regards Alexander Dorch and that's that he's a horny little runt who can't keep his hands off other guys! Especially when those other guys are as gorgeous and fuckable as Shane Hirch, whose appeal in this scene is only intensified by the fact that he's wearing a pair of leather motorbike chaps.
As such it should come as no surprise that Dorch is down on his buddy's dick with almost lightning speed, slurping on Hirch's ramrod with the kind of enthusiasm that you'd expect from a lad as sexed-up as himself. Not that Hirch is in any way less responsive, it must be said. Indeed, the dark-haired beauty is quickly returning the move in kind, playfully working on Dorch's dick with a teasing, provocative manner that soon has his pal quite literally gagging for hardcore action. Having eagerly rimmed Hirch's ass-hole, therefore, Dorch plonks himself down on his fuck-buddy's lap in no time at all – allowing Hirch to quite literally fuck his brains out from below and (in the process) underwriting his slut-like credentials to a world-wide audience.
Unwilling to allow Dorch all the slice of the action, however, it's not long before Hirch is urging a flip-flop response; before seemingly normal service is resumed and Dorch has his butt-hole pummelled on the back of Hirch's bike! A move that promptly results in fine wads of jizz from both motorhead beauties!