Summary:
Some of the best Staxus scenes compiled on DVD!

It's playtime for a bevy of handsome twinks in Eager Butts Playroom, and they like to play dirty! There's thesoccer boys who can't wait to get their kit off, play with some balls, and score off the pitch, whilst a lads night in sees these guys taking their bromance to the next level. No mistaking that this clean-cut crew are all on the same page when it comes to some cock hardening smooching, deep-throated swallowing and bareback plugging!
Description / Review
Scene 1: Two Straight Hunks Spit-Roast A Mega Cock-Hungry Twink!
Cast: Dick Casey, Drew Paskin, Adrian Smallwood
From: Raw Filling, Scene 5
Perhaps it's something they put in the water, but there's no doubting the fact that simply sitting in this particular dentist's waiting room seems to get the lads in this town real fuckin' horny. Just ask Dick Casey and Drew Paskin, whose passion for the written word is nothing compared to their lust for hard dick as they toss aside their magazines in order to satisfy much more carnal appetites. Of course, Paskin's animalistic reaction to the sight of Casey's beefy shaft is not to be wondered at – after all, who could hope to resist that degree of pulsating temptation when thrust directly in your face like that? Not this sweet-faced boy that's for sure, as he slurps on Casey's ramrod before allowing it to penetrate his hungry little ass-hole.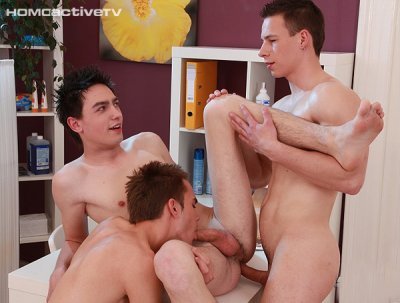 Cue the arrival of Adrian Smallwood, whose reaction to finding the two guys fucking each others' brains out is somewhat unorthodox to say the least. For before you know it he's climbed up onto a table and pushed his knob down Paskin's throat, whilst Casey continues to pound away from beneath. Needless to say, by the time Paskin has knocked out a load and his mates have each spurted over his face, the room is awash with oodles of jizz!
Scene 2: Cute Cock-Whore Gets Stuffed Both Ends From His Horny Mates!
Cast: Tim Law, Dick Casey and John Core
From: The Nutcracker, Scene 2
Some boys have only one love all their lives and wouldn't dream of straying from their boyfriend's bed. Others, like Tim Law, are complete sluts – a guy who's only too happy, willing and able to take whatever opportunity for cock comes his way! Ironically, one mere glance at the lad would make you think that he's the very picture of innocence, with his doe-eyed energy and winsome smile. But this is a guy who clearly thinks nothing of playing around with one fucker one minute and with another the next – beginning with fellow twink, John Core, who clearly can't wait to get some of that hard meat up his ass at the first opportunity.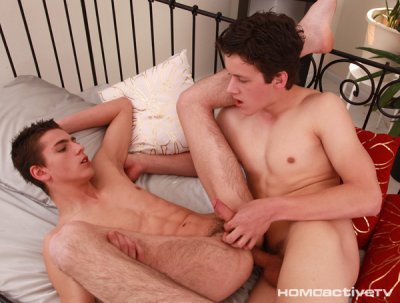 Not that Law is adverse to taking dick himself, as the two cuties battle it out in a flip-flop cock-crazed session that'll have you on the brink of ecstasy. Don't blast too soon, however. Core's barely caught his breath from his own sticky climax when thin-lipped beauty Dick Casey – who's been watching from the wings – steps in to allow Law a delicious gobble of his meaty, uncut knob. The resultant goo proves to be quite literally one in the eye for Law, who reaches his own sticky, breathless climax just a few moments later.
Scene 3: Physio jock-sniffing deep-muscle massage goes all the way!
Cast: Mickey Moon, Paul Cube & Rudy Haller
From: Bare Score, Scene 3
Physical injury is the greatest threat to any would-be footballer's career, so it always pays for a player to have a good relationship with the team's Physio. Whether you should be quite as intimate as these two guys, however, is a professional quandary that we'll leave you to ponder on. Suffice it to say that Paul Cube is only too willing and eager to give Michael Moon a serious deep-crotch massage whilst the smooth dark-haired boy wonder gets high by sniffing away on one of the team's used jockstraps.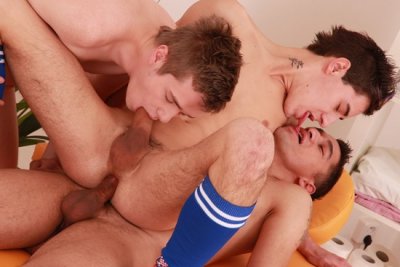 The atmosphere in the Physio Room is certainly electric as these two cuties savour some serious cock-sucking antics together – but it gets even more intense when Rudy Haller stumbles upon the horny pair and proceeds to take full advantage by thrusting his aching ramrod into Moon's mouth. Events quickly unfold from this point on, with Moon soon laid out prostrate over the massage bench so that he can be spit-roasted raw by his team-mates – a development that'll not go unappreciated by yourselves. The ultimate highlight though is when Haller and Cube spurt all over Moon's face – a fabulous cum-facial that'll undoubtedly have you banging out one of your own!
Scene 4: Sleeping Beauty
Cast: Tim Law, Chris Young
From: Bareback Vibes, Scene 1
It's really no fucking wonder that Chris Young is feeling as randy as hell. After all, if you had a boyfriend as cute and fresh-faced as Roy Lust then you'd almost certainly be gagging for the next hard fuck yourself. Unfortunately for the lad, however, his puppy-eyed lover is fast asleep in bed – and doesn't look in any hurry to get up. Until, that is, Young proceeds to whip out his cock for a wank. Seems like Lust isn't quite as unconscious as he'd have everyone believe, and before you can say "I'm a cock whore!" is slurping on Young's meaty ramrod like a true professional.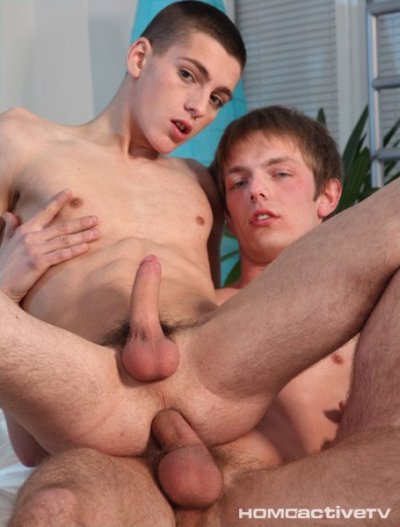 It's a turn of events that will almost certainly appeal to all of you out there who love the prospect of watching two horny pups rutting like wild animals – and believe us, you're not gonna be disappointed. Lust, in particular, is a veritable gift before the camera, stretching his legs to encompass Young's thick raw shaft to an almost breathtaking angle. Can the human anatomy really achieve such contortions? Apparently so, as Lust gets royally banged by his compatriot, before both lads spew the contents of their heavy balls over each other, rubbing their uncut knobs together in the resultant goo.