Summary:
Some of the best Staxus scenes compiled on DVD!

These hot twinks have a Secret Addiction – they're addicted to hard cock, tight ass and warm cum! Watch these European hotties get nasty as their addiction takes over and lust bubbles to the surface as they dip their heads to take a fat dick deep in their warm mouths and offer up their bubble butts for a bare and raw plowing! This is one addiction that won't be a secret for long!
Scene 1: Two Eager Explorers Get To Discover Hot Raw Ass & Inches Of Thick, Cum-Spewing Dick!
Cast: Ryan Olsen and Jason Mike
From: Super Size Me 6, Scene 2
Disused warehouses and abandoned outbuildings have long since been the mainstay of gay porn, so it's perhaps not too surprising that dark-haired beauty, Ryan Olsen, and his blond buddy, Jason Mike, head for just such a location when they're feeling a little frisky and in need of some carnal attention! What's more, they don't waste much time in ripping off each other's shorts so that they can feast on all the expectant hard, straining flesh that they've both got stuffed inside; and before you know it Olsen is slobbering all over Mike's nicely upturned ramrod like it's the tastiest thing he's encountered since pretty much forever!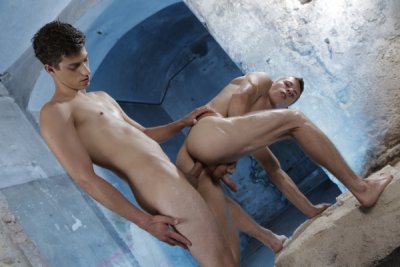 A sentiment that's clearly shared by Mike, who then returns the open-mouthed favour; before both lads engage in a stunning session of 69-ing that'll have you frantically jerking in appreciation. Hold on though, guys. Both these boys have a craving for dick and won't be truly content until they've buggered each other senseless for your satisfaction – a task that they eagerly embrace in a succession of raw, ass-busting moves that only a couple of randy, over-sexed bastards like this could ever hope to pull off.
Unsurprisingly, it's not at all long before these two fuck-machines are ready to spew; with Olsen dumping a very generous wad of ball-juice over Mike's comely little face, then Mike himself blasting thick ropes of cream out of his piss-slit to conclude this terrific piece!
Scene 2: Dick Casey Takes A Red Raw Ride On His New Buddy's Horse-Hung Cockhead!
Starring: Dick Casey and Jace Reed
From: Super Size Me 8, Scene 2
Also available: Donkey Dicks 2
It wasn't all that long ago that Dick Casey was an out-and-out top, who hadn't the slightest inclination to bottom for anyone. Fortunately for all concerned, that's an attitude that has distinctly changed in recent times. Good news for his legion of fans; good news for his bank manager; and even better news for horny new boy, Jace Reed, who's got a veritable monster of a cock to satisfy!
Mind, it's exactly the kind of oversized ramrod that young Reed has stuffed in his pants that's helped develop Casey as a performer, and there's certainly no denying the fervour that the muscled beauty displays when confronted with the pulsing shaft that Reed has aching from his crotch. To cut a long story short, the guy is quite simply aching to get the said knob stashed between his buns; and having feasted on all that hard flesh with his mouth at the start of the scene, it's soon time to take every straining inch from the rear.
Cue the kind of single-minded performance that you'd expect from a lad of Casey's experience, as he savours Reed rimming his hungry little ass-hole, before riding his mate's butt-picker through a whole series of exquisitely captured positions that'll have you jerking your own dick with near-maddening enthusiasm. All culminating in the fellow quite literally having the spunk banged out of him; before Reed works out a handsome load of his own all over Casey's toned belly. Altogether, a most terrific coupling that's guaranteed to drain your tight balls over and over again!
Scene 3: Dreams From The Music Room See Justin Conway Getting Fucked & Spunked On!

Cast: Justin Conway and Stanley Black
From: Symphony 69, Scene 2
If music be the food of love, a certain William Shakespeare once declared, play on. In this particular instance, however, it's not so much love that dictates the pace as down-and-out lust – which for young blondie, Justin Conway, comes in the rather dreamy form of Stanley Black, a dark-haired, Latin-looking beauty who promptly (and all-too-easily) distracts Conway from his musical studies. Then again, given the choice of doing scales and arpeggios alone on the piano or enjoying a little "getting to know you much better" time with a horny mate which would you choose? Yeah, thought so – and it's exactly the same decision that our fair-headed beauty comes to as well, as the two lads immediately begin to exchange blowjobs before savouring a sultry session of head-to-toe cock-sucking.
Unsurprisingly, it's not at all long before Conway is lifting his legs into the air in order to be fucked in pretty much every conceivable position – from behind, from beneath, from on top ... no doubt you get the picture! No surprise, therefore, that the guy is soon squirting a generous wad of jizz in appreciation; whilst Black sprays all over Conway's tongue, before the two lads exchange the kind of cum-laden, open-mouthed kiss that ought to a prerequisite in all porn!
Scene 4: Connor Levi's Bareback Pool Adventure Proves Scorching Hot As He Sucks & Fucks Hunky Pal's Dick!
Cast: Connor Levi, Rudy Bodlak
From: The Italian Job, part 1, Scene 1
If it's never occurred to you what a complete and utter slut young Connor Levi is, then now's the time to re-evaluate your perception. Faced with the vision of hunky Rudy Bodlak taking a dip in the pool during a summertime trip to Italy, the ever-rampant Brit boy just can't resist the urge to pull on his dick in voyeuristic appreciation. Not that anyone could possibly blame the guy.
Bodlak, after all, is built like a Greek god, with a magnificent cock and sac to match such an analogy. Who in their right mind wouldn't want to wank given such circumstances? But, of course, as we all know, a boy of Levi's disposition isn't ever gonna be content with a furtive hand-job. Nor is a fellow like Bodlak going to turn down the offer of a twink's pert ass to fuck. As such it's very much a marriage made in heaven, as the two chaps commence a heavy session of poolside cock-sucking and ass-rimming that'll have you jerking on your own rod in no time at all.
Don't nut too soon though. What follows is a truly terrific coupling that sees Bodlak give his twink-buddy the kind of raw, uncompromising buggering that a boy like Levi is crying out for, eagerly cementing the bottom as one of the hottest fucks around in the process. A reputation only enhanced yet further when he laps up Bodlak's wad as part of the post-fuck jinks, feasting on the hunk's jizz as if it were honey. No question, this is as fuckin' hot as it gets.