Summary:
Some of the best Staxus scenes compiled on DVD!

With devilish good looks, smooth skin and a fat cock, these Euro newbies can't contain their Hidden Lust anymore! They're not sure why, but they long for another guy's kiss, another guy's touch and another guy's tongue wrapping itself around their hard, throbbing dick. These rookies soon find their way and what starts as curious shyness soon develops into deep-throated blowjobs and balls deep raw ass banging, with one boy even letting his new fuck buddy initiating him with his very first butt plug!
Description / Review
Scene 1: Twink Anal Explorations!
Starring: Milan Sharp, Xander Hollis
From: More, Scene 2
Deliciously romantic and sumptuously filmed, we join horny twink boys Milan Sharp and Xander Hollis as they share an intimate night in bed. Xander shows off some rather special moves as he works his friends boner in some interesting deepthroat oral, but some more traditional positions allow for a great view as the boys lick and slurp on each other.
Xander's tight little butt is perfectly positioned as he straddles the slim frame of his lover, and with just a little manoeuvring Milan's lengthy raw tool is sliding up inside him for an exquisite ride that has the boy throwing his head back and stroking his own solid shaft! With a little rimming, Milan's twitching opening welcomes the throbbing inches of Xander's meat pole and he gets a deep thrusting from the boy in return, but their anal explorations have only just begun...
A rather large dildo is soon in play, stretching out Milan's smooth little butt as he gasps with pleasure. But the clear plug is what Xander really wants to try. With his hole open and a perfect view of his interior, Milan shows off his most private place for his lover to enjoy, and all that excitement soon takes both boys to the edge of cumming, unloading their delicious juices for each other in a mess of mutual cum facials!
Scene 2: Hot, Horny Painter Gets Fucked Hard & Raw By Orlando White's Big Raw Cock!
Starring: Nathan Levi, Orlando White
From: Paint It Bareback, Scene 1
Blue-eyed beauty, Nathan Levi, has an eye for the landscape around him, so his ability to capture it on canvas should come as no great surprise. But he also has a keen eye for the male form in all its vibrant, youthful splendour – a fact that immediately becomes apparent when his latest artistic foray is interrupted by the unexpected appearance of the gorgeous Orlando White.
Not that you have to be a painter to appreciate a guy like White, of course; but for this young artist it's a case of grabbing the opportunity with both hands and escorting his newly-found muse back home as quickly as possible. Whereupon both lads dive headfirst into a stunning, breathless session of smooching and cock-sucking that'll immediately get your juices rising, so to speak.
White, in particular, is in scorching form, not least of all when he engages in some terrific rimming action on Levi's pert little ass; but matters take off big-time when White finally thrusts his oversized raw cock deep into his compatriot's pucker and begins to bang away with characteristic gusto. A spunktastic fuckathon ensues; culminating in Levi getting a face-load of jizz courtesy of White's rampant fuck-rod, before the horny, shaved little bottom spews a fine wad of baby-batter over his own belly!
Scene 3: Hot Horny Blond Twink Gets An Ass-Load Of Jizz From His Cute Little Fuck-Buddy!
Starring: Denis Master, Nathan Levi
From: Super Size Me 4, Scene 2
Nathan Levi's found himself another sex-toy, this time in the form of Denis Master. The two boys are making out in bed, with Levi's hand wandering into Master's jockstrap. Master's hand soon finds its way into Levi's tight boxers; but before he can really grab a hold of that juicy cock, Levi takes control and starts sucking Denis off. Levi really goes to town on that dick, licking the shaft, then sucking his balls and giving real pleasure with his tongue and lips.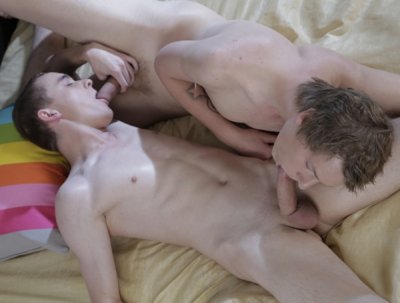 Levi finally French-kisses Master to give him a taste of what's to come, leaving his mate hungry for cock, who gobbles the monster up whilst Levi grabs hold of his head to fuck his face. After a while the boys change position for some hot 69-ing and mutual rimming. Then, having lubed Master's ass up with his tongue, Levi slides his meaty cock inside his pal's tight little hole and treats him to a good raw fuck. A switch of position has Master slamming Levi's ass doggy-style, until eventually the lad can't hold out much longer and he shoots his creamy load deep inside that hungry butt-crack.
Levi then pushes the cum out of his hole and Master sticks his dick in again to fuck the cum back inside. Finally it's Master's turn to get the face full of cum he has been waiting for all along, which he sucks out of Nathan's cock and swallows like the good obedient little twink he clearly is.
Scene 4: Work Loses Out To Fun, But Johny Cruz's Hungry Twink Ass Gets Rigorously Banged As A Result!
Starring: Johny Cruz, Shane Barret
From: Twinks Destroyed 2, Scene 3
Johny Cruz wants to be all serious and studious; Shane Barret, in total contrast, just wants to play and have fun. So, who do you think comes out on top? Let's put it this way, Cruz's resistance to his buddy's persuasions doesn't ever really amount to a great deal at all. Indeed, the fellow is tearing away at Barret's garish underwear in under two minutes, casting his pen and paper to one side in order to give all his attention to the thick, meaty, uncut dick that he very clearly knows is stuffed inside his mate's pants.
Not that Barret seems in any way less inclined to feast on salami given half the opportunity – particularly if his fine performance on Cruz's knob shortly afterwards is anything to go by. But it's not exactly a surprise to realise that it's Cruz who's going to be playing bottom to Barret's rampant buttpicker; and, having taken a chance to tease Barret's hole with an enthusiastic rimming, the lad is soon laid out prostrate over the writing-desk taking every butt-stretching inch that the top can thrust in his direction!
Cue a tremendous, ball-busting, sac-rupturing escapade that'll almost certainly have you reaching for the tissues long before Cruz (quite literally) gets the jizz banged out of him, having ridden Barret's love-handle like the veritable pro we all know (and love) him to be. But it's the sight of Barret white-washing Cruz's tongue and him spraying cream all over the lad's cute, young face that warrants keenest attention – the young bottom lapping up every last drop as if his next ten porn-placements existence depended on it. In three words – hot, hot, hot!