Summary:
Some of the best Staxus scenes compiled on DVD!

Bare and hard, these smooth, toned stud muffins are horny as hell and ready to party – and party hard! A duo of dick is a dream cum true and these boys can't wait to drop their shorts and drop to their knees and push the proffered meat pole into their wet mouths, their tongues rolling around the hardness from tip to base. Taking it in turns to pleasure each other gives them time to wallow in the sensuality of oral pleasure before offering up their tight asses for a hard pegging! Pampered and spoilt, for some two just won't do – they have a thirst for thrust and only a threeway session will suffice. Daisy sucking and daisy fucking is the only thing these boys want. They've got an ass that needs attention and it has to be completely bare! These pretty boys want to jump on board and are ready for the hardest ride ever!
Description / Review
Scene 1: Two Spanish Soccer Stars Suck Hard Cock & Take It Up The Arse!
Cast: Ruben Bart and David Sky
From: Back Of The Net Scene #3
Neither Ruben Bart nor David Sky are in the mood for foreplay – at least if the start of this terrific changing-room duo is anything to go by! These two totally stark-bollock naked cuties quite literally hit the ground running right from the off, kissing and smooching like a pair of over-sexed banshees; before quickly engaging in some very satisfying fellatio. Then again, given the quality of cock on offer here it really should come as no surprise at all that both lads are so horned-up. Sky, as diminutive as ever, lacks nothing in terms of the size of his manhood; whilst his compatriot boasts the kind of handsome butt-picker that pretty much all of us could munch on for hours on end!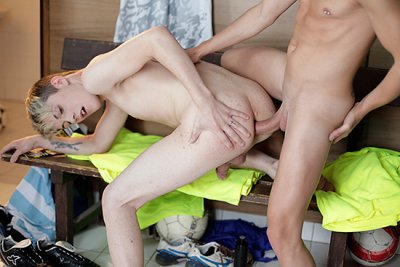 As it is, however, these boys have clearly got to get a move-on before their team-mates get back; which may in part explain the urgency with which Bart is soon rimming Sky's pert little ass, before Sky returns the favour and first tongues and then fingers his mate's fuck-hole! By this point, of course, you'll have probably guessed whose pucker is gonna get stretched; and needless to say it's no time at all before Sky is ramming his thick, swollen shaft into Bart's rump from behind.
It's a move that, not unnaturally, raises the sexual tension into the stratosphere; with Bart soon switching positions so that he can ride his buddy cowboy-style, savouring every single aching inch of Sky in the process. A further positioning sees him buggered on his back, legs akimbo – at which point he dumps his wad! That just leaves Sky to generously cream all over his pal's face to call it a wrap!
Scene 2: Leo Ocean Gets A Double Poleaxe Courtesy Of His Gym Buddies!
Cast: Leo Ocean, Ray Mannix & Roman Smid
From: Pump This! Scene #2
We already know that Leo Ocean is a total cock slut, so perhaps it shouldn't come as any surprise to see him provocatively showing off his dick to Roman Smid and Ray Mannix as they play together in the squash court below him, whilst he works out on an exercise machine in the room above. What you might not realise, however, is that he's also clearly a bit of a tease – as proves to be the case here when he pretends to be all prim and proper when the two lads storm up the stairs to join in the fun!
Not that Smid and Mannix are in the mood to be brushed off, that's for sure. Having been sexually provoked, these two horned-up buddies are definitely in the mood for release; and within seconds they've stripped the young Brit of his pants and are jerking off his already over-stiff ramrod. From this point onwards, of course, Ocean is pretty much putty in their hands, it has to be said. We know from the past that if you give this boy a couple of dicks he very quickly transforms himself into a super-bitch, gagging for meat like he hasn't had it in years – and this scene (thankfully) proves to be no exception!
Indeed, he's down on his two mates with typical gusto; and it's not too long before first Smid and then Mannix are taking it in turns to hammer his eager little ass-hole for all it's worth. But the climax of this performance, of course, comes when Ocean opens up for both buddies at once, using the gym equipment as the perfect backdrop for a no-holds-barred excavation of his rear! All nicely topped off by the sight of him getting his face creamed for his efforts!
Scene 3: Hyper-Horned-Up Soccer Twink Gets A Monster Cock Pounding!
Cast: Jace Reed, Xavier Sibley
From: From: Back Of The Net Scene #4
All that hard work out on the football pitch has clearly left young Xavier Sibley feeling mega-horny – so much so that his team-mate, Jace Reed, actually walks in on the fellow feeling himself up in his kit in the changing rooms. At this point, of course, it'd be more than understandable if Reed chastised the horny little soccer star for bringing the game into disrepute.
As it happens, however, Reed does exactly what we've all long since grown to know and expect from him – immediately making a beeline for his co-star's cock, whilst exposing his own oversized ramrod in anticipation of a rampant session of hardcore sex. Needless to report, before you know it both these gorgeous guys are stark-bollock naked and taking it in turns to feast on all the many inches of hard dick that's on offer; with Sibley in particular making the very most of the generous shaft that Reed has stashed between his legs. A sentiment that continues down on the floor, when both chaps engage in a hot and sweaty 69-ing session; until Sibley's insatiable appetite for his buddy's raw schlong gets the better of him, and he parts his legs to take the full, exposed length in his guts!
It's really not at all surprising that the boy should quite literally grit his teeth as his tight but very hungry ass begins to accommodate its new guest; but those first moments of discomfort are soon rewarded with an uncompromising pounding that Sibley will remember for a long, long time, and which (after umpteen positions) finally concludes with the lad having the jizz literally pummelled out of him. Leaving Reed to work his own unbelievably proportioned pole into a creamy crescendo!
Scene 4: Soccer-Lovin' New Boy Gets Stretched By Tom Nutt's Monster!
Cast: Rob Rock and Tom Nutt
From: Football Focus, Scene 4
We've known Tom Nutt long enough to realise that he's a horny little fucker on the quiet, but it seems like he's found a like-minded buddy in the form of young Rob Rock – a handsome blond beauty that we pretty much know for sure you're gonna love almost as much as Nutt does in this terrific little scene. Even the projection of some on-the-field footie action can't distract either of these two mates; as Rock slurps on Nutt's almost over-generous ramrod with the kind of gusto and eagerness that you might not expect from a newcomer.
Seems like this fresh-faced bugger might not be quite as inexperienced as he might like some of us to imagine – a suggestion that's then underlined when the two guys position themselves on the bed 69-style! No question about it, these would-be soccer stars are soon going at it hammer and tong; before Rock decides to turn his attention to his mate's pert, tight ass. What follows is an almost textbook display of mouth-on-arse action, with the new boy clearly all too keen to show off his rimming skills for the camera.
But believe us when we tell you that this is nothing compared to his skill at taking cock – a proficiency that's soon being tested when Nutt ploughs his hard, uncut dick straight into the lad's guts! What follows is a showcase display of hardcore sodomy, with Rock quite literally shafted in a whole series of positions; before Nutt concludes his efforts by giving his pal's tight pucker a much-deserved whitewash. All nicely rounded off by him taking a full-on blast of spunk in the face courtesy of Rock's exploding dickhead!