Summary:
He's everyone's favourite cheeky-chappy – a happy-go-lucky beauty who gives and takes life as it cums, but who never seems to turn down the opportunity to engage in some hardcore cock-on-ass action.
And who the fuck can blame him? With his lean, tanned physique, his winsome smile and his uncontrollable libido he's a young man with the world at his feet – not to mention his cock! Little wonder that the likes of Yuri Adamov, Alex Silvers and Noah Matous can't keep themselves from spending time with the horniest fucker in the whole of Prague.
Scene 1: Gym Buddies Work Out On A Sweaty & Spunky Flip-Flop Fuck!
From Sport Ladz: Pump This Scene 1
He should be concentrating on getting his muscles into shape, but given that baby-faced Alex Silvers is in the adjoining room boasting a hard-on that almost looks fit to split his dick in two, it's really no great wonder that Pyotr Tomek can think of nothing else than getting his end away! So much so that he actually hides around the door feeling himself up, thinking maybe that Silvers hasn't noticed the attention. As it happens, however, the young Brit boy is more than acutely aware of Tomek's keen-eyed antics; provocatively swaggering out of the locker-room, directly into the Czech lad's line of fire.
It's a move that can only ever have one result, of course; and suffice it to say that Tomek is soon down on his gym buddy's crotch and giving head like it's the kiss of life! Not that Silvers looks in any way less keen to provide his own entertainment – pushing the dark-haired guy back down onto the bench to slurp on his handsome shaft, before quite literally sitting on Tomek's face, parting his butt-cheeks and giving his pal the opportunity to lick out his hot, horny ass-hole!
That, of course, is the perfect aperitif for a hard-nosed fuck of Silvers' pucker – first cowboy-style, then from behind – which ultimately results in Tomek creaming his mate's hole. Then, just when you thought this sordid escapade couldn't get any hotter, the two pups promptly switch roles; with Tomek riding Silvers like a bitch on heat, before the English lad squirts the contents of his nads all over Tomek's winsome little face. Definitely the kind of gym-time workout we'll surely all appreciate!
Scene 2: Pyotr Tomek Gets Cum Up His Arse In A Flip-Flopping Frenzy!
From Bare: Twink Hotel Scene 4
You can say what you like about the guy, but one thing that can't be levelled against your Erik Franke is procrastination! Why, no sooner has he encountered Pyotr Tomek loitering in a corridor than he's inviting him back to his room to get to know the lad better – which (of course!) immediately involves stripping off each other's clothes and sucking on each other's dicks. Then again, if you met Tomek hanging around, looking lost and forlorn, wouldn't you do exactly the same?
Suffice it to say that both lads proceed to slurp away on cock like it's their sole ambition in life, eventually positioning themselves top-and-tail so that they suck, rim and finger simultaneously! Indeed, this air of egalitarianism continues when the time comes to consummate their new-found affections. First Franke takes a ride, cowboy-style, on his dark-haired buddy's handsome shaft; then Tomek gets shafted from behind, taking every raw inch of Franke's thick, meaty shaft in the process.
It's no fucking wonder that both boys have smiles on their faces that stretch from ear to ear; and we've absolutely no doubt that you guys are gonna get off big time in the process. But the highlight of the action comes in the final few moments when Tomek fires off a fantastic volley of jizz all over himself, whilst being buggered; before Franke returns fire all over his buddy's ass, then pushes his joystick deep inside as if to cement the deal. In short, a stupendous finale that we're sure you can watch time and time again!
Scene 3: Horny Camper Gets His Hungry Little Hole Worked & Creamed!
From Raw Films: Camp Out, Scene 4
Young gardener, Pyotr Tomek, has clearly abandoned any pretence of doing any actual gardening – but then that's not exactly surprising given that he's now encountered the unrivalled delights of Noah Matous, who (as we all know) is a cock-whore par excellence! Indeed, the young blond lad clearly can't wait to get his tanned, dark-haired buddy into a tent so that he can get acquainted with the labourer's handsome tool, and is soon feasting on all that hard, handsome meat with characteristic gusto. Not that Tomek is adverse to savouring cock, it must be said; and having returned the sexual favour, with the addition of a little bit of toe-sucking to add to the excitement, is soon busily accompanying Matous in a magnificent session of 69-ing down on the floor. And by that we really do mean 'magnificent'!
These boys are quite literally like a couple of bitches on heat as they mutually rim each other's asses and rub their cocks together; and there's every good chance that you'll have creamed even before Matous has submitted to his overriding urge and taken every inch of Tomek's dick deep inside his arse. Given the quality of what follows, however, there's every good reason that this scene could easily squeeze two loads out of your balls! For Matous is truly on the very best form imaginable as he rides Tomek's shaft in a whole variety of positions; whilst the sight of Tomek pounding his pal's hole after he's creamed it is one of the highlights of his career so far. All of which culminates in the jizzed-out bottom furiously jerking out his own spunky wad of baby-goo for the finale!
Scene 4: Cute Yuri Gets His Arse Banged & Creamed, Then Takes The Piss!
Cast: Yuri Adamov, Pyotr Tomek
From Twinks In Heat, Scene 3
If cheeky-chappy Pyotr Tomek was hoping for a quiet time in the sauna then his dreams are very firmly shattered the moment that Yuri Adamov sits down next to him! After all, we all know what Adamov is like when he thinks he has the chance of enjoying some hard, uncut cock; and the sight of Tomek in nothing more than a towel, his naked, tanned skin sweating in the heat, is enough to get the young, eager bottom into quite a heated frenzy! Fortunately for all concerned, there's a pool nearby to enable both lads to let off a little steam; but it's only the briefest of respites, and before you know it they've headed off to make the most of a nearby sofa in order to give each other deep, sensuous blow-jobs.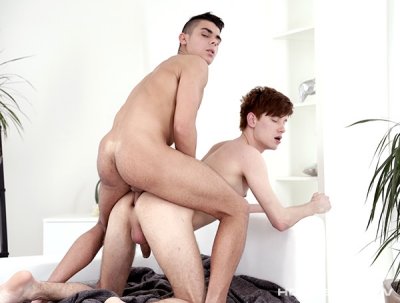 Of course, just watching these two beauties as they 69 each other could get most fans creaming off right there and then; but proceedings only intensify still further when Adamov finally succumbs to all temptation and plonks his arse down on Tomek's thick, rigid love-stick! Needless to say, this cute little slut is soon riding away like a consummate professional, his own dick standing proud as he does so; but, after unsaddling to give his buddy another good sucking, his performance becomes a lot more guttural when Tomek begins to pound him from behind.
What's more, the volume increases still further when he's banged from above – his arse stuck up in the air, enabling him to jizz into his own face whilst Tomek first whitewashes his hole and then sticks his sticky, gooey cock deep inside! The sight of Adamov being pissed on at the end simply serves as the cherry on the cake in a scene that's pretty much a born classic!
Scene 5: Hard-Dicked Pal - Pyotr Tomek & Will Hornet
From Sport Ladz: Snow Balls, Scene 3
It might be cold outside, but Will Hornet clearly thinks that young Pyotr Tomek is smoking hot when he steps into the room to find the horny little twink sat on a sledge and looking a million dollars! Little wonder the fellow just can't wait to strip the pup of his clothes, picking him up like a doll in the process and instigating a five-star encounter that will almost certainly have you unzipping in no time. And no fucking wonder!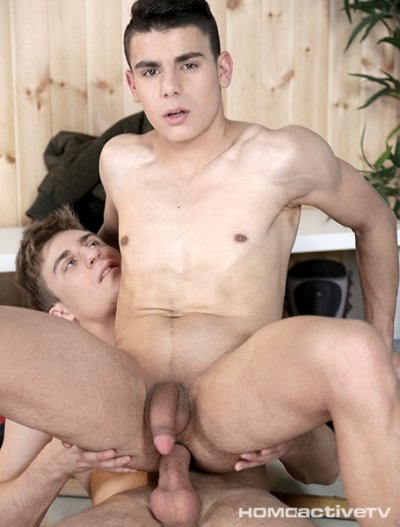 These two beauties are clearly into each other as they take it in turns to slurp the life out of each other's dicks. First Hornet gobbling Tomek's love-stick whilst the youngster is sat on his lap; then Tomek feasting eagerly on his hunky buddy's ramrod – which will soon be pounding his tight little ass! Before that happens, however, Hornet takes time out to give his cute buddy's crack a good tonguing; although the overriding temptation to deflower Tomek ultimately becomes too much, and understandably so! Who in their right mind wouldn't want to give this doe-eyed beauty the pounding of his life?
But on this occasion it's Hornet who gets that pleasure all to himself – first buggering the lad from beneath with a cowboy-style coupling, then taking the cutie from behind and slamming his ass right up to the balls! Fortunately for the dick-loving cherub there's a fur rug on the floor to cushion the impact; but it's not long before all this high-octane action is bringing both buddies to a creamy climax. As a result, Hornet spews the contents of his nads over Tomek's nose, whilst Tomek himself produces a high voltage multi-spurt cascade over his belly!
Scene 6: Three horny newbies - Carl Ross, Pyotr Tomek & Ryan Torres
Talk about winning the lottery with your very first ticket – it's new boy Ryan Torres's first ever scene for STAXUS and here he is teamed up with the truly terrific pairing of blond demi-god, Carl Ross, and studio exclusive, Pyotr Tomek! What more could a young, horny newbie possibly wish for? What's more, our two regulars are very clearly in the mood for a little playfulness; positioning themselves on either side of their new buddy and squirting chocolate sauce all over his torso, which they promptly lick up with their tongues.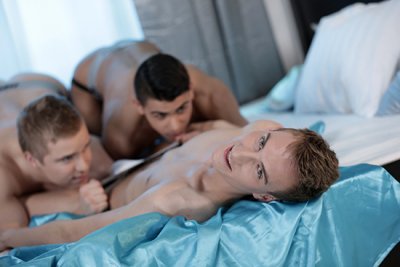 It's a deliciously gorgeous bit of fun, but it's never, ever going to be enough for any of these horned-up mates; and soon all three are positioned in a dick-munching triangle, feasting away on every hard, uncut inch that's now on offer. Then attention finally begins to turn to the main focal point of this jizz-inducing escapade, with Ross rimming Torres's ass-hole, before finally plunging his thick, aching schlong deep into the fellow's pucker! Cue a fantastic display of twink-on-twink rutting, made all the more intense by the fact that Tomek positions his face just barely millimetres from the action so that he can intermittently slurp on Ross' cock!
After which the lads switch roles so that Torres can bounce up and down on Tomek's love-stick; before Ross returns to hammer the youngster's rump, whilst Tomek slurps away on Torres's knob. It's more than enough to get even the most hardened porn-viewer to a sticky climax; but the sight of Torres getting his face jizzed by both his mates will make that conclusion a fucking certainty!
Popular Gay DVDs featuring Pyotr Tomek
You can find loads of content featuring Milan Sharp online at Staxus.com. See also: Pyotr Tomek Gay DVDs