Summary:
Gone are the days when would-be lovers met person-to-person. The Whatsapp generation literally has the technology at its fingertips to dial up sex whenever and however it wants; as our horny collection of STAXUS fuck-buddies are only too willing and able to demonstrate.
Join studio favourite, Bjorn Nykvist, as he texts up a collection of handsome new faces; signalling the start of a truly spunktastic suck-and-fuckathon that (ironically) will have you putting your own phone aside for some finger-inducing pleasure of a much more traditional kind!
Scene 1: Texting Buddy Takes A Dare To Coat His Mate's Face with Spunk!
Cast: Chester Owen, David Doren
Youngsters today, hey? All they do is sit on their phones 24/7 and mindlessly text each other – as is the case here with Chester Owen and his buddy, Robin Rhea. Such behaviour isn't without its rewards, however; as we quickly discover when Rhea challenges Owen to make a pass at his new cute housemate, David Doren. It's a dare that a lad like Owen is only too keen to take up; and before you know it the boy is concocting a story about having ticks that are irritating his skin, and asking Doren to check all over his handsome body to see if he can see anything. Finally – and with almost a comic twist – he insists that Doren undertakes a thorough inspection of his arse-hole to see if one of the creatures has managed to make its way inside his guts; by which point, of course, Owen's blatant provocation has secured every ounce of his mate's attention, securing at least two of Doren's digits in his pucker and writhing on the sofa as a result.
It's only a matter of time, of course, before Doren replaces those fingers with his thick, meaty cock; but first Owen takes opportunity to gorge on his mate's rod and rim his tasty little rosebud. It's a visibly heated, sweaty encounter; and the chemistry between these two horny buggers only intensifies when Owen finally capitulates to his own carnal tendencies by sitting on Doren's lap and riding the lad's throbbing buttpicker for all he's worth. No fucking wonder that both boys are soon spewing in appreciation – a snap of Doren's splattered face serving as the perfect souvenir of the encounter, which Owen proudly fires off to Rhea!
Scene 2: Cock-Sucking Slut Gets His Share Of Two Cum Hungry Fuckers!
Cast: Bjorn Nykvist, Eytan Zevi, Robin Rhea
If ever you doubted that Robin Rhea was the consummate cocksucker, then be prepared to have your reservations put very safely to bed courtesy of this two part escapade featuring hunky newbie, Eytan Zevi, and everyone's favourite blond beauty, Bjorn Nykvist. To be fair, these two buddies actually seem to be in some kind of competition where Rhea's oral skills are concerned – taking it in turns to be pleasured by their dick-slurping hero, and each ensuring that they take photographic evidence of the lad's accomplishments on their phone.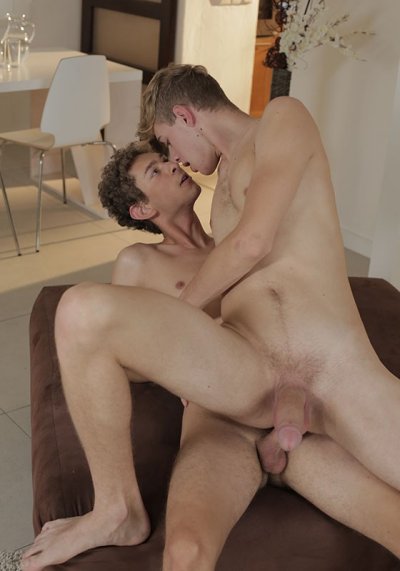 First up it's dark-haired hunk, Zevi, whose nicely upturned shaft is soon getting all the attention it could ever desire from Rhea's skilful mouth; before the fellow eagerly returns the tight-lipped favour, whilst also lapping at his mate's hungry, hair-free pucker. It's perhaps little wonder that Rhea is soon squirting a tasty wad of jizz all over the place as a result; but what may surprise a little more is the way the scene then quickly skips to the lad's second call of duty, this time in the company of the eternally horny Nykvist.
Once again, Rhea's oral dexterity is very much on show; but on this occasion there's the opportunity to demonstrate that he isn't just a one trick pony. Indeed, first chance he gets and he's burying his gorgeously meaty ramrod balls-deep into his blond bud's fuck-hole; marking the start of a tremendous set-piece that will almost certainly have you wanking like fury. All of which culminates in one of the gooiest displays of cum-in-arse we've ever seen, with the spunk literally dripping out of Nykvist's well-worn ass!
Scene 3: Sweaty Deep-Throater Gobbles Up Every Drop Of His Mate's Jizz!
Cast: Chester Owen, Orri Gaul
Fans of deep-throating and face-fucking are in for a real treat at the start of this superb escapade between new boy, Orri Gaul, and the clearly insatiable Chester Owen; with the latter clearly determined to give his tonsils the very hardest of workouts for your perverse entertainment. Not that chiselled beauty, Gaul, is in any way less appreciative of cock, of course – he's soon hungrily slurping on his mate's hard shaft in return, after all. But it's unquestionably Owen who gives the most enthusiastic display of oral dexterity, taking Gaul's shaft right to the root without so much as a hint of a gag; before both lads sidle up to enjoy a keen session of 69-ing, which in this instance involves Owen gobbling away at his pal's ball-sac, whilst Gaul fingers and rims arse in preparation for the main event.
Indeed, it's not too long before Owen's appetite for cock has him literally plonked down on Gaul's lap and riding his buddy's hard shaft for all he's worth – his own stiff shaft freely bouncing up and down as he does so. It's a sight that's surely set to thrill an entire sector of our fanbase; and the rip-roaring session of hardcore fornication that follows is almost certain to have guys across the globe choking their own monkey in sweet appreciation. But it's arguably Owen's final kinky act that warrants greatest acclaim, having spewed out his own thick wad mid-fuck and then brought Gaul to a similar sticky climax. For there's no shying away from the taste of cum for this lad. Instead, he laps up every last drop of the resultant brew with hoover-like enthusiasm, before merrily gulping it down!
Scene 4: Network App New Boy Takes A Big, Uncut Dick & A Load Of Jizz!
Cast: David Doren, Orri Gaul
There was a time when people met each other at work or out partying. These days, however, young folk are just as likely to meet through one of the myriad of networking apps on the internet; allowing users to reduce their chances of a dud encounter and significantly raising the odds of a good fuck with miniscule effort. Little wonder that the likes of new boy, David Doren, and the hyper-sexy Orri Gaul are keen to make the most of such technology; and it goes without saying that the two fellows keep social niceties to the bare minimum when Gaul finally arrives at his new contact's apartment.
In fact, the handsome visitor has barely managed to get his jacket off when Doren daringly steals a kiss – which quickly develops into something much more hardcore. Less than three minutes after walking through the door, Gaul is quite literally slurping off the young lad's dick; with Doren promptly returning the favour with equal enthusiasm. No doubt about it, getting to know someone for the first time has rarely if ever looked so fucking hot; and the set-piece only increases in intensity when Gaul turns his eye to his new-found buddy's hairless little fuck-hole, which he quickly starts to rim before thrusting his hard, uncut cock deep inside.
It's a move that marks the start of a terrific, no-holds-barred fuckathon, which sees Doren pounded in a whole series of positions; savouring some fabulous ass-to-mouth interludes, before getting his pucker coated in a thick, gooey wad of hot spunk. No fucking wonder he's soon spewing out his own appreciative blast of baby-brew in return!