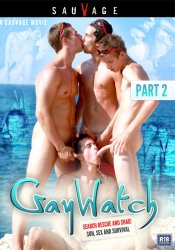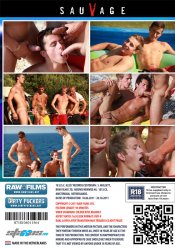 Also available
Gay Watch part 1


Summary:
Those beach-boy babes sure know how to have a good time – why, one session of sun-soaked copulation just wasn't enough! Indeed, this gang of horny Czech stunners had so much fun in the Med that a second instalment of sun, sea, sand and sex, sex, sex seems pretty much the only way to go. And if you thought the first episode was hot, just wait till you see what the local coastguards have got lined up for you this time! Super hot summer beach bareback fun!
Description/ Review:
Scene 1: Quiet Wank Proves Impossible When Confronted By Hard, Aching Cock!
Cast: Marty Love, Tom Nutt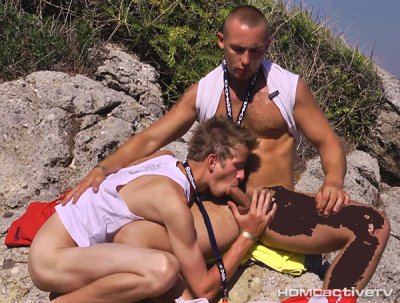 With so many hot guys on parade, it's no fuckin' wonder that a youngster like Tom Nutt just can't keep his hands off his cock. Indeed, he takes the very first opportunity to sneak off to some quiet bay where he can enjoy a good old-fashioned wank – a place, no doubt, he never thought to be disturbed. His colleague, Marty Love, however, is clearly an old hand when it comes to knowing what young guys get up during their time off, and sniffs the young blond pup out like a ferret homing in on a rabbit. Indeed, young Nutt never really stands a chance against Love's breeding instincts, and before you know it Love has Nutt down on his knees and sucking the dear life out of his thick, beefy cock. Of course, it's pretty much obvious from the off where that ravenous knob-end is destined, and it's no time at all before Love is giving his younger counterpart's ass a real hard work-out – first from behind, then from beneath! The sight of Nutt bouncing up and down on that dick will have you going weak at the knees, but it's nothing to that of seeing the young lad taking on the full force of Love's handsome ramrod as it finally spurts its generous load of jizz!

Scene 2: Life-Savers Relish A Raw Outdoor Threesome In A Bid To Unwind!
Cast: Mathew Ross, Nicolas Cruz, Jon Roz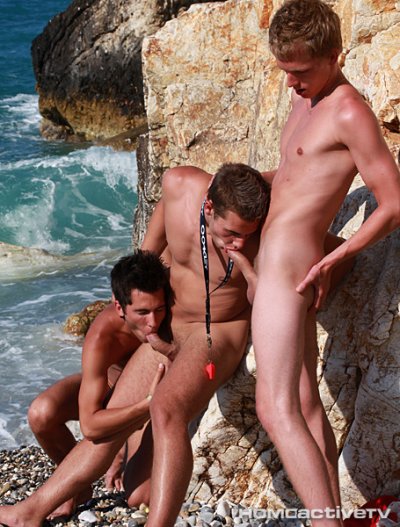 There's only so much training that a group of young life-savers can do to fill the hours between rescues – so how to fill the rest of the time that these boys have on their hands? Well, Nicolas Cruz and Mathew Ross have certainly come up with an idea, as they head to the beach to snog each other's faces off against a backdrop of crashing waves and deep blue skies. Jon Roz, on the other hand, opts for a somewhat lazier alternative way to kill the time – lying in the sun to enjoy a gentle jerk-off. Not that he's left on his own for very long, it must be said. Neither Cruz or Ross appear to have any intention of allowing the lad to remain there undisturbed, and before you know it the three have coupled up for a hot session of passionate cock-sucking. It all marks the start to a fantastic outdoor threesome that eventually sees Cruz ramming his cock up Ross' ass; before Roz decides to take a cowboy-style ride on Ross' rubber-free knob! Suffice it to say that it isn't very long at all before all three lads are brimming towards ecstasy, with Roz taking a veritable face-load of cum courtesy of his two mates before pumping out the full contents of his balls over his own belly!

Scene 3: Gang Of Beauties Engage In A Mind-Blowing Fuck-&-Cum-Fest!
Cast: Jon Roz, Matt Loughton, Marty Love, Tom Nutt, Peter Clarke, Julien Adagio
Also available: Fuckin' Orgy Sluts (2 DVD Compilation)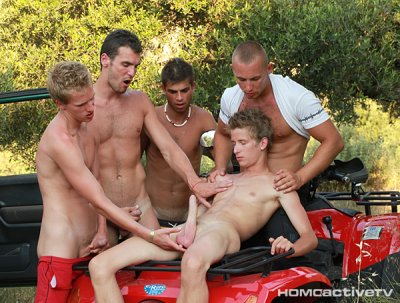 If you enjoy the simple voyeurism of watching a gang of young lads having a fun time in the sun – armed with a few cans of beer, some smokes and a watermelon (of all things!) – then the opening sequence here will put you straight in the mood for the antics that immediately follow. After all, this is a vision of guys at their carefree best, with their minds purely centred on the aim of having a real good time without any thought of consequence or reason. Not that's it very long before the urge central to all young male minds (i.e. sex) begins to kick in big time, as young Tom Nutt is forced to act the bitch to all the other four youngsters amidst the otherwise tranquil backdrop of olive groves and a clear blue sky. Perhaps not surprisingly it's Marty Love – the most manly of the fellows present – who takes the lead in proceedings, but in reality Nutt appears to take very little persuading when it comes to wrapping his lips around the array on throbbing knobs on parade! Nor does he show any reluctance to having his mouth used as a cum-receptacle by the likes of Love and Peter Clark; before being carried onto a quad-bike and working his cock into a spunky lather!

Scene 4: Jacuzzi-Sex Sees This Young Blond Get A Full Ass-Load Of Jizz!
Cast: Jimmy Snyder, Andy Nash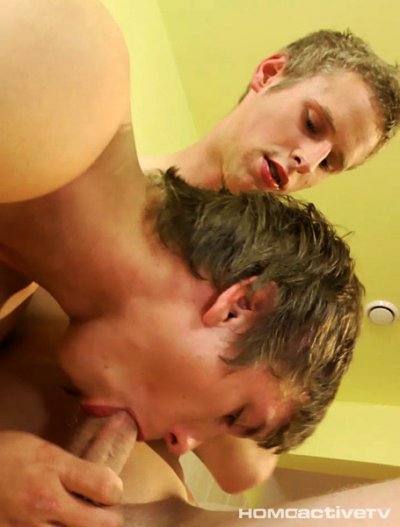 Anyone who loves a young blond boy is rarely going to be disappointed by a cutie like Jimmy Snyder – particularly when he's coupled up with cheeky-looking Andy Nash, who just can't wait to take the opportunity to slip out of his trunks and into Snyder's plush-looking Jacuzzi. Needless to say, it's no time at all before these two youngsters are feasting away on each other's flesh – beginning with Snyder, who claims never to have given a blow-job before yet indulges in a magnificent slurp on the end of Nash's shaft that seems to suggest anything but! Still, Snyder's pretence at virginity gives an added buzz to the encounter, if nothing else; and by the time he's being royally skewered by the bountiful rod in Nash's crotch you'll have completely forgotten the irony in Snyder's performance and will no doubt be simply tugging away at your knob in full appreciation of a pair of beautiful youngsters at the pinnacle of their youth! What makes this scene all the more significant, however, is the merry abandon with which Nash eventually pumps Snyder's ass with spunk, before blondie tosses off a handsome load of nut-juice from the depths of his low-hangers!

Scene 5: Down At The Beach, Four Cute Twinks Act Like Cock-Crazed Animals!
Cast: Mike Cage, Nicolas Cruz, Tom Nutt, Mathew Ross, Matt Loughton
The thinking behind this scene is pretty simple – and one that you horny porn lovers are just gonna love! Take four cute twinks to a sun-kissed Greek beach, then let nature take its course; which here involves the ever-popular Nicolas Cruz, together with young blond, Tom Nutt, and a couple of dark-haired beauties in the form of Matt Loughton and Mathew Ross. Needless to say the camera didn't need to be rolling for very long before a serious session of cock-sucking ensued, with Nutt and Ross particularly eager to prove their deep-throating expertise.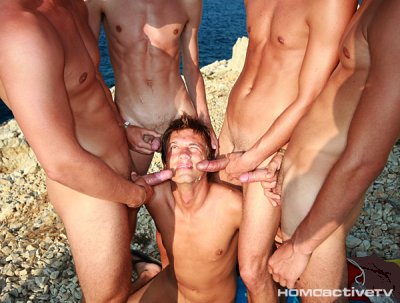 Just to add an extra kick to proceedings, however, the introduction of a peeping Tom in the shape of Mike Cage marks an additional notching up of the sexual tension, with the newcomer promptly serving as the centrepiece to the testosterone-fuelled frenzy on display. Indeed, it's not long before raw cock after raw cock is being thrust into Cage's hungry ass – the consequence of which (not surprisingly) is a furious spray of jizz on the horny bottom's part. Thereafter it's a case of a well-deserved facial for the boy, as all four unspent shafts deliver a blizzard of cum to leave Cage's face well covered!
See also: Gay Watch part 1
Additional Information
Categories: UK R18 / XXX Gay Adult
Running Time: 90 mins, Year: 2011
Price: Around £25*
Starring: Julien Adagio, Mike Cage, Peter Clarke, Nicolas Cruz, Matt Loughton, Marty Love, Andy Nash, Tom Nutt, Mathew Ross, Jon Roz, Jimmy Snyder
Director: Vlado Iresch
Studio: SauVage Movie
Buy DVDs online at: Homoactive, Simply-Adult and RadVideo (US)
Download Sauvage Movie titles at: : Homoactive (UK/EU) and Radvideo (USA)
Gay Video On Demand: SauVage, See also: www.gaydvds.tv
Country: Czech Republic, Language: Czech with english subtitles
Additional info: No Regional Coding