Summary:
It's a title that will sound a cord with anyone whose schooldays were perhaps not as enjoyable as they should've been; but seriously, is there anyone whose time in the classroom was really as hot as this? Seems like the times have seriously changed since any of us were at school. Gone are the long days spent learning by rote – replaced by long nights spent sucking and fucking like it's going out of fashion. STAXUS favourites, Jaxon Radoc and Kamyk Walker, lead a top-of-the-form assembly of cock-crazed youth just aching to cream!

Scene 1: Time For Study? Not Fuckin' Likely, As Two Raw Fuck-Buddies Bang Over A Desk!
Cast: Rhys Casey and Aaron Aurora
We're never privy to what students, Rhys Casey and Aaron Aurora, are actually studying, but given that it takes less than thirty seconds for them to abandon their studies in favour of cock action there's every good chance that it's not the most exciting of subjects. Not that either of these two young lads look the studious type, it must be said. Indeed, seeing Aurora hanging off his buddy's dick as he slurps on every inch that Casey can muster seems a much more natural activity for this horned-up chappy; and, what's more, Casey is clearly not disinclined to such carnal predilections given the fervour with which he's soon returning the favour. By this point the ever-delicious Aurora is stretched out, stark-bollock naked, across the school desk; leaving the taller lad the opportunity to eagerly rim his arse and then thrust his meaty, uncut pole deep into the boy's hungry little rosebud.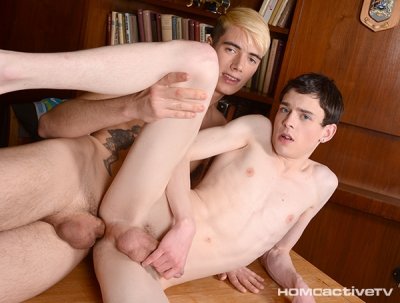 Suffice it to say that these two schoolmates are soon banging away like a couple of cheap tarts - Aurora's well-worn hole getting a real good stretching in a variety of positions in the process. Little wonder that the fellow is soon squirting the contents of his nads all across his belly; before Casey then proceeds to position himself over the fellow's face and dump a fine wad of pent-up boy-juice right between the eyes. Time spent in the classroom has never looked so much fun for a couple of wayward scally lads!
Scene 2: Two Hot, Horny Students Kill Time With A Raw, Cum-Drenched Flip-Flop Desktop Fuck!
Starring: Jaxon Radoc, Louis Blakeson
Everyone knows that school is meant to be all about studying hard for exams with a view to getting the best qualifications possible in preparation for the adult world outside. But, as Jaxon Radoc and Louis Blakeson are clearly only too keen to demonstrate in this horny episode, sometimes it's good to step away from the demands of academia in order to simply enjoy being young – which in the case of these dirty-minded youths means stripping out of uniform and savouring a hardcore session of wanton fellatio and sodomy – subjects that are unlikely to be found on even the most liberal-minded school's syllabus!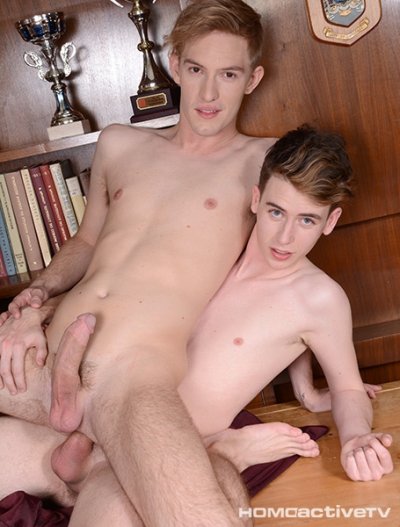 Not that either the blond-haired beauty, Radoc, or his Brit-boy counterpart, Blakeson, appear in need of tuition where sex is concerned – in fact, given the ease with which they both clearly enjoy cock-sucking at the start of proceedings it's pretty obvious that neither fellow is a novice. That, of course, should hardly surprise given the proportions of dick on show here – both boys have decently hefty weapons in their arsenal – and of course Radoc is already a well-established STAXUS favourite, whose CV reads like that of a well-worn pro.
But the fresh-faced enthusiasm of this pairing never ceases to impress; and by the time Blakeson is finally thrusting his engorged ramrod into his Aussie mate's ass over a desk you're gonna be very firmly won over. Add on a flip-flop turn-round – Blakeson's pucker getting a rigorous pounding in return – and a terrific multi-shot climax from Radoc all over Blakeson's face, and you have all the makings of a classic!
Scene 3: Classroom Toy Fun Leads To Horny Twink Getting Spit-Roasted Raw By His Big Dicked Buddies!
Starring: Chris Hollander, David Hanson, Oscar Roberts
Also available: Schoolboy Fuckers 2
There's a school of thought that fervently believes that a "hands-on" approach to education is by far the most effective, and it's clearly an attitude that's evidently been adopted by the authorities at the STAXUS academy given the demonstration given here by Chris Hollander, David Hanson and Oscar Roberts.
Faced with the opportunity to see what fun can be had together in the classroom, they almost immediately abandon theory for practice – eagerly slurping on each other's dicks, before blond boy, Hollander, produces a sex toy to help spice up the occasion. Needless to say, it's a decidedly practical experience all round, with the said dildo put to enthusiastic use on Hanson's ass – clearly in an effort to help ease any reluctant tightness!
Needless to report, it's not long before the said hole has opened right up and is ready for business – at which point Hollander is the first to pounce, stuffing his badly swollen phallus deep inside to give the lad the kind of stretching he deserves! Not that the blond lad's dick is the only shaft to dock in Hanson's port, so to speak. Before long Roberts is also giving the hungry bottom a further pounding; culminating in an energetic spit-roasting that'll have you reaching for the Kleenex in no time at all. But it's the sight of Hollander and Roberts squirting all over the lad's face that'll almost certainly guarantee an appreciative climax from you dirty-minded fans; with Hanson knocking out his own pent-up load to signal the final wrap!
Scene 4: Two Horny Blonds Enjoy A Bareback Locker-Room Flip-Flop Fuck With Oodles Of Hot Jizz!
Starring: Kamyk Walker and Jaxon Radoc
Also available: Schooboy Fuckers 1
Playing sport can really take it out of you, but the ever-gorgeous Jaxon Radoc is always assured of a warm welcome back in the changing rooms – not least of all from Kamyk Walker, whose appetite for cock is always second to none! A point that's underlined in this ball-bustin' escapade, when Walker immediately falls to his knees so that he can start rigorously slurping on the thick meaty dick that pops out of the Aussie demigod's jocks! What follows is an almost textbook display of full-on cock-worship, with the young Polish lad deep-throating his school-mate's knob right down to the fuzz; before Radoc promptly returns the favour, albeit maybe a tad less enthusiastically.
That, of course, is a totally forgivable misdemeanour given Radoc's nigh-on untouchable porn status; but what (if anything) he fails to deliver in the oral stakes he more than makes up for when he first rims his buddy's ass-hole and then follows on by thrusting his ramrod deep inside! Clearly unwilling to be outdone, however, Walker promptly pushes the tempo of the scene up even further by flip-flopping onto Radoc's fuck-hole – even to the point where he's banging away from underneath whilst simultaneously giving head. But as dexterous as such antics may be, it seems only right and proper that the coupling reaches its conclusion with one last switchover – Radoc topping Walker's ass a second time, before both lads spew the pent-up contents of their balls in all directions for a cum-drenched finale!
Scene 5: Two Exchange Students Give Lucius York A Real 'Hard' Time Over A Classroom Desk!
Starring: Lucius York, Sven Laarson & Zac Todd
Also available: Schoolboy Fuckers 3
Some people have a natural talent at maintaining discipline in the classroom, but it's clear from the start that fresh-faced, curly-haired Lucius York is not one of those individuals. Left in charge of exchange students, Zac Todd and Sven Laarson, he's quickly outwitted by two scoundrels who are clearly eager to make trouble; and it's no time at all before he's lost complete control of the situation. As a result, York is soon the passive player in a terrifically hot schoolroom threesome, as his two "charges" assume the lead by thrusting their thick, uncut dicks in his face. It's at this point, of course, that he'd be quite entitled to balk. Far from it, however. If anything, the sight of all that meaty flesh sends the fellow onto another level, and before you know it he's quite literally acting like a bitch on heat – a fellow who's only objective is to get as much hard dick up his ass as he possibly can!
Needless to say, he's not left disappointed by these two horny fuckers, who promptly proceed to take turns screwing him over a desk in a spit-roasting frenzy! It's certainly not the kind of disciplined atmosphere that most of us would anticipate, that's for sure, but we deny any of our fans not to be completely bowled over by what's a superb performance from all three lads – most notably York, of course, who remains the focal point for all the hardcore testosterone on show. Culminating in him taking two deliciously generous face-shots, whilst working out a wad of his own for a gooey, over-the-top crescendo!