Summary:
He's the cock-loving whore from downtown Prague that never fails to get his man – and who has won a whole legion of devoted fans in the process!
It's no surprise, of course, that such a legendary appetite for the male appendage has also gained him notoriety with fellow stars – lads like Orlando White, Rudy Bodlak and Kevin Ateah, who can't wait to bury their rods into his ultra-insatiable boy-hole! No doubt about it, this lad has taken the meaning of dick-slut to a whole new, almost unparalleled level!
Six Scenes
This title represent great value for money given the amount of quality content and running time. However, to ensure you don't waste money buying the same content twice, this compilation features scenes from the following titles:-
Scene 1: Sex Starved Twinks Enjoy A Hard, Spunky Suck-&-Fuck Session!
Starring: Brad Fitt & Connor Levi
From: Bare Briefs, Sc.4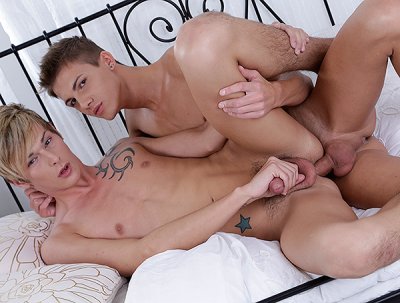 STAXUS exclusive, Connor Levi, couldn't believe his luck when we told him that we were jetting him away from his native England to meet up with the one-and-only Brad Fitt - and is it any wonder? Fitt, after all, is a young man who lives up to his name in every way; and it's with unmistakable relish from the off that Levi hooks up with the Czech cutie. Indeed, director John Smith tells us that he barely had to intervene in the antics that these two beauties get up to here, such was the immediate attraction that both lads clearly had for each other. An attraction that's all too fuckin' obvious, as they slurp on each other's hard twink cocks with the kind of gusto that we just know you dirty-minded wankers are gonna just love! By the time these boys are 69-ing away on the bed like a pair of dogs in season you're gonna be tugging away on your knob big style; but be careful you hold off for the crescendo, as Fitt takes every raw inch that his Brit counterpart can thrust into his ass. Ever the complete slut, Fitt then calls it a wrap by slurping on Levi's dick as it explodes, leaving Levi aching for another bang at his pucker and his own cute mouth covered in rich layers of fresh jizz
Scene 2: Flip-Flop School-Time Playmates Get All Fucked & Spunked Out!
Starring: Brad Fitt & Kamyk Walker
From: Raw School Scandal, Scene 4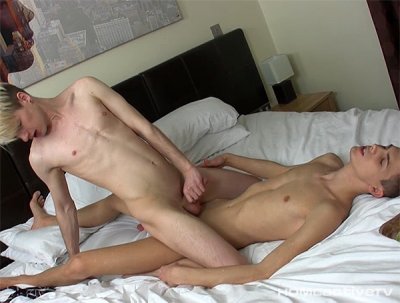 Perhaps it's because he's such a horny little fucker, but cute twink Brad Fitt never seems to run short of attraction from other pert beauties - be he in school uniform or out! On this particular occasion, however, he's supporting a distinctly teenage look, as he teams up with fellow blond beauty, Kamyk Walker, for the kind of anatomy lesson that ought to be made compulsory for everyone in education. Not that either of these lads appear to be in need of any tuition when it comes to handling dick, as the pair each display a level of keen proficiency from the very start; but practice, as they say, makes perfect, and Walker in particular can't wait to display his oral skills on Fitt's hairless cock and ass. Needless to say it's not long before Fitt is showing off his own abilities - an exercise ultimately cut short by Walker's determination to bury his ramrod deep inside his pal's already over-experienced pucker. Cue a magnificent flip-flop fuck-fest that sees both hungry asses get stretched to the limit; before Walker blasts home over his own chest and Fitt spurts right over his mate's belly to coat the lad's face with copious amounts of pent-up, gooey nectar. Magnificent!
Scene 3: Brad Fitt Gets Rimmed & Fucked By A Horny Hard-Dicked Grease-Monkey!

Starring: Orlando White & Brad Fitt
From: Dirty Games, Scene 1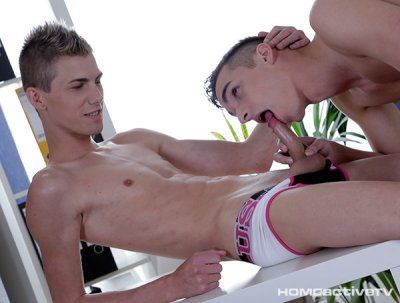 Fans of a certain age will instantly be reminded of Jennifer Beals' performance in Flashdance at the sight of Orlando White wielding a welding-torch - but it's there that the analogy ends, as white-collar worker Brad Fitt brings his horny grease-monkey into the office for a hot, sticky session of extra-contractual fornication! Beginning with an intimate inspection of White's crotch, which soon sees Fitt working his lips up and down the entire length of dick that (to his quite obvious delight) he discovers there! Not that White appears in any way less inclined towards such appreciation, falling to his knees and feasting on Fitt's knob just a few minutes later; but by the time Fitt has returned to the task of slurping on White's cock and balls for a second occasion it's pretty apparent which of these two lads is gonna get the red hot raw fucking! Indeed, having taken a few moments to rim the horny twink's ass, White is soon ploughing into Fitt's asshole with the kind of energy and enthusiasm that we've come to expect from the guy. No surprise, therefore, that Fitt is soon spewing a fabulous wad of cream as a result; before White blasts the contents of his low-hangers across his boss' face! Getting to know the workforce has rarely looked so appealing!


Scene 4: Cute & Playful Like A Pair Of (Fuckin' Horny) Puppies On Xmas Morning!
Starring: Brad Fitt & Kevin Ateah
From: Happy Holidays, Scene 4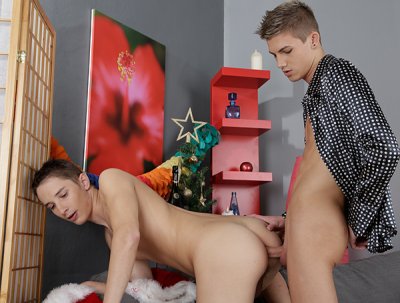 Baby, it's cold outside - but for Brad Fitt and Kevin Ateah that's even more reason to crack open the champagne and to snuggle up together to keep warm. Although if truth be known these two young Czechies are way too hot to do anything as tame as mere snuggling. For as anyone who knows these boys of old they're a shameless pair of hardcore sluts, who evidently see the holiday season as just another perfect opportunity to do what they love best - namely, fucking and sucking like a pair of oversexed bloodhounds! Still, it's a mission that we just know you're gonna appreciate big time, as the buzz of champagne adds a distinct sparkle to their sordid proceedings. Indeed, it's not long before Fitt is proving what a perfect addition drink makes to the act of rimming; whilst Ateah just can't wait to use the fizz as a fabulous lube on his| cock-hungry ass. Needless to say, the sight of Fitt's hairless cock hammering away against his pal's pert little butt is surely one of the sights of the season; and it's not long before Ateah is spurting like a veritable trooper. An act that Fitt is only happy to replicate; and one that'll have you tugging away on your own monster for sure!
Scene 5: Threesome Suck-&-Fuck Fest Sees Twink Asses Rimmed & Filled By Thick Raw Dick!

Starring: Brad Fitt, Xander Hollis, Heath Denson
From: Snow Patrol, Scene 4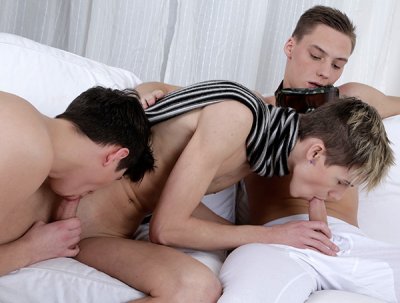 It's a well known medical fact that prolonged exposure to the cold can lead to all sorts of hallucinations, which may or may not explain the teasing apparition of Brad Fitt and Xander Hollis to Heath Denson when he returns home after a long winter's walk at the start of this terrific scene. Be it fantasy or reality, however, Denson opens his eyes just as Brad Fitt forces the end of his dick into the young lad's mouth - and, needless to say, Denson doesn't balk from the task in hand! Nor, for that matter, does Hollis, who promptly unburdens Denson's straining crotch of its contents and begins to slurp on the swollen contents with similar gusto. The subsequent sight of Fitt and Hollis playfully fighting for their mate's ramrod, taking turns to slide their lips up and down its length, is one that'll live long in the memory; as will that of both guys rimming Denson's ass whilst the recipient is folded up double over a sofa. But it's the hardcore, condom-free fornication that follows that serves as the highlight here, not least of all the pile-on fuck-stack that sees Denson fucking Fitt fucking Hollis! Overall, however, it's Fitt's ass-hole that gains most attention, stretched to the max by Denson and Hollis in turn before all three boys dump their loads all over Fitt's face and torso!
Scene 6:: Brad Fitt Gets Oodles Of Jizz In His Ass Thanks To A Balcony-Fuck From A Hot, Horny Stud!
Starring: Brad Fitt, Rudy Bodlak
From: The Italian Job 1, Scene 3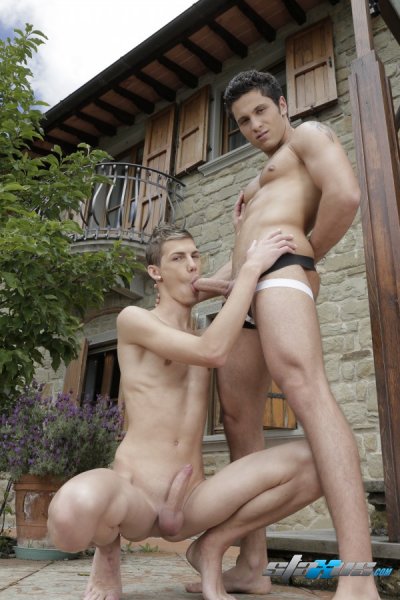 Is it just the Italian air or do Brad Fitt and Rudy Bodlak wake up feeling this horny every morning? Truth is it's probably a little bit of both - but there's no denying that both lads are as rampant as fuck in this truly unforgettable scene! The ever-spritely Fitt quickly kicks proceedings off by falling to his knees to give his buff mate's meaty shaft a clam-tight suck on their villa's balcony - a move that Bodlak is only too eager and willing to replicate in return. That said, it's clear early on that the muscular stud is eager for a hard piece of Fitt's pert ass; and having rimmed the fellow's hungry little pucker he's soon cradling the twink against the railings and giving his mate the kind of no-holds-barred fucking that the beauty deserves. What follows is an absolutely terrific open-air coupling that'll have you jerking on your dick like a being possessed, with Bodlak ably cementing his role as one of the top dogs in the biz at the (happy) expense of Fitt, who rides that handsome, upturned knob like a bitch on heat! By the time Bodlak has quite literally buggered the lad in every possible position, Fitt's ass is gaping wide open; and it's only right and proper that the stud cums all over the now-overworked hole and then pushes the spunk deep inside. Then Fitt, now dripping with jizz, tosses himself off by means of a spectacular cum-volley. If all this doesn't cream you over the edge (several times!), then what the fuck will?


Popular Gay DVDs featuring Brad Fitt
You can find loads of content featuring Noah Matous online at Staxus.com. See also: Brad Fitt Gay DVDs