Summary:
He's the handsome, dark-haired stud with the sexual appetite of a tiger on heat, who can be guaranteed to light up any scene just by being in it. What's more, he's man enough to appreciate a bit of cock for himself, and when he's in the right mood will pretty much do anything to get his own hungry little arse stretched in return.
Little wonder that the likes of Mike James, Florian Mraz and Johny Cruz just can't wait to take on the fellow; knowing that a session with this ripped Czech beauty is a sure-fire spunk-fest each and every fucking time!
Er ist der wunderschöne, dunkelhaarige Hengst mit der Libido eines brünftigen Tigers, der jede Szene allein dadurch unvergesslich macht, dass er darin zu sehen ist! Dazu kommt, dass er Manns genug ist, sich selbst hin und wieder einen steifen Ständer im Arsch zu gönnen - und wenn er in der richtigen Stimmung ist, dann tut er alles dafür, dass auch mal sein enges Hintertürchen bis ans Maximum gedehnt wird. Kein Wunder, dass es Burschen wie Mike James, Florian Mraz und Johny Cruz gar nicht erwarten können, es mit ihm zu treiben, denn sie wissen genauso gut wie wir, dass eine Session mit dem tschechischen Aufreißer stets ein spermatreibendes Wichs-Fest ist!
Description / Review:
Scene 1: Kinky Fun For Two Hairless Beauties Results In A Flip-Flop Fuck & Lashings Of Hot Twink Cream!
Starring:: Mike James, Shane Hirch
From: Dungeon Dreams 2, Scene 2
STAXUS exclusive, Mike James, shows us the kinkier side to his personality in the company of fellow sex-addict, Shane Hirch. The truth of the matter is that you're gonna be hard pressed to choose between these two beauties - both lads being almost as fucking gorgeous as the other - but the good news for each and every one of us is that you simply don't have to choose. Just sit back, unzip and savour every single sordid little second of ripened perversion that these boys can throw in our direction. Beginning with James being handcuffed to a bed whilst his buddy captures his pal's plight via a hand-held camcorder; before Hirch takes a cane to James's buckled, leather hot-pants!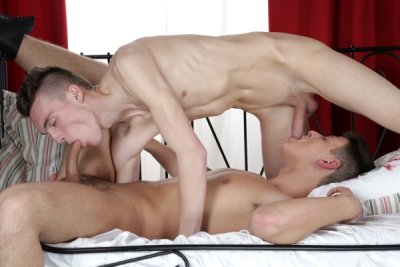 What's more, the kink is made all the more intense by the fact that Hirch conducts his "interrogation" whilst donning some rather provocative underwear of his own, together with a pair of Doc Marten boots - which, incidentally, remain on his feet throughout! It's an unquestionably erotic start to what quickly becomes an even more intense coupling, with the fellows soon splayed out in 69-position on the sofa sucking each other's dicks!
Shortly after, James is grinding down on Hirch and taking every solid, uncut inch that his buddy can thrust in his direction - a move that Hirch himself replicates a few minutes later. The result is a fantastic, ball-breaking flip-flop that'll have you jerking off in no time, and which leads to both these Adonises jerking out terrifically satisfying wads of sticky, gooey nad-juice!
Scene 2: Horny Biker Boys Relish An Outdoor Flip-Flop Suck-&-Fuck-Fest On The Back Of Their Machine!
Starring: Alexander Dorch, Shane Hirch
From: Easy Riders, Scene 4
Okay, so maybe his rather untraditional haircut is not going to be to everyone's liking - some might even go so far as to say that he should sue his hair-stylist! - but there's one thing that pretty much everyone can agree about regards Alexander Dorch and that's that he's a horny little runt who can't keep his hands off other guys! Especially when those other guys are as gorgeous and fuckable as Shane Hirch, whose appeal in this scene is only intensified by the fact that he's wearing a pair of leather motorbike chaps.
As such it should come as no surprise that Dorch is down on his buddy's dick with almost lightning speed, slurping on Hirch's ramrod with the kind of enthusiasm that you'd expect from a lad as sexed-up as himself. Not that Hirch is in any way less responsive, it must be said. Indeed, the dark-haired beauty is quickly returning the move in kind, playfully working on Dorch's dick with a teasing, provocative manner that soon has his pal quite literally gagging for hardcore action. Having eagerly rimmed Hirch's ass-hole, therefore, Dorch plonks himself down on his fuck-buddy's lap in no time at all - allowing Hirch to quite literally fuck his brains out from below and (in the process) underwriting his slut-like credentials to a world-wide audience.
Unwilling to allow Dorch all the slice of the action, however, it's not long before Hirch is urging a flip-flop response; before seemingly normal service is resumed and Dorch has his butt-hole pummelled on the back of Hirch's bike!
Scene 3: Oiled To The Hilt, Two Horny Lads Perform For The Boss & Then Piss Away All The Hot Spunk!
Starring: Shane Hirch, Florian Mraz
From: In The Ass Of The Father, Scene 3
It's often been commented that the stewardship of the Catholic Church is rather akin to that of the Italian Mafia - a point that is heavily underscored in this perverse little scene featuring Shane Hirch and Florian Mraz, who are forced to perform a live sexual show to one of the senior Church fathers. That, of course, implies that neither of these kinky young fellows is a willing participant in the series of carnal acts that follow - but the fact is that nothing could seem further from the truth! Indeed, it's hard to disguise the clear grin of anticipation that dons both their handsome faces at the start of this daring escapade; and by the time they've smooched each other's faces off and drenched a generous flow of massage oil over every inch of flesh in sight, their mutual pleasure is pretty much impossible to overlook!
As a consequence, we suspect that there'll be a whole legion of fans following the Holy Father's example, unzipping their flies and wanking off to the filthiest, kinkiest coupling you're likely to have witnessed in a long, long time! Believe it or not, however, the hardcore fornication that ensues between these two lads - each one fucking the other in a flip-flop frenzy that arguably eclipses the wanton rimming and foot-play that precedes it - is not the highlight of this escapade. For that particular honour surely belongs to the top-notch piss action that concludes proceedings - a torrent of hot yellow nectar washing away the trails of spunk that both Hirch and Mraz have worked out of their balls just a few moments before! Church life was never so much fun!
Scene 4: New Model Takes On The Full Force Of Shane Hirch's Eager Cock!
Starring: Shane Hirch, Ryan Torres
From: Shoot This, Scene 3
Modelling is definitely hungry work, so it's no big surprise that Shane Hirch and Ryan Torres are in the mood for something to eat. It's no time at all, however, before they have a taste distinctly more carnal - at which point the fried eggs are put to one side and the dressing-gowns are quietly removed. Cue a terrific session of mutual cock-sucking that very clearly gets both boys in the mood for something even more exciting - a sentiment that, we suspect, you'll be sharing!
Indeed, by the time these two dick-lovers are munching away on each other's knobs 69-style there's every good chance that you'll be struggling to hold yourself back from the brink. Don't be too rash, however. The action gets even more intense as Hirch finally gets his chance to plough his generously sized rod deep into the young pup's eager little pucker - a move that clearly pleases Torres given the manner with which he gasps and groans in response. Indeed, there's no disguising the fact that the eager little blond is in his seventh heaven by this point - each new position appearing to please him even more than the last!
Hirch himself is also clearly having the time of his young life, banging into his buddy's fuck-hole until he can quite literally take no more - at which point he knocks out a fine load of pent-up man-goo all over Torres's crack, then gives a final push into the hole for good measure. That just leaves the young bottom to show his own appreciation by jerking out a heavy wad of spunk; before the two beauties share the kind of jizzy kiss that'll leave you creamed and spent!
Scene 5: Young Tourist Gets A Traditional Czech-Boy Fingering & Fucking!
Starring: Shane Hirch, Ruben Bart
From: Tour Guide, Scene4
No matter what the gay porn industry might like to pretend, the sun doesn't always shine in Prague - sometimes, as on this occasion, it pours down with rain just like everywhere else! So young Spanish tourist, Ruben Bart, heads for an information office to get some advice on what a sightseer should do on such an occasion! In fairness, the guy he meets there - Shane Hirch - starts off being very professional, recommending Prague Castle as a must-see. But when you're a horny, cock-hungry bastard like Hirch it's hard to keep your mind on the job when you're confronted by such a deliciously appealing customer; and, having initially restrained himself, he's soon proposing all kinds of indecent activities to his guest.
What's more, Bart's only too eager to reciprocate; and before you know it Hirch is down on his knees giving that fresh Spanish salami a good old-fashioned Czech welcome! Of course, all these initial niceties are only leading up to what Hirch has had in mind from the very beginning; and soon our home-boy is eagerly fingering Bart's fuck-hole in readiness for the traditional Bohemian ass-banging that seems to be such a feature of life in the Czech capital! As a result, the dick-loving Spaniard rapidly finds himself pinned down on the information desk with eight inches of hard cock up his rear - perhaps not exactly something he intended to experience, but enjoyable not the less given the manner with which he creams himself in the process. A surprise encounter nicely rounded off by Hirch spurting directly into Bart's mouth. Now, if only Thomas Cook offered this kind of service we'd all be travelling a whole lot more!
Scene 6: Shane Hirch Gives His Footballing Rival A Hard, Raw Fucking - Not To Mention A Sticky Facial!
Starring: Shane Hirch, Johny Cruz
From: World Cup Wankers, Scene 4
Brazil and Argentina have always had a very long and colourful rivalry on the football pitch, but Shane Hirch and Johny Cruz are determined to bring the two countries together when they don the respective shirts of these two South American giants for a friendly kick-about. Indeed, they appear to maintain more for sporting diplomacy in the space of a few minutes than is usually achieved in your average lifetime given that they've soon abandoned the ball in favour of a rather intimate rapprochement - ripping off their shirts (the apparent symbols of their differences) and enjoying a long, lingering session of open-air French kissing whilst dressed in nothing more than their jocks!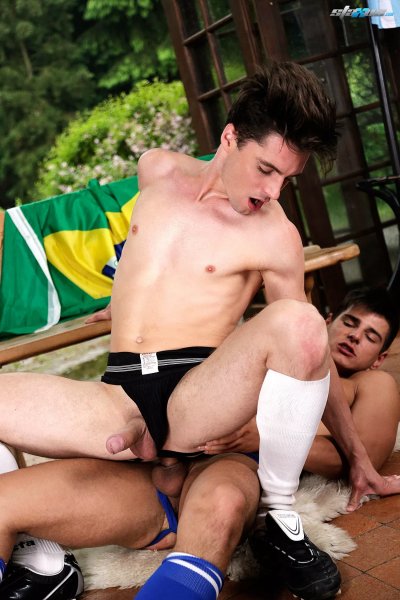 Sadly, any hope for an outdoor union between these two handsome beauties is promptly scuppered by the arrival of a heavy, tropical downpour; but by this point both fellows have very clearly been carried away by the passion of the moment, and before you know it they're engaged in a rigorous session of mutual cock-sucking and ass-rimming. So sit back, relax, unzip - and enjoy the sight of these two beauties engaging in a fabulous kitchen-floor romp that'll quite easily blow your dick into a premature frenzy!
Indeed, there really is a genuine risk that you'll have spilled a significant wad of ball-juice long before Hirch finally mounts Cruz's hungry little ass-hole. No need to worry, however. This superb display of bareback copulation is more than capable of delivering a subsequent blow-out from most fans; and by the time these boys are wanking out their creamy climaxes (most notably Hirch into Cruz's face!) the chances are your balls will be totally spent!
Popular Gay DVDs featuring Shane Hirch
You can find loads of content featuring Milan Sharp online at Staxus.com. See also: Shane Hirch Gay DVDs