Summary:
Suited for Sex features four full hours of windsor knots, crisp creases, starched whites and tented trousers featuring the men of Falcon. Demanding bosses, concerned co-pilots, executives on the prowl and looking forward to the sensual strip down from suit to skin.
Description / Review:
Scene One from Taking Flight Part 2 Featuring Kent Larson and Gus Mattox
On the flight home, a tired Jason Adonis leaves the cockpit for a nap. Co-pilot and Falcon Exclusive Gus Mattox puts the plane on autopilot so he can help out his navigator Kent Larson, who's having problems with his cock popping out of his uniform. Gus helps by fucking him all over the cockpit, even showing Kent a new use for the jump seat.
Scene 2: from Branded
Featuring Brian McClaine, Justin Dragon and Ivan Andros
Brian McClaine is hard at work, stroking his cock—when aquarium guy Justin Dragon arrives. As Justin cleans the tank, Brian leers over Justin's tall muscled form. Soon Justin has Brian face up on the desk as he alternates between Brian's ass and cock. Brian throats Justin's cock eagerly. Ivan Andros walks in and joins the tryst…dividing his affections…taking both Justin and Brian deep into his throat alternately. Justin takes Ivan from behind and forces his cock deep inside. The lusty triumvirate continues to indulge their desire until each has surrendered to sexual release.
Scene Three from Fit for a Man Featuring Tony Zerega and Jake Andrews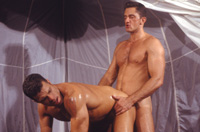 Muscle stud Tony Zerega joins Jake Andrews in a frenzy of masculine desire. Sucking, fucking, rimming and coaxing are all part of this scorching erotic encounter.
Scene Four from Red Alert Featuring Brennan Foster, Michel Lucas and Nick Ford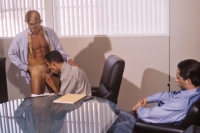 Landing an office interview, Michel meets Brennan Foster and Nick Ford who explain what the job entails. They begin to demonstrate some expected office skills, where oral dick-tation turns out to be more physical than literal. Michel stands back surprised and turned on. He starts to masturbate as he watches them go at each other. Brennan and Nick get lost in each other's sweaty bodies, sucking cock and fucking ass. They finally shoot their loads – tasty mancream for their coffee – but Michel has already split; this isn't what he's looking for.
Scene Five from Plugged In Featuring Nino Bacci, Lindon Hawk and Tristan Paris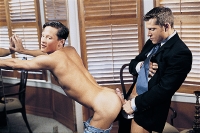 Cable guy Fernando Montana (in a non-sexual role) hooks up Tristan Paris's connection as Tristan undresses Fernando with his eyes. When the cable guy has left, Tristan checks out his cable options... and the first show he checks out features Nino Bacci evaluating the value of Lindon Hawk's brass candlestick. Nino explains that the object has limited value, but Lindon wants Nino to take a look at something else…his round plump ass. Tristan watches, enthralled and confused, but he gives in to the program and starts rubbing his cock as the episode continues. Nino evaluates Lindon's asshole and hungry mouth, gauging their worth and how deep they can accommodate his hard cock. The two kiss, suck and rim one another, until Nino shoves his dick up Lindon's hole. Then they sit back, stroking themselves fast and furious until they finally cum.
Scene Six from Overtime Featuring Roman Heart and Koen Bradshaw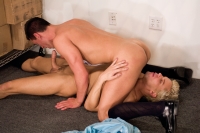 Roman Heart plays a very demanding boss who's always had his eye on his assistant. Using subterfuge he sends his lackie to the supply closet to fetch some paper clips. Unaware of the ruse, Koen Bradshaw falls into the trap. Once cornered, he protests but quickly succumbs, ensuring his superior gets the treatment he insists upon. Luckily for Koen, the perks are equally rewarding as the boss responds in kind.
Scene Seven from Fit for a Man Featuring Jason Fox and Kyle Becker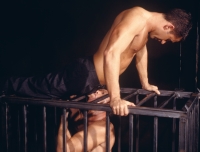 Kyle Becker stumbles across a captive Jason Fox. Kyle teases Jason with his stiff cock... letting Jason settle into a good suck and then withrawing to another corner of the cage. Jason greedily pursues Kyle's hard prick and Kyle rewards his captive by fucking him through the bars. Finally, Kyle strokes himself off... all over his desirous devoted captive.
Scene Eight from Just Can't Stop Featuring Tony Hampton and Brent Stevens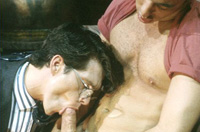 Tony Hampton invites Brent Stevens for an afternoon of stripping, sucking, rimming, and fucking.
Scene Nine from Best Men Part 2: The Wedding Party Featuring TJ Hawke, Lucky Daniels and Andrew Blue
Andrew Blue gets an anonymous email with an incriminating image of Tony caught doing the nasty with that sleazy stripper from the week before. Feeling angry and betrayed, he finds solace with the catering staff. TJ Hawke and Lucky Daniels are more than willing to help the despondent bridegroom forget his troubles. Andrew drinks up TJ's cock, and then Lucky's. Each slurp of those hardened dicks takes him farther away from thinking about that two-timing bastard. Who said it's hard finding good help? There's enough cock to suck, asses to rim and holes to fuck to comfort his aching soul. Revenge can be sweet.
Scene Ten from Manrammer: A Battle of Size Featuring Dick Masters and Rick Coleman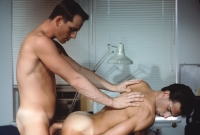 Barely typing or doing any office work at all Rick Coleman gets jealous as Dick Masters closes his blinds and hires handsome Rex for a new job, but he soon finds out that his boss's foot-long wiener is waiting for his own hungry mouth and buns.
Scene Eleven from The New Coach Featuring Brad Eliot and Kevin Miles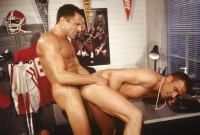 Principal Brad Eliot wants new coach Kevin Miles to prove he's got the skills to keep his men in line. Kevin shows Brad that he coan offer more than lip services as he swallows Brad's thick cock. The two men strip nanked and suck and play with each other's musluclar bodies. Kevin rolls back on his shoulders and begins to suck himself as Brad plays with Kevin's hole. The horny studs exchange fucks and shoot their loads...demonstrating that they can score as a team.
Scene 12: from Through the Woods
Cast: Nate Alexander, Andrew Rubio, Gus Mattox, Barrett Long and Marcus Allen
Hitchhiking, Pierre Fitch (non-sexual role) is picked up by Mr. Wolf (Gus Mattox), who can't wait to tell him a story from his school. Four bad-boy students must get punished by Gus: Marcus Allen, Barrett Long, Andrew Rubio and Nate Alexander. After paddling their bare asses, they quickly start sucking and fucking each other the second their cocks get hard.
Scene 13: From The Violation Part 1
Featuring Alec Martinez and Jackson Price
What a scamp Jackson is, violating Colby's trust and kickin' it up with Alec. But then again, Alec is one hot tamale who knows exactly how to get Jackson's cock throbbing and ass twitching. Colby wrestles with despair and Jackson's cheating soon carries a heavy price to pay.