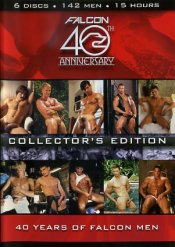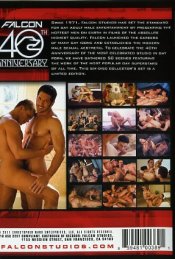 Summary:
To celebrate the most celebrated studio in gay porn, Falcon has gathered fifty scenes on six discs for the Falcon Collection: 40th Anniversary Collector's Edition, featuring the work of the most popular gay superstars of all time.
Disc one contains vintage pre-condom action from the 1970's including scenes from The Other Side of Aspen, Johnny Harden and the Champs, Champs, Double Whammy, Steam Heat, Fourgy, Pornstud and Style.
Disc two is more hot vintage pre-condom action from the 1980's including scenes from Biker's Liberty, Splash Shots, Spring Training, Giant Splash Shots II, Night Flight, Stryker Force, In Your Wildest Dreams, Deep in Hot Water, Plunge and Spokes II.
The third disc contains smouldering action from the early to mid-1990's including scenes from Down Home, The Abduction Series, Hot Pursuit, Roll in the Hay, Foul Play, The Renegade, Jockstrapped and The Freshmen.
Disc four contains sizzling hardcore action from the last half of the 1990's, including scenes from The Chosen, Basic Plumbing 2, Hot Wired, Betrayed, Stroke, Serviced, No Way Out and Absolute: Aqua.
The fifth sizzling disc contains the best in smoking hardcore from the turn of the millennium, including scenes from Defined, Deep South: The Big and the Easy Part 1, Bootstrap, Hooked, Through the Woods and Aftershock Part 2.
The final and sixth disc contains scorching action from the last five years, including scenes from Best Men Part 1: The Bachelor Party, Asylum, The Trainer, Burning Desires, White Hot, Big Wood, Crotch Rocket and The Ivy League.
Featuring a plethora of iconic porn stars from days gone by to the present, Falcon Collection: 40th Anniversary Collector's Edition is 948 minutes of hot hardcore!
Unfortunately this boxset appears to be currently unavailable.
Additional Information
Categories: UK R18 / XXX Gay Adult
Running Time: 948 mins, Year: 1997 - 2010
Price: Around £55 / $90*
Starring: Adam Killian, Addison Scott, Aden Jaric, Aiden Shaw, Al Parker, Alessio Romero, Anthony Lafont, Antonio Majors, Arpad Miklos, Barrett Long, Big Ben, Bill, Billy Brandt, Blake Harper, Brad Mitchell, Brad Patton, Brad Stone, Brenn Wyson, Brennan Foster, Bret Wolfe, Brian Cruise, Buck Meadows, Buster, Cal Driver, Cal Jensen, Cameron Fox, Carlos Morales, Casey Donovan, Casey Jordan, Chad Benson, Chad Donovan, Chad Douglas, Chad Hunt, Chase Hunter, Chris Berrara, Chris Steele, Chris Williams, Christian Fox, Christopher Scott, Cliff Parker, Clint Ely, Cody Wolff, Colby Taylor, Colby Taylor, Colton Ford, Craig Ryan, D.C. Chandler, Damon Wolf, Danny Somers, David Montana, Dean Johnson, Dean Monroe, Derek Cameron, Dick Fisk, Don Talon, Drew Damon, Eric Leneau, Eric Manchester, Erik Rhodes, Hal Drake, Hal Rockland, Jack Lofton, Jake Andrews, Jake Marshall, Jamie Landon, Jason Adonis, Jason Branch, Jeff Carson, Jeff Converse, Jeff Palmer, Jeff Quinn, Jeff Stryker, Jeff Turk, Jeremy Jordan, Jesse Tyler, Jim Bentley, Jim Hughes, Jim Slade, Joe Foster, Joe Savage, Joey Stefano, Josh Griffin, Josh Weston, Joshua Sterling, Kane O'Farrell, Karl Tenner, Ken Orsini, Ken Ryker, Kevin Miles, Kevin Pearce, Kevin Williams, Kris Lord, Kurt Marshall, Landon Conrad, Lane Fuller, Leo Giamani, Lon Flexx, Mac Turner, Marcus Iron, Matthew Rush, Melchor, Michel Lucas, Michel Mattel, Mike Branson, O.G. Johnson, Paul Morgan, Pete, Peter, Peter Raeg, Pierre Fitch, Race Jensen, Rex Chandler, Rob Cryston, Rod, Rod Daily, Roger (III), Roman Heart, Ron Pearson, Ryan Stone, Ryan Wade, Samuel Colt, Sean Lawrence, Sebastian Gronoff, Skip Wilson, Sky Dawson, Sky Thompson, Steve Hammond, Steven Daigle, Thom Barron, Tim Kramer, Todd Baron, Tom Brock, Tom Chase, Tom Mitchell, Tommy Brandt, Tony Idol, Tony Marino, Travis Wade, Trey Casteel, Tristan Paris, Ty Colt, Zak Spears, Zeb Atlas
Directors: Bill Clayton, Chi Chi LaRue, Chris Steele, Erik Rhodes, John Bruno, John Rutherford, Matt Sterling, Steven Scarborough
Studio: Falcon Studios
Buy DVDs online at: Homoactive and Simply-Adult.com and RadVideo (USA)
Gay Video On Demand: Falcon Studios See also: www.gayvod.co.uk
Country: USA, Language: English
Additional info: No Regional Coding