Summary:
More than sixty hot studs looking for action and eager to please in Buddies, Pits & Playgrounds. This two disc set features classic sex club scenes spanning the 90's and the 2000's so check your clothes, grab a towel and dive into a sea of hot hungry studs behind closed doors. You never know what's waiting just around the corner in these dives as glory holes, prisons, slings and fetishes will entice and arouse in this sizzling collection of the hottest sex club action!
Jock-strapped Dallas Taylor greases up a double-ended dildo and works it into sling-bound Anthony Moore's ass. When Anthony's good and opened up, Dallas tries a variety of toys - seeing how full he can fill Anthony with his barrage of toys. David Montana joins uncut megastar Aiden Shaw and bulky Steve Gibson in and around a group of glory holes. Gibson gets the best of both worlds as he slaves over both cut and uncut cocks to his eager surprise. Enormously hung Alex LeMonde, Fernando Montana and Brad Patton work over bottom boy Troy Moore, who has no trouble taking over 30 inches of cock from the three brutal tops. Addison Scott and Sebastian Cole get into some hot prison action as Addison fingers Sebastian's hole into frenzy while Colton Ford and Peter Raeg get into their own man-on-man action. Before you know it, the four are involved in hot fuck fest, which climaxes with the four studs in a hot chain-fuck - and that just for starters. There's more - much more!
Scene 1: Devon Rexman, Max Grand, Tyler Gray, Justin Bailey, Hunter scott, Doug Perry, Joshua Scott, Matt Masters
From: Midnight Run, Scene 3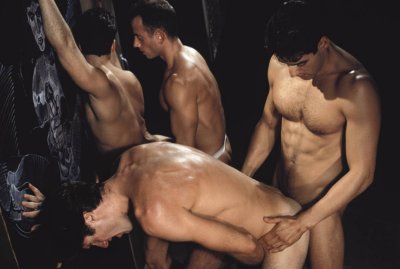 Justin Bailey wanders through a maze of sexual activity...finally settling down to watch Matt Masters give Devon Rexman a hard ass-fucking. Then, in a dungeon-like room bathed in red light, Justin Bailey (non-sexual role) watches Joshua Scott deepthroat two faceless studs standing on a platform. He takes one cock, then another, then both as he does his best to swallow these hard tools. When Joshua's sucked them both well, they blast their loads over his chest as he shoots his own. Finally, Hunter Scott and Tyler Gray work a pair of cocks poking through glory holes. They suck and work the cocks tenderly, switching positions and trading tools as Justin Bailey (non-sexual role) watches from another room. Soon Max Grand and Doug Perry step onto the other side of the wall and begin sucking Hunter and Tyler. Sucking becomes rimming and finally Max and Doug have their cocks buried deep in Hunter and Tyler's asses. The intensity increases until one by one each of these lusty men has shot his load...soaking each other in thick cum.
Scene 2: Kevin Dean, Cole Youngblood, Glenn McAllister & Todd Stevens
From: Download, Scene 3
Glenn McAllister, Todd Stevens, Kevin Dean, Cole Youngblood and Marc Calles enjoy some quality man-to-man time within the shadowy confines of a sex club. These hugely hung muscle-studs get down and dirty....throating stiff cocks, stroking each other, teasing assholes, and enjoying every inch of their hardbodied masculine forms. The gathering evolves into a gangbang as gagged Marco submits to his fellows' stiff straining cocks. One by one the studs fill Marco's hole and send forth a veritable fountain of mouth-watering manjuice before they are fully satisfied.
Scene 3: Aiden Shaw, David Montana, and Steve Gibson
From: Hot Pursuit, Scene 3
David Montana joins uncut megastar Aiden Shaw and bulky Steve Gibson in and around a group of glory holes. Gibson gets the best of both worlds as he slaves over both cut and uncut cocks to his eager surprise.
Scene 4:
Scene 5:
Scene 15: Josh Weston, Marcus Iron, Brad Patton, Trent Atkins
From: Addiction 2, Scene 1
In the opening dream sequence clean cut Marcus Iron and horny hung Brad Patton put on a raunchy show for toned, pale Josh. Marcus manages to stuff most of Brad's thick boy meat into his hungry mouth. Soon the dark, deserted club is alive with horny guys making good and dirty in dimly lit corners. Slim, boyish Trent laps away at Brad's tight pink hole before pushing a couple of fingers inside, teasing his hole as he licks his thick shaft.Four young studs sit on a table top and lucky Josh gets to suck on each impressive, stiff cock. Marcus's firm dick is nearly as big as Brad's monster meat - not even Josh can get all of it into his eager mouth.The sight of these four horny youths pawing away at Josh's pale, lithe body is electrifying, as he gets sucked and nibbled into ecstasy.
Filmed on location at a variety of SF and LA sex clubs, Buddies Pits & Playgrounds features 15 scenes and 68 men in some of the best man-on-man hardcore fucking action!