Summary:
Settle in for a sexual workout that's sure to leave you soaked and satisfied in Pumped Up Workout! Featuring eleven scenes of workout inspired sex and 31 hot, ripped, horny studs eager to get it on.
Description / Review:
Scene 01: from Help Wanted
Featuring Jeff Turk, Kirk Mannheim and Vince Clark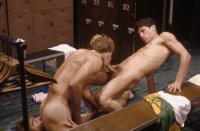 Two jock strapped athletes in a locker room (Jeff Turk and curly haired Vince Clark) spy on coach Kirk Mannheim jacking off in the showers. They get turned on and start fooling around themselves. Mannheim returns to the locker room and joins them for a very versatile orgy that includes Turk rimming and deep-throating everything in sight. Turk fucks both of his partners as the trio constantly changes positions and arousing sexual acts until each explodes a large load.
Scene 02: from Bronc Rider
Featuring Dirk and Rod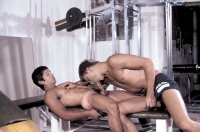 Bodywork: Even though Rod and Dirk are working out hard at the gym, they can't keep their eyes off each other. Soon they are sitting beside each other on the bench press admiring each other's muscles. The clothes soon come off and things get even sweatier.
Scene 03: from Private Workout
Featuring Neil Thomas and Rick Racer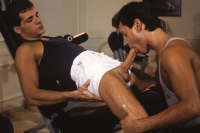 At the local gym Neil Thomas and Rick Racer are both working out. Rick is on the bicycle when he notices that Neil is rubbing one big muscle that needs attention. Rick does not need to be asked and starts trying to help that muscle with his warm, wet mouth. He does such a good job that he is rewarded with Neil's stiff love muscle up his tight hole.
Scene 04: from Steal the Night Featuring Nino Bacci, Dale Summer, Matt Skyler and Marco Antonio
Here we find out what houseboy Matt Skyler has been stealing: dildos. After a few minutes of pleasuring himself with a huge dildo, Matt is caught in the act by manager Dale Summer and guests Marco Antonio and Nino Bacci. Alarmed that Matt is using their "stuff," Nino asks what Dale plans to do. Marco has an idea and a sizzling foursome develops. After much oral sex and rimming, the guys finally pair off with Marco fucking Dale then everyone gang banging Matt.
Scene 05: from Ivy League
Featuring Jason Adonis and Ryan Wade
The three chosen Ivy League candidates arrive in Los Angeles for their mysterious initiation. Jason Adonis is joined by Ryan Wade (Evan) inside the in-house weight room and is instructed on some body image sculpting skills to match his highly political background. The two bench, push and pump until Wade succumbs to Adonis' shaved cock and balls both orally and anally.
Scene 06: from Ready for More
Featuring Matthew Rush and Matt Skyler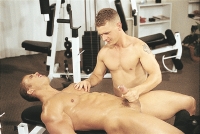 Muscle-god Matthew Rush is hard at work in the gym, redefining his sculpted form. Matt Skyler arrives to interrupt his workout with another strenuous yet fulfilling exercise! Matt begins to suck Matthew's cock within minutes the workout has become an erotic routine. The men worship each others muscled forms, using the weight machines as support in their acrobatic encounter. A program of kissing, rimming, licking and sucking leads to a climax of hard-bodied fucking, with Matthew Rush giving Matt Skyler a fine taste of his power and prowess. Their workout leaves the men exhausted and dripping…soaked in something more than their sweat.
Scene 07: from Rough Play
Featuring Tyler Riggz, TJ Hawke, Marc Ryan and Dakota Rivers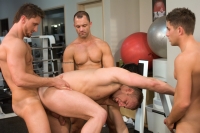 Two senior members of the athletic team find young TJ despondent and stressed out. They soon determine that the poor boy's misery stems from the sexual assault Coach Riggz forced on him. So the three decide to punish the villainous leader. They confront him in the gym with big menacing threats and their even bigger dicks. Riggz is down on his knees spinning like a carousel sucking one cock after another; then the vengeful three have Riggz jamming his tongue deep into their asscracks. The men have Riggz on his back, his ass and mouth open for vigorous plowing, pleasuring him as much as themselves – a panoply of sucking and fucking to a husky chorus of growls and grunts.
Scene 08: from Flex
Featuring Kane O'Farrell and Jason Hawke
With the gym empty, Kane O'Farrell has Jason Hawke all to himself and finally gets to dip his stick into Jason's bubble-butt in a passionate and explosive finale.
Scene 09: from Eye Contact
Featuring Gage Michaels, Jeremy Steel, Blake Harper and Alec Martinez
Blake pairs off with Alec and Gage works Jeremy's big uncut dick. It's a carousel of mansex as they trade partners sucking and fucking, rimming, 69ing, daisychain fucking - every possible combination - until all four shoot their loads.
Scene 10: from Desert Hart
Featuring Nick Chevalier, Adam Hart and Rick Matthews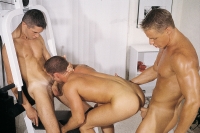 Adam Hart eyes Nick Chevalier and Rick Matthews making out by the pool, then quickly joins in the fun. The two young men immediately dive for Adam's cock, each sucking the hardened rod of this desert golden boy. They swallow his dick, gulping his balls into their mouths, burying their tongues inside his crack. Then the trio quickly move inside the gym and continue the full body workout. Adam breaks a ssweat as he face-fucks Nick and Rick. The three men form a daisy chain with Adam fucking Rick while sucking Nick's stiff cock. Then they swing into different positions... Adam jams his cock deep in his buddies' asses and blows his load over their faces.
Scene 11: from Flex
Cast: Jason Kingsley, Pete Ross, Jason Spear and Tyler Marks
Engrossed in a hard workout at the gym, Tyler Marks spots Pete Ross while he does squats, and one thing leads to another. Jason Spear and Jason Kingsley, watching from two other machines, whip their dicks out eager to get a piece of the action.