Summary:
Life in the modern office can be a stressful affair – too much to do, too little time to do it, and the pay's almost always crap. But for executives like Daniel Prince, Kurt Maddox and Robbie Kasl all those hours spent at the desk are the perfect opportunity to indulge in their favourite hobbies, namely sucking cock and pounding ass! And with an array of monster dicks like this on the payroll who can fucking blame them? Life in the cut and thrust world of white collar fornication hasn't looked this good in a long, long time ...
Description / Review:
Scene 1: Cody's Deliveryman Unleashes A Fuckin Cum-Spurting Monster!
Starring: Cody Reed, Drew Brody
Also available: Black Does White 7
Cody Reed has always enjoyed receiving a big package, so the arrival of postal-worker, Drew Brody, carrying a heavy box was pretty much destined to bring a smile to the young twink's lips. But unbeknown to the pert, fresh-faced beauty, the real package of note in this scene is the one that Brody has stashed in his pants – a truly mouth-watering trouser-snake that really does almost defy belief! Don't for one moment think that your eyes are deceiving you, however.
What quickly emerges from the confines of Brody's crotch really is for fuckin' real – and by the look on Reed's face as he confronts the monster eye-to-eye you can't help but suspect that this is one lucky young fellow who can't believe what he's seeing. Namely ten beautiful inches of rampant black cock-flesh that would have any size queen rolling their eyes in ecstasy! Needless to say, Reed immediately launches his lips up and down the length of this oversized monster, feasting on dick as if it was his vocation – which to some extent it clearly is. All that said, the lad's clearly not going to be happy until his hungry asshole is riding that meaty ramrod to heaven and back – a feat that might be considered over and above the talents of most boys, but not our Cody!
In fact, the horny bitch seems to go almost to another level in his quest to accommodate every inch that Brody can offer; and it's no small wonder that he's soon spurting for all he's worth. A feat soon replicated by Brody himself, who seems to delight in rupturing his big black nads all over Reed's face. In a word ... fanfuckingtastic!!
Scene 2: Office Fun With Lee Rider, Robbie Kasl & A Meaty, Oversized, Uncut Dick!
Starring: Lee Rider, Robbie Kasl
Also available: Donkey Dicks 4 (Compilation DVD)
Boredom in the office place is not exactly unusual or unheard of, but whether there's many businesses around which would condone what Robbie Kasl and Lee Rider get up to in a bid to counter their work-fatigue is another matter entirely. For no sooner has Rider declared his frustration and slapped his pen down on his desk to underline the point, than he's burying his face into Kasl's crotch and giving his workmate's thick, meaty, uncut monster-dick the kind of hearty, intimate attention that we all dream of. Needless to say, it's at this point that all the usual office attire – shirts, ties and trousers – is promptly tossed aside, but chances are you'll be so engrossed on the sight of Rider's lips being stretched to the max by Kasl's knob that you'll questionably even notice.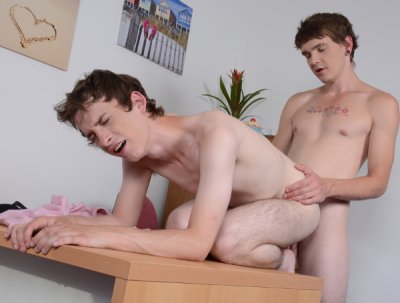 No small wonder that the young cocksucker can barely drag himself away from the oversized beauty – who wouldn't love to indulge in every abundant inch? But it's not too long before Kasl's attention is turning increasingly towards his colleague's ass, and it comes as no great surprise when Rider is being bundled over the nearest desk and being treated to a butt-bustin' escapade that he's most unlikely ever to forget.
And with that engorged salami stretching his ring it's no surprise that Rider is soon squirting the contents of his balls all over the office floor! A turn of events that's soon overshadowed by the sight of Kasl's king-sized ramrod blasting generously over Lee's face. A day at the office has never looked so hot!
Scene 3: Drew Brody Calls For IT Help – Then Fucks The Life Out Of The Responder With His Mammoth Dick!
Starring: Drew Brody, Kurt Maddox
Computers are wonderful things – until, that is, they stop working properly! Fortunately for the suited-and-booted businessman, Drew Brody, he's got his very own IT nerd on standby in the form of Kurt Maddox for all these kind of irritating occasions. Not that Brody's attention remains on his IT issue for long once the bespectacled assistant arrives on the back of his call for assistance.
For not only has the buff, domineering black guy got a problem with his laptop, he's also got quite a considerable issue to contend with in his pants – as Maddox very quickly discovers when he's bundled down to the floor and invited to take a look at the burgeoning ramrod between Brody's thighs. Of course, anyone who's seen Brody in action before will know exactly what to expect, but even so it's still hard not to be bowled over by the sheer enormity of the fellow's cock as it quite literally bounces into view, almost knocking Maddox's glasses off in the process!
To his total credit, the youngster manhandles the said equipment with unquestionable relish and determination; first slurping on the mammoth dick, almost dislocating his jaw in the process, before proceeding to take every inch of the beast once Brody has given his tight little ass-hole a thorough rimming in preparation. Not that anything can really prepare you for a dick on this scale, and it's no surprise that Maddox is soon squealing in delight in the wake of such mindless violation. It comes as some relief to the youngster, therefore, when Brody concludes by spraying a equally oversized wad all over the twink's face!
Scene 4: Filthy-Minded Office Boy Gets His Mouth & Ass Stretched By Worker's King-Sized Dick!
Starring: Daniel Prince, Robbie Kasl
Also available: Donkey Dicks 5 & Passion Unleashed
He might look suave and well-groomed in his plush teal shirt, but that doesn't stop young Daniel Prince from being attracted to the slightly less sophisticated, manual type of fellow. As such, the presence of Robbie Kasl, donning a blue overall and appearing every inch the picture of manly labour, presents the very essence of temptation; and it's little wonder that Prince quickly finds himself unzipping his trousers and reaching for his engorged dick inside.
A move that immediately catches the eye of the office-boy, who promptly casts his shirt aside and tumbles down onto his knees to give Kasl's giant knob some much-needed oral attention. It's at this point, of course, that (in reality) the lad would almost certainly gain a brush-off (at best) from the subject of his affection. But what's porn if it can't present a little fantasy?
As such, both guys are soon trading blow-jobs; before Prince finally gets bundled over the nearest desk and begins to get his ass well and truly pummelled by his mate. Cue a magnificent, spunk-inducing escapade between these two beauties, culminating in Prince sitting down on Kasl's lap and riding the fellow's oversized ramrod for all that it's worth. No fucking wonder that both boys are soon on the cusp of ecstasy – most notably Prince, whose cumshot proves to be a dashing, multi-shot spray. All in all, a definite must-see for anyone who loves big dicks and filthy boy-sluts!
Scene 5: Solo.