Summary:
When co-workers do more than the usual 9-to-5! These suited up corporate sluts swallow jizz, slobber on chubby cocks, jam more than paper and seal every ass plunging deal thrown their way. These hot and horny offices are filled with EXECUTIVE PLEASURES!
Scene 1: Gangster
Cast: Hector de Silva , Lukas Daken
What is it about ganstas? Why does the sight of a made Mafioso sporting a finely tailored suit get our dicks hard and make our holes pucker? Maybe it's the danger, the money, the thrill of knowing this stud can give you mind-blowing sex and if he wanted, stuff you in the trunk of a car. Gangstas are powerful sex gods. Hector de Silva is stepping into the role of a dapper gansta this week and Menatplay newcomer Lukas Daken is the unfortunate hottie who crossed him. Snatched out of the trunk and tied to a chair, Lukas becomes Hector's willing prisoner. He begins to rub Hector's crotch and soon our gangsta in the fleur-de-lis tie, horned up, gives Lukas the brutal fuck he's been begging for. Lukas bounces on Hector's dick rough and fast. When Hector flips him over and bangs him from behind, neither of them can stand the pleasure for long. They end up glazed in cum, and so will you.
Scene 2: The Secret Chamber
Cast: Paco and Antonio Miracle
There is a new gym open in town and Paco is one of the first in line to get the full tour by owner Antonio Miracle. The facility comes fully equipped and at just the right price but when Paco decides to wander off and explore on his own, he quickly discovers just how fully equipped it is. There is a secret sex chamber in the basement, potentially off-putting for new clients. Antonio pleads with Paco to keep this info on the down low but he knows all too well that silence always comes at a cost. What better way to keep Paco quiet than to shove a fat cock in his mouth. Antonio Miracle gives Paco the pounding of a lifetime, loosening his shirt and tie just enough so that he can remain presentable for incoming clients. He closes off this deal on the sex swing, leaving a thick deposit all over this hairy muscle daddy's beard. Let's hope that's payment enough. Get ready for 'The Secret Chamber' exclusively at Menatplay.com.
Scene 3: Submit
Cast: Jonas Jackson, Max Duro
We're in the mood for some naughty fun this week. Max Duro, looking damn fine in a dark, slim cut suit, enters a club and finds a letter instructing him to blindfold himself. He complies, and soon he's joined by Jonas Jackson, also suited up and ready to take on Max's beer can-sized dick. Jonas wastes no time fishing Max's hard cock out of his trousers. Moaning and grunting, Max enjoys the pleasure of Jonas's mouth on his throbbing cock. He can hardly hold back, especially when Jonas takes off his trousers—leaving his OTC's on—and rides Max's cock hard. His ass is huge, round, and hard. Even though Max can't see, he takes charge and gives Jonas as merciless pounding. And you'll like all the sensuality that comes through when Max and Jonas caress each other's shirt and tie. Submit has everything you're looking for!
Scene 4: Red Light
Cast: Cristian Sam, Robbie Rojo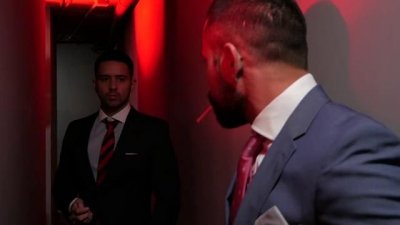 Something's always getting in the way. Bosses, deadlines, long commutes - modern life is full of things that block you when you just want a hot fuck, no questions asked. There are all sorts of red lights. But this week, Menatplay is giving you a different kind of red light... and you're gonna love it! Robbie Rojo and Cristian Sam take a walk on the wild side. These two hot guys are on the prowl in a sex club, all dressed up in slick suits and ties, throwing each other lustful looks and sharing cigarettes. In the dim red glow, not even metal bars can stop these horny studs. They kiss and grope each other until their suits come off, and Robbie reveals a leather harness. Combining two fetishes - suits and leather - is just the start of this hot fuck session. Cristian, still sporting a shirt and tie, rams Robbie's tight man-pussy like a wild man. And Robbie, MAP's horse-hung bottom boy, lies in a leather sling, still wearing his OTC socks, and offers up his hole. When a suited stud mounts an eager leather boy, you can expect a cum-drenched finish. Red Light pulls out all the stops.
Scene 5: Hoodwinked
Cast: Logan Moore, Manuel Skye, Mick Stallone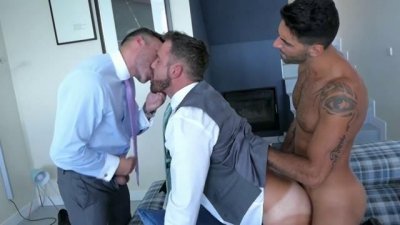 When real life lovers Mick Stallone and Manuel Sky emailed us and said they'd like to come to play with us, we were happy to let them take their pick of studs from the Menatplay menu. These boys have great taste as they decided they wanted to have their fun with Mr. Logan Moore. Logan was more than ready to relinquish control and be the couples fuck-boy for the day. The men came up with a very hot game to play for us. Once Mick has buttered up Logan with a glass of wine, and a nice sensual blowjob, he blindfolds the oblivious guest, who thinks this is going to be a regular hook-up, but it couldn't be further from the truth. As Mick plays with his new toy, he sends a discreet message on his phone and in walks Manuel Skye, who sits by and watches as his partner fucks a strangers hole. Manuel whips out his thick meat and starts jerking off, as his fantasies come true before his very eyes. But this wouldn't be the perfect 3-way if Manuel didn't join in, to tag-fuck Logan's smooth hole. And once the men have had their fill, the blindfold comes off and Logan realizes he's in the middle of an unbelievably hot Skye / Stallone Sandwich.
Additional Information
Categories: UK R18 / XXX Gay Adult
Running Time: 104 mins, Year: 2019
Price: Around £30*
Starring: Hector De Silva, Lukas Daken, Antonio Miracle, Paco, Jonas Jackson, Max Duro, Robbie Rojo, Cristian Sam, Logan Moore, Manuel Skye, Mick Stallone
Studio: MenAtPlay
Buy DVDs online at: Homoactive, Simply-Adult.com and RadVideo (USA)
Downloads and Video On Demand: MenAtPlay. See also: GayVod.co.uk
Member Site: MenAtPlay.com
Country: USA, Language: English
Additional info: No Regional Coding