Summary:
Handsome and masculine dark skinned Spaniard, Hector De Silva, is SUITED UP and ready to use his deliciously hard cock for some relentless ass-pounding fuck sessions. From Hector the businessman taking care of his own needs, to being tied up by a Russian stud, exchanging blowjobs and more with his tutor and converting a non-believer to the joys of craving cock and taking hot loads of cum, this Men At Play DVD will leave your balls drained and you satisfied!
Scene 1: Found In Translation
Cast: Hector de Silva , Nicolas Brooks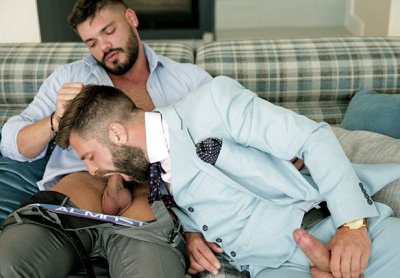 It's often said that language is power. But when Hector de Silva meets Menatplay newcomer Nicholas Brooks, we have a hunch you'll figure out who's in control of this sexy film. With his innocent wide-set eyes, solid physique, and beautiful plump ass, Nicholas is the language tutor everyone wants to have. Lucky for him, Hector, his new student, is eager to learn. A lesson about English grammar and vocabulary quickly becomes the fuck of a lifetime for these horny, insatiable men. Polished and sophisticated in a three-piece sky blue suit, Hector is sexy enough to make any man want to become a tutor. Nicholas barely has a chance to start their lesson before Hector starts kissing and caressing him. Instantly the tables are turned, and it's Nicolas who becomes the willing, eager student. After that, Hector and Nicholas let their bodies do the talking. They trade blowjobs instead of vocabulary and let intense butt fucking fill in for any verb they need. Hector bends Nicholas over and gives him an ass pounding to remember before each of them blasts a hot load of cum. Found in Translation proves that the only language two men need is the sounds they make when they're fucking!
Scene 2: Russian Roulette
Cast: Data Foland, Hector de Silva
If you're ever fortunate enough to come up against Russian stud Dato Foland know one thing - you can never be too sure which way it's gonna go. His deep Russian accent would have you believe you're gonna be feeling his hard cock pumping inside you before too long. But don't be deceived, he loves to ride a nice thick dick too, as we've seen a few times here on Menatplay, so depending on how he's feeling on the day you could get a surprise. In this encounter leather-gloved Russian mobster Dato, who, having caught Señor de Silva in the midst of stealing sensitive data from his laptop strings him up and toys with his handsome prize. Blindfolded and hands tied above his head Hector can only guess at the outcome of this interrogation.
Scene 3: Hard Times
Cast: Hector de Silva , Pietro Duarte
When a man is hard up for cash and has no options, he's willing to do anything. Just ask Pietro Duarte. Working in Hector de Silva's bar just isn't paying the bills, so he decides to help himself to cash from the till. But what he doesn't know is that Hector saw him steal the money on CCTV, and now he wants to get paid back. But he's only accepting one form of payment—sex. Hard Times give us Hector's hard cock—busting out of his expensive suit—shoved up Pietro's flawless round ass.
As a studly, no-nonsense business owner, Hector uses Pietro's sweet hole all he likes, bending him against the bar, hiking up his juicy ass, and pounding him for every dollar he stole. And Pietro loves it: his moans, groans, and the splashy cum he shoots all over the bar made stealing Hector's cash worth the punishment. Hector shoots his own explosive cum fountain all over Pietro and the bar as well. These may be hard times for our studs but they make for a horny time for you!
Scene 4: Unrighteous
Cast: Hector De Silva, Axel Max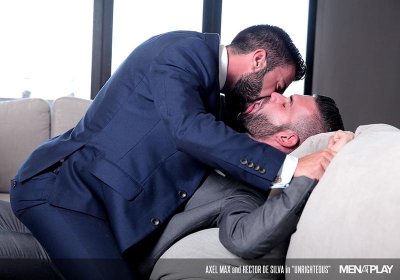 The men with the most hang-ups about man-on-man sex are usually the ones who crave cock the most. It's a fact among gay and bi men that's practically scripture. And as Hector De Silva and Axel Max prove, a big cock and a relentless fuck are the best way to convert nonbelievers. Axel allows himself to get led into temptation when he shows up at Hector's door hoping to proselytize him by teaching him the ways of the righteous. Yet the tables are turned once Hector kisses him passionately and whips out his thick dick. Axel, unable to resist, opens his mouth wide for Hector's meat. Axel worships Hector's cock like a willing disciple, making it clear to Hector that despite his beliefs, his craving for cock in his mouth and up his guts is too strong for scripture. As an expert, aggressive top, Hector is a god in his own right. He flips Axel over, pulls his pants down just enough to expose his firm butt, and gives Axel's hole the fuck he's been praying for before he anoints him with a shower of hot cum. Unrighteous will make you a true believer.