Summary:
Alex Mecum leads a hot cast in this interracial volume. We love grouping hung, hot guys together and this is no exception. Jacen Zhu, Boomer Banks & Sean Zevran round out the cast of beautiful men fucking each other senseless. Enjoy!
Description / Review:
Scene 1: Allen King & Sean Zevran
You've seen the rugged side of Sean Zevran on camera before but here's your chance to see the sensuous, passionate, & softer side that's closer to who he really is. AND, it's Allen King who gets to sample this side of Sean! After they fondle each other & kiss, Allen goes down on Sean to suck his cock and relish every inch. In turn, Sean basks in the pleasure of Allen's warm mouth, soon rising up from his lawn chair to stand and sway and feed his cock to Allen.

When Allen stands to make out with him, Sean soon sits back down to give Allen the same lovingly detailed cocksucking. Allen loves it but he whispers what he really wants: Sean to fuck him. After bending him over and teasing him a little Sean gives Allen his whole cock and fucks him passionately, pressing his muscular body against Allen and connecting with him in every way.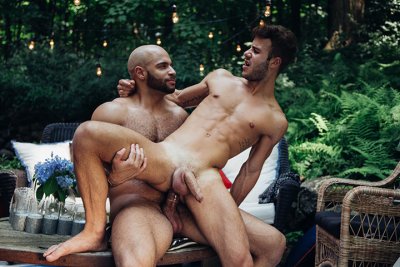 They shift positions and Allen rides Sean's cock with seemingly boundless sexual energy that brings a smile to the hairy top's face. Allen enjoys directing the action and soon pushes Sean back on the lounge chair so he can resume riding his cock cowboy style. And he doesn't stop until he unloads on Sean's furry abs. A brief kiss is followed by Sean leaning forward and giving Allen's smooth chest a hefty cum drizzle. Two happy & satisfied guys who kiss again and they're still hard. Whatever shall they do?

Scene 2: Alex Mecum & Jacen Zhu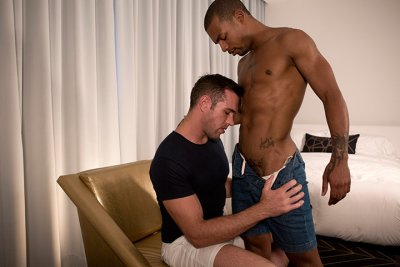 The strong, romantic chemistry between vivacious duo Alex Mecum and Jacen Zhu lights up the screen as they compliment each other with sweet sincerity and affection. And, since Jacen is already sitting in Alex's lap, it's easy for them to go right ahead and show you that their connection is quite real. They kiss at length and they barely stop as Alex deftly undresses Jacen, gets his shorts down and growing cock out. Alex gets on his knees and sucks Jacen with nearly the same affection as kissing. In fact he takes the time to bury his face in Jacen's crotch, kiss his balls, and make his way up his washboard abs and up to his waiting lips.
An excited Jacen quickly undresses Alex and sucks him with even more passionate energy. He relents only once to kiss Alex and stroke his cock as the hairy chested stud holds Jacen close and run his hands over his bubble butt. Jacen returns sucking Alex's mushroom-head cock but Alex can't hold back any more. He kisses Jacen, picks him up with surprising ease and lies him back in the chair to rim his tight hole, lick his balls, and put a big smile on his face. Alex flips over Jacen on all fours, teases him with his cock and plants kisses on his back before sliding slowly into him and putting a look of pure ecstasy on his face.

Alex tops him with the romantic passion promised at the start of their scene and takes it further. With his cock inside Jacen, Alex carries him to the bed where Jacen sprawls out on his stomach, enabling them to continue kissing as they fuck. Alex finds that spot which makes Jacen catch his breath, moan with pleasure, and grip the mattress as he turned on his side and finally on his back. Alex kisses and fucks Jacen in this position, with a few hot variations, and not stopping until Jacen explodes with a geyser of cum that takes them both by surprise. Alex follows up with an explosion of his own and though this is not new to him he and Jacen are both blown away by it...and in a state of euphoric post-sexual bliss.

Scene 3: Boomer Banks & Justin Brody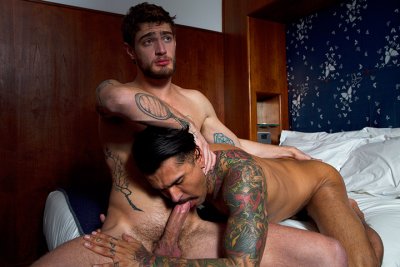 Boomer Banks usually likes to be in control, but Justin Brody's large cock has him excited to bottom. When Justin finds out that Boomer's turn on is kissing, he promptly takes charge.

Their intense makeout session leads to Boomer deep throating Justin's hard cock and before long Justin has Boomer bent over so he can taste his tight hole. Boomer begs Justin to let him suck his cock again and Justin obliges. With Boomer straddling his face, Justin gets deep in Boomer's ass while he's being sucked off.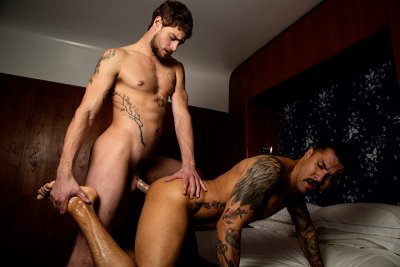 Justin is ready to feel Boomer's massive cock in his mouth and leads Boomer to the counter where he sucks and tongues Boomer until he's begging for Justin's cock in his ass. Justin slides into Boomer's ass and penetrates him deeply before moving back to the bed.

With Boomer kneeling, Justin enters him again, watching himself fuck Boomer in the mirror before bending Boomer over to thrust into him deeply. Turning Boomer over, Justin fucks him deeply while sucking on his tongue and kissing him passionately. Close to cumming, Justin straddles Boomer and strokes his hard cock until the pair cum all over Boomer's hot, tattooed chest.

Scene 4: Calvin Banks & Vincent O'Reilly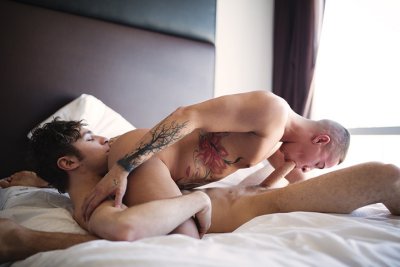 Earlier this year, Calvin won the AVN Award for Hottest Newcomer (which makes an appearance in this scene.) And to celebrate, Calvin asked to shoot with his "porn crush" and Vegas local, Vincent O'Reilly.

So...How could we say "No"!

From the moment their lips met for some lengthy passionate kissing Calvin Banks & Vincent O'Reilly are totally focused on one another, seemingly oblivious to the camera and their unseen audience. Once he gets Vincent naked Calvin goes down deep on him and gives him such pleasure that he's inspired to give him his best effort..with some guidance from Calvin. When they wrap themselves up again in more kissing Calvin feels up Vincent's big, rock solid ass and it garners all his attention.

As Vincent leans against the window he gives Calvin free rein over his monumental ass. Calvin can't get enough of opening up Vincent with his hands and mouth and putting him in a state of sexual ecstasy. In bed, they both get what they want in a 69 with Vincent swallowing Calvin while his ass gyrates in Calvin's grasp. Soon though they're back to being wrapped in each other's arms kissing passionately. Calvin takes Vincent back to the window to fill his hungry hole with cock and soon learns that Vincent can take him deep and hard and still wants more.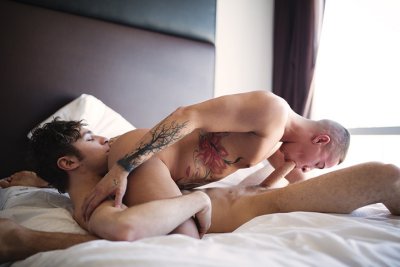 Back in bed, Vincent shows off his talent of twerking his hole on Calvin's cock and astounding him with visual and sexual pleasure. Calvin pulls Vincent back against him so he can thrust into him and they flow into several limber positions. Finally, Calvin gets Vincent on his back to rim and suck him and his feet and very shortly his cock hits the bullseye and makes Vincent shoot his load. Calvin sucks his sensitive cock but Vincent recovers quickly to suck all of his cock. In no time Calvin goes over the edge and shoots what may be his biggest load yet, hitting Vincent's face but mostly going over his head.

You want to see real post-sex euphoria? It's here as Calvin & Vincent smile, giggle and kiss in total satisfaction!