Summary:
Things are heating up in Boys Of Summer 3. Summer is always filled with sun, fun and sex for the Jake Jaxson crew. Whether it's a poolside romp or sneaking around to for a quick tryst, these guys are always raring to go. Featuring the delectable Cory Kane and Ben Masters, Boys Of Summer 3 will surely get your pulse racing!
Description / Review:
Scene 1: Calvin Banks, Dillon Rossi & Taylor Reign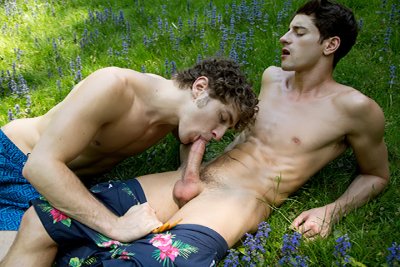 The temptation of summertime sex draws Calvin Banks and Taylor Reign from their chores at the Cocky Boys house, but its the free-form fun of a threesome with Dillon Rossi that turns out to be more alluring. At first it's just Calvin and Taylor, sitting among the grass and wildflowers, quickly getting playfully affectionate and kissing. Shorts soon slide down and hard cocks pop out, followed by Calvin going down on Taylor whose wandering hand and fingers find their way to Calvin's ass.

Calvin sits on Taylor's chest and feeds him cock as Taylor fingers his hole and they both know what's next. Calvin slides down on Taylor's shaft and rides him and they find their groove. Changing up the momentum, they edge themselves to make it last just Dillon Rossi emerges to watch them intently like a live porn show. He jacks off as he moves closer and Calvin soon joins him to suck his long hard shaft while Taylor gets to watch. Not for long that is. He joins them to spit-roast Calvin and simply can't stop fucking him until he pulls out to shoot his load all over Calvin's ass. Back to the chores!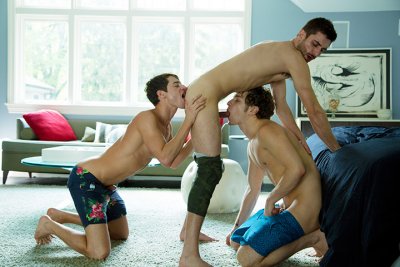 Later, the insatiable Taylor tempts Dillon away from their yard work to go inside for secret sex, but before they get past the kissing Calvin joins in! He goes down on Dillon who's simultaneously rimmed by Taylor, but soon Calvin retreats to watch and enjoy the voyeuristic pleasures of a three-way. Taylor rims Dillon on his back before fucking him energetically with an excited Calvin as their audience. In turn they're motivated to put on an even wilder sex show for him. Dillon is ready to shoot but Taylor has another idea: he rides his ginormous cock and the thrill level draws Calvin to watch close-up. They all erupt in huge cum geysers one after the other and ALL the hot, creamy cum winds up splattered over Dillon's taut torso! Uh-oh! Someone's coming...back to work, guys!

Scene 2: Ben Masters & Cory Kane
You're invited to spend an intimately romantic, early summer day with Cory Kane & Ben Masters as they play hooky from work and drift on a tranquil lake...followed by a sensually hot outdoor sexual encounter. Actually Cory's idea is to stay in bed together while Ben insists on enjoying the weather. Fortunately they both get what they want: they row out to the middle of the lake and enjoy some romantic alone time.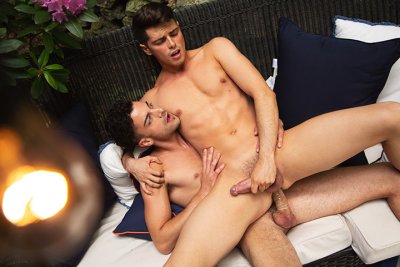 Late in the afternoon patience pays off for Cory who finds Ben napping on the porch and much more open to the sex he passed on earlier in the day. Ben awakens to Cory's gentle caressing but is really roused by his achingly hot teasing and sucking of his cock. Ben can do nothing less that suck Cory right back with the same driven passion. Ben is so turned on that when he lies back against him, Cory only has to stroke him a few times as they kiss before Ben explodes in a thick, hot load. Date's over? Not at all.

Cory and Ben make out some more and Ben is already hard again! Cory rims Ben on his back and finally gets to fuck him but his cock finds Cory's spot almost immediately. Ben has to tell him to slow down or else he'll cum again! The deep pleasure is so intense Ben barely touches his cock to avoid cumming. They change positions with Cory pounding Ben from behind but when Ben starts riding his cock the momentum is unstoppable: Ben shoots again! He helps Cory cum with a few more kisses and soon he's licking up Cory's spilled jizz. As they kiss again Ben makes on thing clear: "Today was really, really nice."

Scene 3: Ashton Summers & Taylor Reign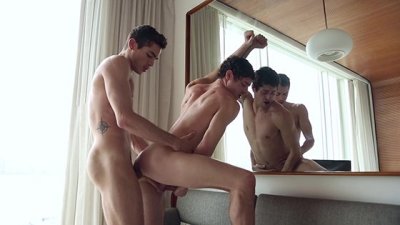 Their pairing is a long time coming and Taylor Reign & Ashton Summers want this to last with some slowly seductive foreplay. As they make out they're entranced with each other AND their reflection in the mirror. Taylor strip-teases his ass in front of a naked & stroking Ashton who in turn wants some head before he gives him his cock. Taylor eagerly obliges with some deep sucking that practically melts Ashton...who still manages to reach over and play with the ass he's about to own.

Ashton turns Taylor around and up against the mirror, then spreads his cheeks to rim him so well that Taylor begs to be fucked. Ashton doesn't make him wait and slides his cock into Taylor to give him full force fucking, with some manhandling that Ashton just knows he wants. Ashton almost pounds him to the other side of the mirror before sitting down and letting Taylor ride him. In a front and reverse cowboy Taylor is raw sexual energy with he and Ashton almost immediately in perfect sync.

The tireless duo switch positions with Ashton fucking Taylor on his back and as Ashton leans back and thrusts into him, their positions are nearly mirror each other. As Taylor gets close to the edge Ashton takes control by finger-fucking him and licking his tightening balls. After Taylor squirts his load over his rippling torso Ashton stands up and within seconds he shoots his thick load in Taylor's open mouth and on his face. Without hesitation Ashton & Taylor share a tasty kiss. Looking into each other's eyes Taylor tells Ashton, "I love watching you fuck me" and maybe, just maybe, they might do it all again.

Scene 4: Arad WinWin & Levi Karter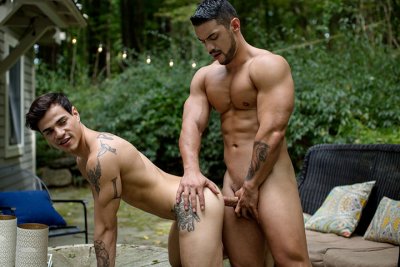 Arad Winwin is new to Cockyboys but he already feels at home because Levi Karter made sure to give him a very warm welcome. At first, Levi was a little nervous because Topher, who's best friends with Arad, told Levi that Arad doesn't speak English. Not that it would have been a problem for Levi anyway but he was relieved to find out that Arad's English is just fine and that when he's begging him to fuck him harder nothing will be lost in the translation.

However, Levi also admits that Arad's muscles are a bit intimidating which is only an even bigger turn on for Levi so it makes sense that the two of them did not waste much time getting right down to it. As Levi makes his way down to Arad's rock hard cock and begins to suck on it, Arad slowly slips a couple fingers in Levi's hole and starts working on it to open it up. Arad is clearly way into Levi's hole (both physically and metaphorically speaking) because he can't seem to be able to stop playing with it.

Finally he tells Levi that he wants to eat his ass which makes Levi jump with excitement and bend over the table to let Arad have a taste of his hole. While Arad is completely losing his mind over how delicious Levi's hole is, Levi just keeps moaning louder and louder until he's begging Arad to finally fuck him. As Arad admits in his interview, his favorite thing to do is to fuck.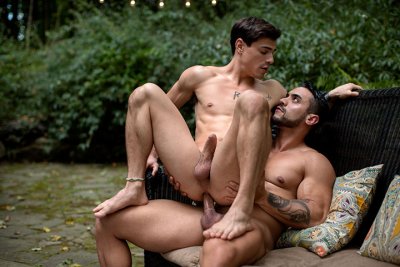 So it's no surprise that he doesn't wait for a second invitation and gets right to it. As Levi shows off his perfect ass Arad shoves his meat into Levi's hole and quickly starts to pound into him with no mercy and no breaks until they're both breathless and ready to take it to the couch where Levi is fucked even deeper this time. But it's not until Levi finally gets on his back where he can see Arad's big muscular body drill into his hole that makes him shoot his load.

As Levi covers his chest in his own cum Arad pulls out and starts spraying one of the most massive loads ever completely drenching Levi in cum. Who needs English when you're that fluent in body language?