Summary:
Compilation Gay DVD featuring scenes from Staxus titles

With two scorching threeways and two desirable duets, the pleasure knows no bounds here! These guys wanna fuck - and they wanna fuck raw and bare. They don't stop sucking, licking, stroking, face fucking and spreading each other wide open for one and other's hard, uncut cocks! Cum on in and feast your eyes on these sexy studs as they fuck and shoot their cum loads all over ripped abs, smooth chests and handsome faces!
Scene 1: Raw-Loving Twinks Take A Shower, Then Suck & Fuck Like Dirty Whores!
Starring: Ethan White and Alexander Syden
From: Sports Ladz, Fantasy Football, Scene 4
After a hot, sweaty game of football, what could possibly be better than heading straight for the showers to get cleaned up? Certainly Ethan White and Alexander Syden don't appear to have any better idea, that's for sure; stripping away their kits to wash themselves down in a cascade of warm, soapy water. Don't allow yourselves to be deceived, however. Whilst getting clean is clearly the primary objective here for this pair of horny young twinks, it's certainly not the only one; and it's not long before the two boys are taking full advantage of their situation to explore each other's cute, naked bodies.
Cue a fabulous session of eager cock-sucking and ass-rimming that'll have you wishing that you'd given much greater attention to your footballing skills when you were younger! Don't get too despondent, though. White and Syden are more than able ambassadors for their sport, not least of all when Syden finally succumbs to temptation and allows his mate to fuck him up the ass raw – a move that we just know our fans are gonna love big time!
Has shower-sex ever looked so beguiling? Certainly these two lads seem to have the time of their lives; with Syden literally getting the cum banged out of him, before taking a sticky facial courtesy of White's erupting cockhead! As post-match analysis goes, this one's a definite winner!
Scene 2: Young Twink Gets Used & Jizzed By A Pair Of Hyper-Horny, Cum-Filled Soldiers!
Starring: Alex Silvers, Billy Rubens, Paul Walker
From: Officer's Mess, Scene 4
Paul Walker and Billy Rubens may claim to be a couple of straight army buddies, but given the eagerness with which they "entertain" Alex Silvers (having trawled the internet to find him) it's difficult not to suspect that they each harbour a slightly queerer persona than they'd possibly like to admit.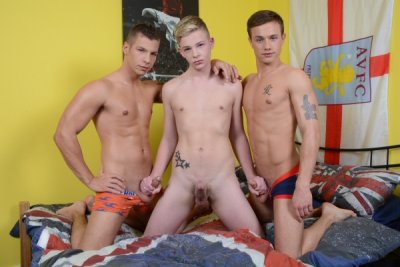 One thing is certain, however, and that's that blond twink Silvers has absolutely no doubt about what he likes; and, having been invited over by the guys in khaki, he's round like a shot to enjoy every hard, uncompromising inch of dick on offer. It's a move that doesn't fail to go unnoticed by Walker in particular, who promptly engages in some colourful language as Silvers deep-throats Rubens; but you don't need to be an expert to appreciate the young lad's enthusiasm, and it's no surprise at all that the fellow is soon being energetically spit-roasted like some common slut. Then again, of course, that's pretty much what Silvers is – a characteristic that's only underlined when he promptly sits on Walker's oversized knob and rides the bastard for all he's worth.
In truth, this is a guy who'd be out in the community being banged by every stud going even if he wasn't doing it for the money as a porn-star; and it's pretty obvious that he's in seventh heaven when the two military boys finally squirt an almost unbelievable quantity of goo – in Walker's case, rather noisily! – all over his smooth, hairless chest. Not that either soldier seems to appreciate his efforts. Balls emptied and their libidos satisfied, they immediately tell the youngster to fuck off. And who said romance was dead ...?
Scene 3: Dick & Tom Double-Fuck Brit-Boy Connor Levi & Then Jizz All Over His Face!
Starring: Connor Levi, Dick Casey, Tom Crua
From: SauVage, One Erection, Scene 3
Has there ever been a hornier slut than Brit-boy Connor Levi? That may well be the question that you're asking yourself at the end of this truly superb threeway with Czech beauties, Dick Casey and Tom Crua. Of course, it's really no great wonder that Levi is so hyped up given the quality of cock that he's got to play with in this scene. Casey is as fucking gorgeous as ever; whilst new-boy Crua is a cropped haired, tattooed hunk that would send any dick-crazed twink into overdrive.
Suffice it to say that it isn't very long before Levi is surrendering his ass – first to Crua's thick, meaty, raw shaft, and then to Casey's equally impressive member, which he rides cowboy-style whilst tea-bagging Crua like an over-sexed whore. Indeed, the blond lad's lust for dick is so enthralling that his fellow screen-stars can do little but replicate the kid's enthusiasm, ultimately culminating in them squeezing their oversized ramrods deep inside Levi's fuck-hole simultaneously.
By this point Levi himself has already spewed the contents of his nads all over the floor, but that appears to do little to dampen his ardour. Indeed if anything the guy is as turned on as ever, writhing on all the excess of cock-meat with such ease that you'd almost think he was born for this one singular moment! And just when you thought things couldn't possibly get any hotter, the whole escapade is topped off by Crua and Casey producing two of the finest cumshots you're ever likely to see. Leaving Levi's face splattered with jizz, and providing you with the easiest excuse for a wank you'll ever be given!
Scene 4: Army Officer, Sven Laarson, Gets A Proper Milking From Horny Farmhand, Xander Hollis!
Starring: Sven Laarson, Xander Hollis
From: Open Range 1, Scene 3
There's a belief in some quarters that country boys are somehow naive and not adept at the ways of the world, but that sure as fuck doesn't come across here when farmhand, Xander Hollis, encounters army officer, Sven Laarson, in the stables. The reality is that the young dark-headed lad appears to know exactly what he wants from the fellow in uniform, and it's no time at all before he's got his dick out and pushing it down Laarson's throat.
| | |
| --- | --- |
| | |
That, however, is but a little appetiser to his real intentions, and, having worked the soldier into a sense of high expectation, he's soon returning the compliment big style. Fact is that this is a boy who clearly loves cock and who will stop at nothing to enjoy every aspect of pleasure that all that hard flesh can provide him; so, having feasted on Laarson's dick big style and rimmed his ass, it's little wonder that he's soon puckering himself up for the fucking of a lifetime. Why, this boy can't wait to get the visitor's ramrod up his ass, and before you know it he's riding every inch of that monster like a total whore.
Cowboy-style, from behind, missionary ... this guy doesn't care so long as the dick in question is pounding away at his fuck-hole like there's no hope of tomorrow! No surprise that his own knob is soon squirting a generous spray of jizz in appreciation; before Laarson wraps the action up by blasting Hollis's cute little face in return. Kinky, hot, sweaty – this scene grabs you by the balls and doesn't let go till you've blown every last drop!