Summary:
Compilation Gay DVD featuring scenes from Staxus titles
Who wouldn't want their balls busted by this gaggle of horny and extremely cute stud-muffins! These boys are only too willing to give up their holes for an intense cock plugging that is guaranteed to see them spilling their loads over each other's trim bodies! Passionate French kisses leads to delicate nipple tweaking before soft hands travel over toned abs on a journey of pleasure that sees dicks tugged and pulled and warm mouths enveloping the firm flesh. Tongues tease and delight as every inch of shaft is touched and tickled. Heighten your senses as these boys boost their sexual joy with a bare butt banging which they round off with a creamy cum dessert!
Scene 1: Firefighter Hero Gets A Gaping Arse Courtesy Of His Horny Beau!
Cast: Chad Johnstone, Danny Franklin
From: Fire Me Up, Scene 2
They say that every cloud has a silver lining – and whilst a bad fire isn't good news for those whose property it destroys, it does at least give firefighters the opportunity to put their training into use. For the handsome, uniformed Danny Franklin, it also provides the opportunity of promotion – a turn of events that certainly appears to meet with the approval of his horny young boyfriend, Chad Johnstone, who's laid in bed with champagne, awaiting Franklin's return.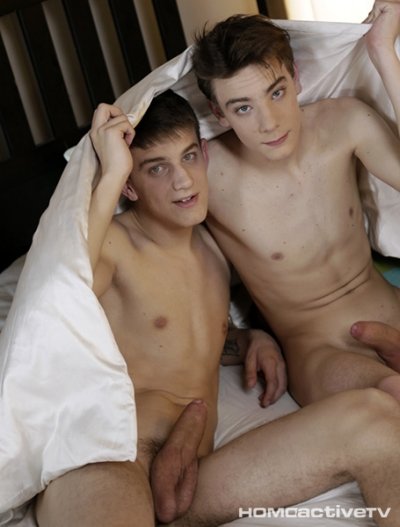 Not that supping fizz is Johnstone's only intention that evening, of course – as very quickly becomes apparent. Indeed, it's barely seconds before the fellow has enticed Franklin under the duvet – at which point the gallant officer's clothes are promptly stripped away and Johnstone makes a direct beeline for his gorgeous, uncut dick! It's a move that certainly appears to meet with the firefighter's keen approval, given the eager manner with which he then returns the favour; but it doesn't take too long before the appetite of both lads is for something decidedly harder.
Cue some fun with more champagne, as Johnstone soaks his boyfriend's pucker with bubbly; before rimming the tight little hole, and then thrusting his now aching shaft deep inside. That signals the start of a terrific set-piece of wanton fornication, which quite literally leaves Franklin's arse gaping for the camera – a must-see for anyone who enjoys a well-worked man-cunt! All nicely rounded off by the sight of the two lads jerking off 69-style, unloading their very gooey loads into each other's mouths. As celebrations go, it's one hell of a fuck!
Scene 2: Noah Matous Gets His Arse Pummelled To Distraction – Again!!
Cast: Benjamin Dunn, and Noah Matous
From: Raw Score, Scene 4
Physically speaking, you'd struggle to find two guys who were as different as Noah Matous and Benjamin Dunn – the one being a petite blond, the other a lanky brunet! However, as surely pretty much every STAXUS fan knows by now, in terms of their sexual preferences these two lads are a perfect match! A fact that's quickly underlined when the couple tumble onto a sofa and promptly start to strip in order to enable them to play with each other's dicks!
Indeed, it's pretty fucking obvious that both these buddies have a distinct penchant for hard cock as they chew away on each other's uncut shafts, ultimately culminating in them lying top-and-tail – allowing Dunn to rub his dick over Matous's face whilst he tickles away at the young blond's butt-hole with his tongue. It's a terrific, wank-inducing display from both mates; but of course things only intensify once Matous succumbs to the ultimate temptation, parts his legs and allows his pal to pound away at his hungry twink rump.
The sight of Dunn's low-hangers bouncing against the pretty blond's butt is almost worth the cost of STAXUS membership in itself; and the temperature in the room increases yet further when Matous plonks himself down on Dunn's knob reverse cowboy-style! No fucking doubt about it, the tall, horny top shows little restraint as he pummels away into Matous's guts; and you'll be hard pressed not to have bust your nuts by the time the youngster squirts his wad mid-fuck. But for fans of facials it's the sight of Dunn erupting all over the lad's cute face that'll score top marks!

Scene 3: Great Dane Gets His Arse-Hole Played & Pounded By Hot Fucker!
Cast: Chris Jansen, Joshua Levy
From: Cuddle Up, Scene 1
New boy Chris Jansen clearly enjoys a bit of cruising in the local park – but it's a pastime that doesn't go without its reward when he encounters none other than the ever-delicious Joshua Levy. Within minutes the two fellows are smooching away like a couple of horned-up alley-cats; before heading off to a nearby apartment, where their antics become (not unnaturally) much more intimate in nature. Jansen, in particular, clearly can't wait to get his new-found buddy's dick out of his pants; and before you know it the young Dane – still donning his jockstrap! – is providing his Czech host with a badly-needed oral massage.
It's a move that could never fail to inspire a chap like Levy, of course, who we already know very much appreciates the adoration of a horny fucker; and matters only intensify still further when Jansen turns his attention to his buddy's balls, which he sucks and worships with undisguisable gusto. Little wonder that the pair are very soon prostrate on the sofa, 69-ing each other like a couple of over-sexed animals; before Levy adds an element of kink by using one of his ornaments to invade Jansen's hungry ass-hole.
Not that this lad from Copenhagen is going to be ultimately satisfied with teasing, of course. What he's wanted from the start is Levy's cock deep inside him – an ambition that his newly-discovered fuck-buddy is soon fulfilling in a series of sexual positions, and which ultimately results in Jansen squirting all over his jocks mid-fuck. But it's Levy's conclusion – a stupendous wad of spunk across Jansen's face – that surely steals the show!
Scene 4: Horny Masseur Gives Sam Williams A Total Body Rubdown – And A Hard, Raw Fuck!
Cast: Sam Williams & Shane Barret
From: Twink Massage Dreams 2, Scene 1
Shane Barret can do wonders with a scented candle and a silk scarf – as Sam Williams can testify after encountering the young masseur in this horny little episode. Not that either the candle or the scarf really get a look-in past the first few moments of the scene – Barret's attention having quickly become firmly fixated on his client's magnificent rump, which he proceeds to massage and manipulate like warm balls of dough. It's enough to make a grown man like Williams cry with pleasure; but matters only intensify when the fellow flips himself over to expose the thick, veiny shaft that he's had nestling beneath him all the time.
Needless to say, Barret's massaging skills from that point onwards centre very much on that said fabulous appendage; working it initially with his hands, but then very quickly with his tongue and lips. It's a fabulous display from the youngster, that's for sure, and it's no small wonder that it soon works the older fellow into quite a frenzy. Hence it's no time at all before the two are 69-ing away like a couple of desert-dogs on heat – Williams eagerly rimming his buddy's ass-hole in the process.
Not that it's Barret's fuck-hole that's destined to get the prime attention, however. Instead, prepare yourself for the sight of Williams riding the masseur's pole like there's no tomorrow, and getting his ring massaged good and proper (not to mention whitewashed!) in the process. No question about it, this is a fellow who literally gets every inch of his body rubbed in this escapade; climaxing in him creaming Barret's face for good measure!