Summary:
Prison's a terrible place for a twink, the officers are hard and the price is high for not obeying them! These four twinks soon find that out as horny officer daddies are out to get what they want from their charges. With muscle men like Big T giving shy Lyle an ultimatum or handsome bearded Logan Moore finding a surprise package during a strip search, there's a lot more to a night in the cells than a crappy mattress, it gets these boys initiated into a whole new world where daddy is definitely in charge, and there's really no escape from his big hard dick! These young boys have been very bad, and the only way to pay their dues is to do exactly as Officer Daddy says and wants, whether it's on all-fours or on their knees, they better do what they command!
Scene One: Back Behind Bars
Cast: Johannes Lars, Letterio Amadeo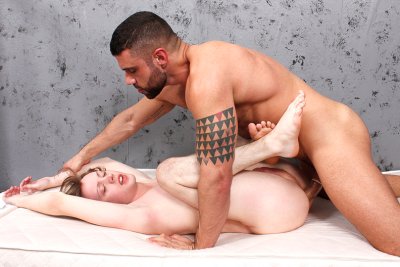 Looks can be deceiving as angel-faced Johannes Lars finds himself back behind bars. We don't know what this young tearaway has been up to, but the reason he got himself arrested and sent down becomes very clear when duty officer Letterio bangs on the bars. Curiously pleased to see him back In the cell, the dark brooding officer beckons his captive over and greets him with his almighty bulge right at face level. No wonder Johannes seems to be getting caught all the time! With a dick like Letterio's waiting for attention, Johannes swiftly guzzles the thick curved dick down his slim white neck, all for the pleasure of Letterio who verbally instructs the boy into what he's doing. Letterio wants more, and Johannes knows that a hard fucking is about to occur when he enters the cell! Stripping both butt naked, the hairy muscled frame of the office dwarfs the petty criminal, and his shaft stretched the tight hole wide and sloppy as our brute top fucks him hard and fast, getting soaked with sweat and covering Johannes with it as he's gripped and pulled back onto his stiff dick. Having had his way, Letterio lets the boy shoot, and boy does he shoot, swiftly joined by a dumped load as Letterio stands over him, leaving him to clear himself up ready for next time.
Scene Two: Getting Off
Cast: Big T, Lyle Boyce
Caught after his first offence and hauled up before the station master, blond twink Lyle Boyce is given two options, a night in the cells with whoever may be there waiting for him, or do the officer a favour and get home to mummy. Shaken and nervous, super lad Lyle chooses the least worst option and plumps to give the Officer Daddy what he's asking for. Pulled up on the desk, Big T lives up to his name, tall, built and the perfect daddy for little Lyle to be taken by! His stiff thick dick shoved down throats and up his peachy white ass, Lyle is fucked hard, leaving paperwork on the floor and rocking the office as his pretty pink hole is plundered deeper and wider than ever before. Laying back and taking his punishment whilst Big T works up a sweat, both of them get off, Lyle moreso as he quickly gathers his stuff and runs out, still dripping with daddy's hot spunk!
Scene Three: Twink Tearaway
Cast: Gabriel Fisk, Leo Ocean
Officer Gabriel sees his favourite young tearaway back in jail and wants a piece of that ass that escaped him last time! Sneaking in to his cell as blond twink Leo is sleeping, he creeps up and wakes him, telling him he wants to be inside and in no position to deny, Leo bends over and gets naked! Eating out that pretty pink hole, dark haired muscle man Gabriel can't get enough. His muscular tanned skin perfect against the soft pale skin of Leo, after a face full of cock, Gabriel want's the good stuff and gets it over and over in the cell, pushing Leo down soggy style and slapping his balls against ass with each thrust, they both empty their balls, leaving the cell stinking of spunk and sweat, and Officer Gabriel leaves his boy to clear up!
Scene Four: Strip Searched

Cast: Logan Moore, Jame Lewis
Conducting a surprise search, uber twink James Lewis is patted down by bearded Logan Moore who finds a suspect package between his legs! Searching out for more, Logan probes James' ass with his fingers, working them deep! Finding nothing, James is visibly turned on, and Logan takes full advantage of this! Fucking him hard there and then against the wall of the cell, he's going to teach this lad that he can't get one over on the officers, not without retribution! After a hard fuck, James is pushed down to suck on the cock that was moment sago slamming his butt, Logan slowly strips off, showing his tanned hairy body and toned muscular torso.
The fucks not over yet though as Logan returns to ploughing that delicious asshole, pulling him down on top of him and then doggy-style, the views of deep penetration are amazing and as the sweat starts to glisten on the officer's body, the cum spurts from Logan and covers James's pale butt cheek. The job's done, the lesson is learnt and Logan leaves James to finish himself, shooting all over his body, nearly hitting his own face!
Themes: Duos, inter-generational, prison, uniform, hairy body, twink, chest hair, facial hair, dark hair, blond, muscle
Additional Information
Categories: UK R18 / XXX Gay Adult, British Gay Men, British Gay Youth, Older with Younger
Running Time: 90 mins, Year: 2016
Price: Around £29*
Starring: Logan Moore, James Lewis, Letterio Amadeo, Johannes Lars, Gabriel Fisk, Leo Ocean, Big T, Lyle Boyce

Director: Andy O'Neal
Studio: Dads Fucking Lads (Eurocreme)
Buy DVDs online at: Simply-Adult.com
Downloads & Video On Demand: Dads Fucking Lads, See also: www.gayvod.co.uk
Country: UK, Language: English
Additional info: No Regional Coding