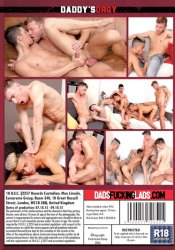 Also available
Father Figure



Summary:
There's nothing hotter than getting rammed by a hot muscular daddy, apart from maybe him inviting to you his exclusive penthouse orgy, full to the brim with big dicked young studs all after a hot sweaty time with you! Super star Matthew Anders gives you all just that as he brings his favourite fuck buddies and their friends together for a non-stop orgy with stars like Nathan Hope, Kayden Gray and Kamyk Walker coming together for spit roasting, cock guzzling and tongue fucking like you've never seen before. The muscled men teach the tiny twinks countless new tricks as they are shared out and brought together in a cum drenched finale to the hottest orgy in town!
Scene One: Daddy Ploughs Danny
Slowly stripping off the young tanned Danny, blond hunk Matt Anders can't wait to get his boy butt naked! Slurping on each other's juicy dicks, Danny's cut cock being devoured by Daddy whilst Matt's own thick slab of meat is gorged on by the cock hungry twink. Tasting each other's supple and muscled bodies, Matt moves Danny to the sofa where he sheaths up and beckons the boy on top of him, facing the camera and lowering him on his twitching dick, rock hard in anticipation of the deep butt fucking about to ensue. Working this thick dick into his boy toy, the tattooed muscle hunk kisses Danny as he pushes deeper, both guys really into each other and working that sofa hard as they flip positions, getting as deep and hard as they can. Danny's smooth young body flexing and tightening with each thrust from Daddy brings him closer and closer to a creamy finish as both loads end up over his youthful hairless skin.
Scene Two: Split in Half by Kayden
Tiny young Cory Prince, a cute and damn sexy Spaniard gets to grips with the giant dicked Kayden Gray is an ass splitting scene like none other! His hairless ass stretched wide and fucked hard, taking all of Kayden's 9.5 thick inches down to the balls! His tight young body, tanned olive skin overpowered by a muscular and sweat drenched Kayden who fucks his upwards, side-wards and down into the bed, leaving the room dripping with sweat and spunk as Cory can't do anything as he's pinned by a dick as big as his arm, leaving him a fuck toy for the muscle stud Kayden to play with until his balls are empty and his boy covered in jet after jet of hot spunk, the sweet smell of sweat and spunk permeating the air!
Scene Three: Five-way Orgy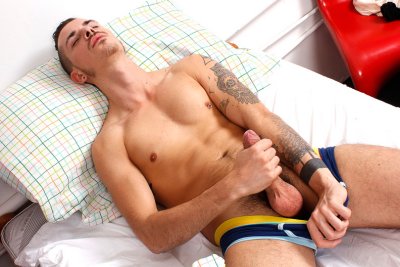 Slowly undoing Daddy's zip, Succulent twink Cory, dressed only in a jockstrap sucks on the thick dick, bursting from Matt's jeans, taking it down his tiny throat and deep inside him, preparing them both for the anal adventure about to occur when the rest of the guests turn up. Blond beauty Kamyk is the first to arrive, joining the pair and climbing on top of the sofa, sowing his smooth butt to Daddy who wastes no time in getting his tongue deep inside. Just as Matt is getting serviced by both boys, handsome French fucker Nathan Hope joins the three to make a four and steals Cory from him and gets his big dick blown whilst Kamyk takes the prime opportunity to jump on top of Daddy dick and ride like a pro! Swiftly joined by Danny, the cute Mexican stud sits apart and gets rock hard jerking to the amazing orgy in front of him before being too tempted by Cory's exposed asshole to resist and tongues fucks him deep until Nathan takes over and fucks the boy who's now getting throat fucked by Danny, the melee of toned young bodies a perfect vision for anyone and everyone to enjoy! The heat and horniness overwhelm Nathan and Kamyk, who shoot their loads all over themselves, leaving the party to continue and grow!
Scene Four: Big Dicked Orgy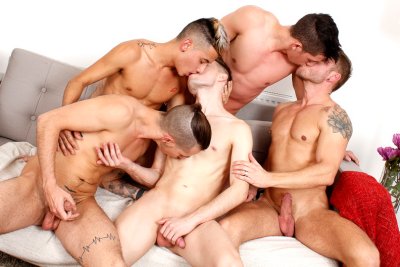 Carrying on the orgy after two hotties shoot their load, Danny Montero and scorching hot Daddy Matthew Anders spit roast the tiniest twink ever Cory Prince on the sofa, with Matt taking a break and watching his two favourite boys fuck hard in front of him as they wait for more to arrive to join the orgy madness. In perfect timing, 3 more young studs join the party, super hung Kayden Gray, blond bottom Lyle Boyce and fit fucker Ross Drake all come together and get in the middle of the action right away! Danny jumps on top of Kayden's massive meat who slurps on Ross's dick as Lyle gets his ass eaten by Matt as Cory swops with Ross and licks around Danny's butt mid fuck and Ross is feeling every inch of Matt's thick shaft, there so much spunk worthy action it's hard to know where to look, and each one of them loving the action they're getting and giving, especially Lyle who's tucking in to Cory's dick whilst Daddy spanks that soft white ass of his! As the sweat starts to drip and the assholes get fucked hard, the cum starts to erupt from all six men, Danny shooting for the ceiling, Kayden drenching Danny, and the others sharing their loads as all good orgies must end!
Themes: Inter-generational, muscle, blond, smooth, hairy body, tattoos, daddy, dark hair, big dick, latin, twink, facial hair, spit roast, orgy, jockstrap
Additional Information
Categories: UK R18 / XXX Gay Adult, British Gay Men, British Gay Youth, Older with Younger
Running Time: 90 mins, Year: 2016
Price: From around £29*
Starring: Kamyk Walker, Danny Montero, Matthew Anders, Kayden Gray, Ross Drake, Lyle Boyce, Nathan Hope, Cory Prince

Director: Andy O'Neal
Studio: Dads Fucking Lads (Eurocreme)
Buy DVDs online at: Simply-Adult.com
Downloads & Video On Demand: Dads Fucking Lads, See also: www.gayvod.co.uk
Country: UK, Language: English
Additional info: No Regional Coding