Description / Review:
Newly-evicted boot black Oliver is a little blue in Boot Black Blues. He is down on his luck and working hard to make his way in a sex-crazed world. With his fine youthful butt, Oliver finds that his customers often want more than just their boots polished. What's a poor and hungry boy to do without a roof over his head?
Servicing strangers is his normal routine - that is, until today. It's boot-licking, man-servicing action.
Scene 1: Danny Roddick & Josh Weston!
Danny Roddick has been evicted from his dingy small apartment and the only way means he has to make money is a job as a boot black which doesn't pay that much – unless you do some "extra jobs" for your clients. The credits show Oliver's desperation. Life sure doesn't look that great.
In Scene One things look up as superstar Josh Weston stops by for a spit shine on his boots and decides to polish his knob in Oliver's ass too. Since the customer is always right, Oliver gets with the program and offers up his ass diligently to keep Josh as a satisfied customer.
Scene 2: Danny Roddick, Simon Angel
In Scene Two a hungry Oliver (Danny Roddick) takes his newly made money off to a sandwich shop, but finds that he's short for a sandwich and soda in this expensive city. Nota problem for a cute boy like Oliver, who soon has sandwich shop counter boy Simon Angel offering to put it in a bun by taking it out in trade in the back of the shop. The two soon embrace, and Danny gets his sandwich and soda the old fashioned way - he earns it - and proves he's as great a top with Simon as he was a bottom in the scene before with Josh!


Scene 3: Alex Chandler, Colby Taylor & Kyle Lewis
The action shifts to an outdoor bathroom, where Colby Taylor is having his huge cock worked on Kyle Lewis. Kyle has to work hard to take care of Colby's major member, and clean cut Colby shows he's kinkier than he looks by handcuffing Kyle to a hand railand leaving him that way after he cums. However it's not really Colby's fault. You see the reason Colby leaves so fast is San Francisco police officer Alex Chandler has shown up, showing interest that's beyond professional. Kyle is left naked and handcuffed on the stall floor of a public park restroom and has no choice but to lick the cop's boots, suck his patrol dick and take that big dick up his smooth tight ass. Not that he minds when Officer Alex lets him cum on one of his motorcycle boots - which he happily licks clean.
Scene 4: Lucas Di Fubbiano, Nick Marino
Scene Four is back at Oliver's (Danny Roddick's) boot black stand, where he's giving a shine to Lucas Di Fubbiano. But when Nick Marino unexpectedly enters, it's not a shine he's after - it's Lucas. In a scene of testosterone fueled domination, Nick takes charge, chases Oliver away and works over Lucas. Starting with his mouth, then ripping open his jeans and taking his ass with some rather large toys. Nick is every subs dream in this scene and fans will be looking for more!
Scene 5: Danny Roddick, Parker Williams & Trey Casteel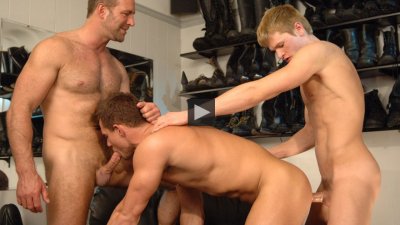 Scene Five is set up when big daddy Parker Williams has little boy Danny come to his place to work on cleaning the boots in his collection. His BIG boot collection. But while he's cleaning, Trey Casteel comes over in a horny mood. Soon Trey is down on Parkers big beef stick, and things are heating up. Oliver(Danny Roddick) can't help but crawl over on his hands and knees to sneak a peak. Parker notices Oliver looking round the corner and has him join in the festivities. Oliver first shares the daddy dick with Trey, but soon gets rolled on his back to take care of Parker and Trey at the same time. Oliver's super-hard schlong shows there's no acting involved in how much he loves servicing two guys at once! That is almost as much as he loves it when he switches places with Trey and pounds his ass with enthusiasm! The final scene fades with a big kiss between little boy Oliver and big daddy Parker. Has Oliver found his new home, better yet has he found a new daddy to take care of him?