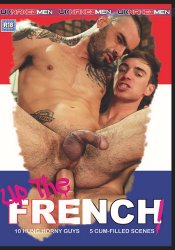 You might also like
Al Fresco Fuckers


The French Horn




The French
Are Cumming



Summary:
UK Naked Men is back with a fuck fest filled with hot French cum dumps!
Description / Review:
Scene 1: Brute Club and Brent Taylor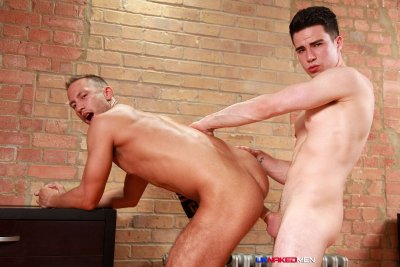 Down by the trash dumpsters - where else - Brute Club is taking out the rubbish when he runs into Brent Taylor - ''you live in this block'' Brent asks ..... berdoing ! The guys are stripping off back at Brent's flat, and when greedy-bottom Brent ( our sexiest and most bi, bisexual) pulls down Brute's slightly too tight pants, the pushy bottom's eyes are out on stalks. TEN uncut inches all to himself, wowzer ! Brent strips him down and sucks on that juicy, veiny, two-hander of uncircumcised cock like there's no tomorrow, he tries valiantly to deep throat it, but its just too big - luckily this tanned, handsome hunk has got one hole that can accommodate it with only a little grunting and straining... its in. The two handsome boys are fucking like pistons with Brent pushing back for every delicious inch as Brute pushes him forward and says ''right up to the nuts you fucking slut''. Doggy is deep, but our top wants to see Brent grimace as the uncut meat slides in so Brent rolls over and lifts his legs before, Brute slides backwards and with Brent on top riding his monster meat to a shuddering, splatter cummy climax - its not over. We LUV spunky Brute's handsome face, ripped body and magnificent dick but most of all we luv LUV luv it when he cums in a handsome face....and so does he!
Scene 2: Issac Jones and Kayden Gray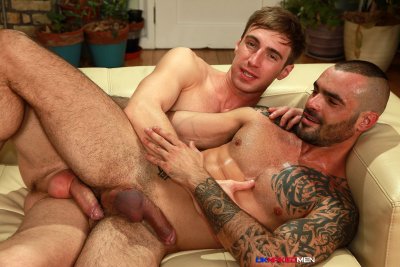 WOWEE, its not xmas but we decided to spoil with a double whammy of stunning gents, two of our all time favourites - Issac Jones - after an absence of 3 years and the evergreen gem with the colossal cock - Kayden Gray - HOT DAMN, talk about more meat for your pound and more bang for your buck. The guys are out jogging, Issac's behind Kayden admiring the firm give and jig of his arse and Kayden knows when he's being admired - he's had enough practice. The guys head for the woods and a after a brief snog and a grope Kayden suggests heading back to his place to finish what they've started. These stunning, hung, uncut studs fall through the door onto the sofa and proceed to strip each other off and suck on each others oversized cock. Isaac's is a juicy eight inches whilst Kayden's is a humungous nine, uncut inches of solid, girthy tool. Isaac's been out of the game but can't wait to spread his hairy, hard butt cheeks for Kayden's probing tongue and ass-busting cock. First he's getting it bent over like a dog, grunting with exertion as his sphincter stretches and retracts with each thrust, then he's clambers up to ride the pole (Luv watching Issac's had dick bob as he slams up and down on the stiff pork) Then they roll into the spoons position before Issac begs Kayden to let him skewer his arse on the dick, knowing it'll jab his Gspot until he's spraying his seed all over Kayden's thigh, and WOAH does it ever!! Then Kayden pushes him down, straddles his face and wanks out a monster load to mingle with the sweat, all over Issac's face. Just watching this frantic, furious passionate fuck had us all knackered - its a sexy workout in itself!!
Iago Torres, Nick Spears and Nils Angelson
Its getting nasty on the construction site, Nick Spears has got a name for himself as an easy fuck, so when his horny mates Iago and Nils demand blow jobs they know they can push the little cock hound as far as they like, very soon he's slurping on two uncut dicks, then getting fucked, spit roasted and violated with a hammer!!
But this total slut luvs it all and is pushing back for every inch of uncircumcised dick, until he's rewarded with a creamy, stringy, cum facial.
Luke Tyler and Jack Green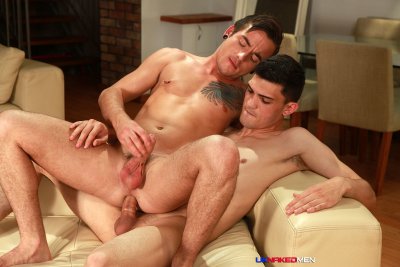 WOWZER, this was our Pride weekend treat! we couldn't wait to get Luke (the-cum-geyser) Tyler, back for more and this time he's pitted against the super sexy, tanned hunk - Jack Green. Jack's a proper English man, well spoken, handsome, taut and hung with a long foreskin and a big appetite for MEN. The guys meet at the entrance to Luke's flat as Luke's out cruising for cock and Jack's jogging up a sweat - the lads head indoors and get straight down to snogging and feeling each others stiffening, uncut tools through the crotches of each others trousers. Luke stretches Jack's pert buns wide and pushes both index fingers inside to pull his arse open and get it good and ready for a rigid 8 inches of uncircumcised meat. The horny lads, buck, wrestle thrash and fuck all over the sofa, with Jack presenting his twitching hole to Luke and getting it ready for fucking. After pushing back for more and more dick Jack straddles and rides the throbbing meat until he can hold back no longer and squirts all over the place. The guys lie back and Jack braces himself for whats coming, get yourselves ready gents when Luke cums he really cums, even with 3 cameras and a wide angle we couldn't film how far Luke squirted that juicy, sticky, yumalicious load!
Prince Seyed

THE tall dark, man with perfect pale skin, a ripped body, a hard muscular - hungry - arse a a weighty python of donkey-dick slung between his legs, Prince Seyed is a real find. A stunningly handsome young man, 24 years old a bi-sexual who's very happy to bottom for burly, hairy guys but he also has a thing for the ladies ( and a not inconsiderable 'thing' at that). He's a highly sexed exhibitionist, 6 foot 4 inches of stud, completely masculine, and utterly insatiable and the cock! - its truly a thing to marvel at, so heavy, so thick. We let this cut cock get by because the rest of the package is just so damn sexy. Sit back and drink him in as he dildos his succulent hole and bursts his porno cherry just for you.
Additional Information
Categories: UK R18 / XXX Gay Adult, More British Produced Gay Porn
Running Time: 118 mins, Year: 2016
Price: From around £28*
Starring: Brute Club, Brent Taylor, Issac Jones, Kayden Gray, Iago Torres, Nick Spears, Nils Angelson, Luke Tyler, Jack Green, Prince Seyed
Director: Jonno
Studio: UK Naked Men
Buy DVDs online at: Simply-Adult.com, Homoactive and Radvideo (USA)
Homoactive Downloads: UK Naked Men
Official site: UKNakedMen.com, See also EnglishLads.com
Gay Video On Demand: Uk Naked Men, See also: www.gayvod.co.uk
Country: United Kingdom, Language: English