Description / Review:
Banged Up Hard is the new prison flick from UK Naked Men and features ten hung, uncut and horny studs having great sex, including the massively hung Matt Hughes!
Description / Review:
Scene 1: Matt Hughes, Ludovic Canot, Justin Harris
From: Matt Hughes: 11" of Fuck
Innocent French tourist Ludovic finds himself banged up in a foreign country under the watchful eye of corrupt prison warden Giovanni. Cellmate Matt Hughes explains that life will be a lot easier if he does what the guard wants - and the guard wants him to suck Matt's huge cock and give up his hairy little arse. Ludovic's hesitant at first but soon gets a taste for the spit-roast regime, soon begging for more cock from both ends and eventually shooting a jet of cum into his own mouth and being showered in hot jizz by Matt and Giovanni.

Scene 2: Fred Faurtin, Tony Thorn
Maltese stud Tony Thorn is partying in Paris, looking drop-dead gorgeous, when he suddenly finds himself hauled into a police station on charges of, well he's not sure what, the cop is speaking French and he doesn't understand a word. When the cop finds something suspicious in Tony's pocket it soon becomes clear the search won't end there as he's forced to strip and spread 'em. French Cop Fred Faurtin's seen his type before, these party boys always have a little something on them - and if they don't it's easily planted - and when they're scared and confused they'll give anything to be set free. Before he knows it, Tony's naked and exposed, he's being probed, then his mouth is suddenly full of French cock - and lots of it and he soon feels Fred's thick uncut cock forcing it's way into his virgin hole and pounding hard.

Scene 3: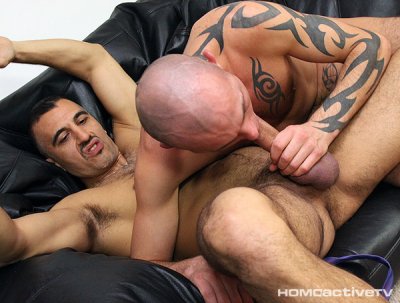 Chav lad Jacob, has some outstanding debts, and when debt collector Dom DeMarco comes to collect he's got only one way to pay - by offering up his mouth and arse to the dominant man who comes to make good on the debt. Dom works the lads' mouth and tears up his hot tight hole with a long, fat, monstrous dick, until he's well and truly satisfied, and as this debt collector is as hot as hell and twice as horny, it's not much of a price to pay.

Scene 4:
Fred Faurtin and Tyson Mac have just been released from jail, but are they rehabilitated prisoners. Loveable chav Tyson Mac and French rogue Fred Faurtin are soon getting it on, stripping naked and getting down on each others dicks. Tyson is on his back, begging to have his arse plundered.
Scene 5:
Once more, back into the cells - Jake Ryder is back with a hungry mouth and hole to service Thierry's fat, hung cock. The two snog and rim in their smoky cell, before Jake wriggles his tight hole snuggly onto Thierry's dick and milks the fat, uncut meat for every drop of juice he can get. What else is there to do, when you are locked up in a small jail cell and are super horny for some cock? IF you are the bigger guy, well you get what you want, don't you? All said and done, being banged up and banged hard isn't too bad after all!