Summary:
Pack your bags and 'Let's Get Quenched!' with the men of Falcon under the scorching California sun for some bareback, poolside fun on this new DVD release. Award-winning director Steve Cruz makes a splash with nine ripped studs for some hot, raw fun. Tristan Hunter takes a bare poolside ride on Cade Maddox's thick cock. After a dip in the pool, Gus Del Rey takes Devin Trez's pole in multiple positions ending with a stomach covered in cum. JJ Knight takes turns probing Tristan Hunter and Johnny Ford's holes until Tristan is left covered in their loads. Lucas Leon takes a ride on Devin Franco's thick cock until both of their balls are drained. A dip in the pool with Cade Maddox and Zac Snow turns into a rough, bareback poolside pounding. So, come on! What are you waiting for? 'Let's Get Quenched!'
Description / Review:
Scene 1: Cade Maddox and Tristan Hunter
When Tristan Hunter and Cade Maddox see each other, they instantly lock lips and Tristan reaches down to reveal Cade's throbbing cock. Tristan's mouth waters at the sight as he sinks to his knees and works his mouth up and down Cade's shaft. While Tristan is occupied with cock, Cade reaches back and teases Tristan's hole. After tongue fucking Tristan's smooth hole, they move out next to the pool where Tristan bends over, opens up and takes Cade's raw cock in his ass. After taking a relentless bareback pounding, Tristan gets on top to take control and ride Cade's pole. The feeling of Tristan's hole clenching on Cade's meat makes him cum all over Tristan's ass before sliding it back in. Tristan then keeps gliding up and down on Cade's cock until he lets loose and shoots his load all over Cade's glistening abs.
Scene 2: Devin Trez and Gus Del Rey
After a dip in the pool, Devin Trez's thick cock is bulging out of his SUKREW brief. Gus Del Rey takes notice of the throbbing member and strips them both down to suck Devin's cock. After getting his throat fucked, Gus bends over to give Devin total access to his hole with his tongue. Devin takes his time licking Gus' hole and cock before laying back and sticking his cock up into Gus' tight ass. Switching positions, Gus bends over to take Devin's pole bareback and doggy-style. Devin doesn't hold back as he pounds away at Gus' prostate. After changing up positions, Gus sits back and strokes out a load that covers his abs. Devin follows and jerks thick ropes that add to the sticky mess on Gus' belly.
Scene 3: JJ Knight, Tristan Hunter, and Johnny Ford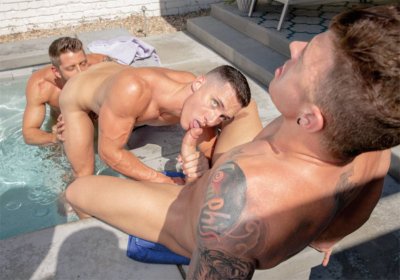 Tristan Hunter, Johnny Ford and JJ Knight are all getting hot and heavy with each other, making out in the pool. The men pop out of the pool and slip into the jacuzzi where Tristan gets to work sucking JJ's massive cock, while Johnny rims Tristan's ass. After Johnny has prepped Tristan's ass with his tongue, he works his cock in Tristan's tight ass while JJ continues ramming Tristan's throat. Tristan stays the center of attention, going back and forth between cocks up his ass from both Johnny and JJ until Johnny gets bent over and stuffed with JJ's pole. Johnny makes sure not to leave Tristan out when he tongues and finger fucks Tristan's ass while JJ pounds him bareback from behind. Tristan wants more and backs up on Johnny's cock to create a raw fuck train with Johnny in the middle. After everyone has had their fill of cock and hole, each stud jerks out warm loads on each other, using everyone else's cum as lube to get themselves off.
Scene 4: Lucas Leon and Devin Franco
Devin Franco and Lucas Leon are already naked and exploring each other's ripped physiques and hard cocks. Lucas is first to make a move as he gets between Devin's legs to suck his thick cock. After getting his cock sucked, Devin sinks down to return the favor, giving Lucas a sopping wet hummer. After servicing his cock, Devin turns Lucas around to bury his face deep in Lucas' crack. Both studs take turns using their mouths until Lucas hops on Devin's raw cock for a fast ride. Switching positions, Lucas bends over to feel the full force of Devin's rod deep inside of him. After one last position with Lucas on his back, Devin keeps pumping until he reaches the edge and shoots his load all over Lucas before sliding his spent bareback cock back in. When it's Lucas' turn, he sits back and strokes a load out that Devin makes sure to lick up.
Scene 5: Cade Maddox and Zac Snow
Cade Maddox and Zac Snow are skinny dipping together in the pool when they both get hard and start to fondle each other's cocks. When Cade wants a taste, he bends Zac over the edge of the pool and dives in with his tongue to open up Zac's ass. After getting rimmed, Zac dips back in the pool to fill his mouth with Cade's girthy member. After both studs have had a taste, they leave the pool where Zac bends over and takes every inch of Cade's massive, raw cock that slides into his ass. It's a tight fit but Zac opens up and takes Cade's bareback dick like a champ. After getting his prostate pounded, Zac gets up and sinks down onto Cade's pole, riding it up until Cade loses control and covers Zac's ass with his load before sliding back in.