Summary:
Lifetime Exclusive Matthew Rush and Falcon Exclusive Josh Weston Winners "Best Duo in a Sex Scene" 2002 Gay Entertainment Award!Amid the mysterious and sultry backstreets of New Orleans, private detective Josh Weston continues his searches for a senator's missing son. Hindered by local authorities, Josh discovers the steamy secrets of an underground society dedicated to the sexual gratification of its masked members. Explore the tangled threads of passion, intrigue, suspense and murder in the Big Easy.
Scene 1: Chris Steele and Jason Hawke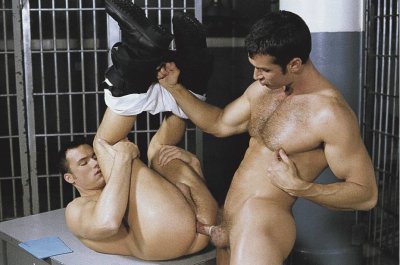 Josh Weston attempts to enlist the support of Sheriff Chris Steele and Deputy Jason Hawke, but the lawmen scoff at his stories of abduction and intrigue--suggesting that perhaps Josh just got a little too wild in Big Easy revelry. Stunned and dismissed, Josh departs, determined to get to the bottom of things with or without the assistance of the police. With Josh gone, sheriff and deputy drop their dismissive facade to reveal their lusty designs. Sheriff Steele is certain the Josh will be attending the upcoming erotic ball...and Deputy Hawke suggests some lusty practice in preparation. Jason drops his pants, playing with his ass as Chris stiffens up to the sight. The session progresses through ass-play and rimming into mutual cocksucking before Deputy Hawke enjoys a thorough ass-pounding by the sheriff. The sheriff then penetrates his deputy's ass with his nightstick....probing deeper and deeper as Jason takes the tool and strokes his cock. The deputy shoots his load over his sheriff's chest, massaging it in with his stiff but satisfied cock before kneeling down and experiencing Steele's own hot essence splattering his face.
Scene 2: Jack Ryan and Nino Bacci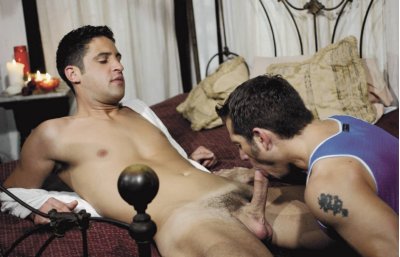 Jack Ryan meets Nino Bacci at the door and they proceed to Jack's bedroom for an afternoon erotic encounter. Candles flicker on every available surface and as Nino settles onto Jack's bed, he discovers a crude rag doll. When he asks about it, Jack performs a simple demonstration of voodoo. Jack plucks a lock of Nino's hair, attaches it to the doll, then pricks the doll's palm with a needle. Nino opens his hand to reveal a small bleeding wound. Turned on by Jack's command of the black art, Nino leans forward and kisses Jack. The two men begin to fondle, caress and undress. Nino deepthroats Jack's cock, devoting himself entirely to Jack's pleasure; nuzzling and tugging at his balls and running his tongue up and down Jack's shaft. Nino rims Jack, warming and relaxing Jack's hole with his tongue. Jack returns the favor, then focuses on Nino's stiff cock. They rearrange themselves in a sixty-nine. Then the men take turns fucking each other until both have sent forth thick ropes of steamy satisfaction.
Scene 3: Matthew Rush and Josh Weston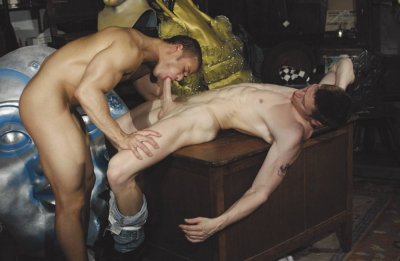 Inside a costume shop, Matthew Rush fits Josh Weston with a suitable mask. Josh will take the mask, but first he'd like a sample of Matthew's sculpted sensual form. The two musclemen greedily envelope each other in their arms amidst an eerie accumulation of paper machier masks and Mardi Gras costumes from celebrations spent. As their clothing slips away, they enjoy each other's rippling forms and stiff cocks. Josh devotes himself to Matthew's cock, sucking it hungrily into the back of his throat. The two studs stroke each other for awhile and then Matthew takes his turn at cocksucking, deepthroating Josh's cock. Matthew begins to rim and open Josh's hole, warming and spreading it with his fingers and tongue. Josh follows suit, rimming and probing Matthew. The men regroup and Matthew fucks Josh from behind, buring his cock deep in Josh's ass. Josh climbs atop Matthew and takes the full force of his thrusts from above. Matthew fucks Josh with feverish abandon and Josh surrenders in orgasm before bringing Matthew to his own--ending a fine fitting session at the costumers. 2002 Gay Entertainment Award: Best Duo Scene 2003 Grabby Award - Best Duo Sex Scene
Scene 4: Andrew Phillips, Jimmy McGuire, Anthony Shaw, Josh Weston, Christian Taylor, Daniel Sinclair, Brad Benton
Josh Weston arrives at the ball in a horse-drawn buggy cloaked in the thick black density of a New Orleans evening. As he presents his invitation, a masked ...
Scene 5: Jack Ryan, Josh Weston, and Jeremy Jordan
Josh Weston attempts to confront Jack Ryan's treachery and finds himself in the middle of a Delta style threeway...unable to resist the lure of hedonism. Jeremy goes after everyone's cock, and he also sucks on Josh's feet. Josh then pounds away with his cock deep in Jeremy's ass, and next fucks Jack. They take turns, Josh cums, then the other two blow their loads.
Featuring Falcon Exclusives Josh Weston, Jimmy McGuire, Andrew Phillips and Lifetime Exclusive Matthew Rush. Also starring Anthony Shaw, Jeremy Jordan, Nino Bacci, Daniel Sinclair, Christian Taylor, Jason Hawke, Jack Ryan, Brad Benton, Adam Wolfe, and Chris Steele. Also featuring Tom Chase and Race Jensen in non-sexual roles.
---
Review:
Hunting for a missing person Josh Weston heads down to the deep South in search for the cute, blond lad. Two handsome policemen are teasing each other by the cells. Young Jason Hawke has a cute, boyish face and a broad, brawny body, and he drops his trousers and bends over to reveal his meaty ass cheeks. He fingers his own asshole until his handsome buddy joins in, rimming this pink hole. Stripping off his uniform this slightly older cop slides his hard shaft inside Jason's tight ass, shafting his meaty butt good and hard.
Handsome dark Jack Ryan has got himself the best kind of a takeaway - a hung muscled male escort with a winning smile and a great body. Lying on his back, legs wide apart in the air, Jack's tight asshole is exposed for a deep tonguing, to make him good and wet. After some juicy sixty-nining Jack sits astride his mate's meaty thighs for a frantic shagging.
Slim Josh Weston pairs off with young, hunky Matthew Rush in a great scene set in a store. Josh gets his mouth around Matthew's thick manhood, enjoying the taste of his young cock, filling his throat with the full length. Lying back across a counter Josh surrenders his moist asshole as Matthew tongues and fingers it, until Josh is begging for him to thrust his hard meat deep inside.
The next great scene is a wild masked orgy, starting with one cute and dirty lad getting toe fucked! He then becomes the centre of attention for a throng of randy guys. Cute blond Jimmy McGuire shows off his toned body and massive knob, face fucking one lad. These young guys are all mad for cock, and the room is teeming with young, attractive bodies kissing and sucking.As a masked group of slightly older guys watch this group scene Josh gets drawn into the centre, and has six young studs working over his hot body with their hungry hands and mouths. Jimmy slides his big boy meat into beautiful Anthony Shaw, a blond lad with a delightful toned body, and a tasty hole.
Cute, blond Jeremy is chained to the bed, his slim toned body looking both inviting and vulnerable in just a pair of white y-fronts. Josh and Jack untie him for a raunchy threeway, filling his young sweet face with stiff cock, and peeling off his pants to rim his smooth aching hole. Obediently this cute lad sits on Josh's stiff cock, letting its hard length slide inside his bubble butt.
Stunning guys and great action, it's no wonder this film is an award winner, combining a storyline with some incredible dick twitching action - you'll love it!