Summary:
Juvenile Detention has never been so horny! Forced sex by buff men in uniform and hardcore teen action will get your blood pumping and jeans bursting the seams! Will Jamieson takes the lead once more for this debut DreamBoy from Simon Booth.
Description / Review:
Soft on the inside and rock hard on the outside... Will Jamieson is Andy Jenkins, a tough nut from Feltham transferred to this Borstal where forced sex between inmates and guards is a daily occurrence!!
Scene One: Having just been transferred, Andy has the urge to release his tension in the shower!! Watching the warm water pour over his smooth body and throbbing hard cock is enough to get anyone pushing against their pants. This scene shows off Will perfectly and when he shoots a hot load from his huge dick, you'll be spurting along with him!!


Scene Two: Forced Threesome and double penetration!! This scene truly is cum-worthy. Borstal guard Darren takes big dicked Titch and super bottom Ashley into the shed after a hard days graft. Forcing these two convicts to suck and fuck each other, it's not long before buff stud Darren wants a piece of the action and loosens Ashley up before a fucking awesome double penetration and spit-roasting. This is one HOT scene which is sure to make you horny as fuck. Once these boys are soaked in cum, Darren gets up and puts his uniform back on and leaves them lying there, showing them exactly who's in charge!!
Scene Three: Hardcore five-way scene!! Top dog Ben Taylor and his entourage take two more boys and force them to suck on HUGE dicks and take them up the ass. Full of spit roasting and duo sex, this scene has something for everyone, with smooth boys being ploughed in the ass by bullies, until the whole place is covered in hot cum, on faces, asses and everywhere!! Watch for the thick load Billy gets from super dick Steven Prior, delicious.

Scene Four: Double Cumshot from tanned convict!! Watching these two smooth lads getting hot and horny with each other will get you standing to attention before you know it. Tanned Anthony enjoys Ricky's blowjob so much he shoots his load at the start and end!! Great versatile action, both these prisoners enjoy feeling each other deep inside, thrusting as hard as they can, feeling every inch go further and further.


Scene Five: Forced Sex in Workshop. Borstal guard Steve gets horny watching three lads working away so decides to make two suck and fuck each other whilst fucking the third. Hardcore close up action so we can almost reach out and feel these cocks sliding in and out of the tight but willing holes. Dark haired Rio gets so rock solid that he shoots one of the biggest loads of cum in the film, soaking the floor, whilst Will Jamieson drenches Rickys back in load after load shooting from his cock, fresh from ramming into his hole.
Scene Six: Rough forced sex in greenhouse!! Smooth Aaron gets accosted in the greenhouse by horse hung Ben Taylor and his two boys and is forced to take cock from both ends. This really intense scene gives us the close up action we all love as well as the fantasy of being forced into taking big dicks by hardened men. Darren Robins watches the horny action from outside, before shooting a thick load. Aaron's hole gets rammed so hard it will make you wish it was you being fucked to submission, great scene with an even greater end, with cum flying all over.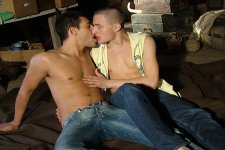 Scene Seven: After Will becomes top dog in an omissible way, he takes his crush (Aaron) upstairs in a scene much like Scene Four. Even more close up ass pounding, Aaron is loving feeling Will's throbbing meat ramming deep inside him up to the hilt. There's great ball slapping action which shows just how horny Will is, having as much of that hole as possible. Position changes and a superb slow motion cumshot from Will shall make your hole twitch for an ass ramming!!
Scene Eight: Bathroom Threesome!! With a new Top Dog, the stunning young inmates at this Borstal are free to indulge in horny cock and ass action with each other. Anthony Thomas can't wait to slide down on Titch's massive meat whilst having Rio thrust down his throat in great fashion before all three shoot their load, all swimming in spunk by the end, with Anthony desperate for a taste of it.